Banoffee Muffins
This might just be my new favourite recipe for when you have bananas just a bit past their best.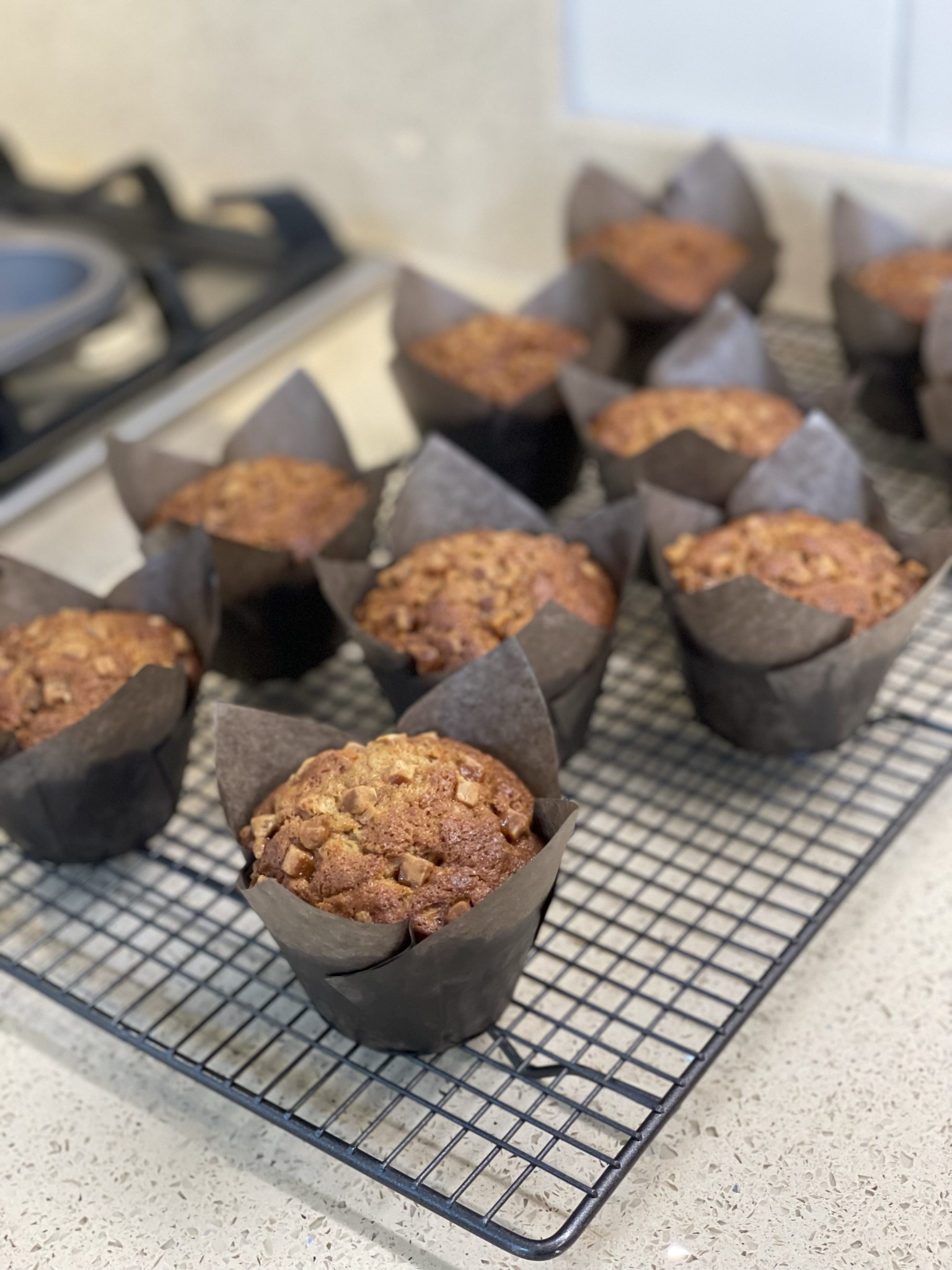 FOR THE SALTED CARAMEL
75ml double cream
20g butter, cut into small cubes
75g caster sugar
2tbsp water
1/4tsp salt
1/4tsp vanilla extract
FOR THE MUFFINS
135g vegetable oil
150g soft light brown sugar
3 overripe bananas, mashed
2 eggs
1tsp vanilla extract
225g plain flour
1tsp baking powder
1/2tsp bicarbonate of soda
1/2tsp salt
200g vanilla fudge pieces (may need to chop into small pieces if big)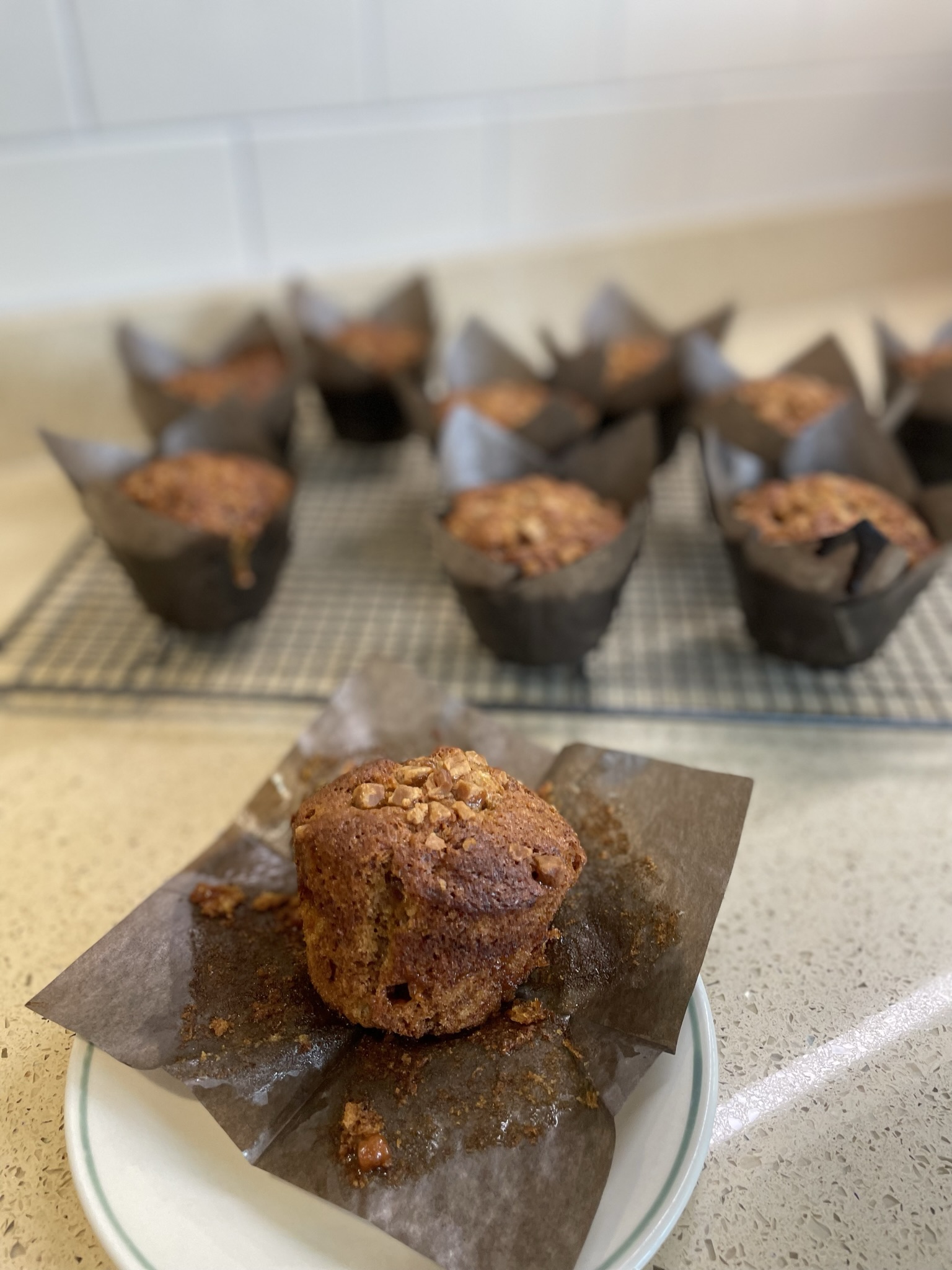 1
Firstly, make the salted caramel. Make sure you have everything out and ready to go as this moves fast!
Warm the cream in the microwave for about 30 seconds on high power. Having it warm prevents the caramel from seizing up.
Place the sugar and water in a medium-sized saucepan set over medium heat. Do not stir! Just leave it to do its thing, and once it reaches an amber colour, remove it from the heat and slowly add the cream, whilst stirring. Follow with the butter, vanilla and salt. 
If any lumps form, return to low heat and stir until they melt. Otherwise, you can set this aside for later! You can do this up to a week in advance, just store it in a jar in the fridge until ready to use.
2
Preheat the oven to 190°C. Line a 12-hole muffin tin* with muffin cases. Set aside.
In a largeish bowl, sift together the flour, baking powder, bicarbonate of soda and salt. 
In a small bowl, crack in the eggs, and whisk in the vanilla. Set aside.
3
In another large bowl, combine the oil and sugar. Whisk in the egg mixture, then fold in the flour mixture, mixing until just combined.
Do not overmix at this stage, you just want there to be no dry bits of unmixed flour. 
Finally, fold in your mashed bananas and fudge pieces.
4
Spoon your salted caramel into the batter, and gently ripple it into the batter. I do not mix until combined, but I do mix until there are little streaks rippling through the batter.
5
Using a mechanical ice cream scoop (or of course two spoons, though I do recommend investing in the former!), divide the batter evenly amongst each muffin case. Bake for 18 minutes, or until a skewer inserted in the middle comes out with no wet batter on it.
Leave to cool for about 20 minutes, then dig in!
STORAGE NOTES:
Keep in an airtight container for up to 2 days. After this time, they will begin to dry out, though I imagine these won't last long anyway!
*If you don't have a muffin tin, you can use an 8x8 inch square pan, or a 9x9 inch round pan. The baking time will vary from about 30-35 minutes at 170°C (instead of 190°C) if you choose to bake it this way! Just check with a skewer inserted in the centre of the cake - it should come out clean! No muffin cases? Or maybe you just don't like waste? Just make sure you grease your muffin pan really well (the entire thing - not just the holes!) and they will pop out right away. When your bananas are too ripe to eat, I suggest you freeze them whole, in their skins. On the day you want to make banana bread, simply take out your frozen bananas and defrost at room temperature for a couple of hours. They will be perfect for this recipe!