Salted Caramel Hot Chocolate
A super-indulgent take on one of my favourite hot drinks - you can't miss this!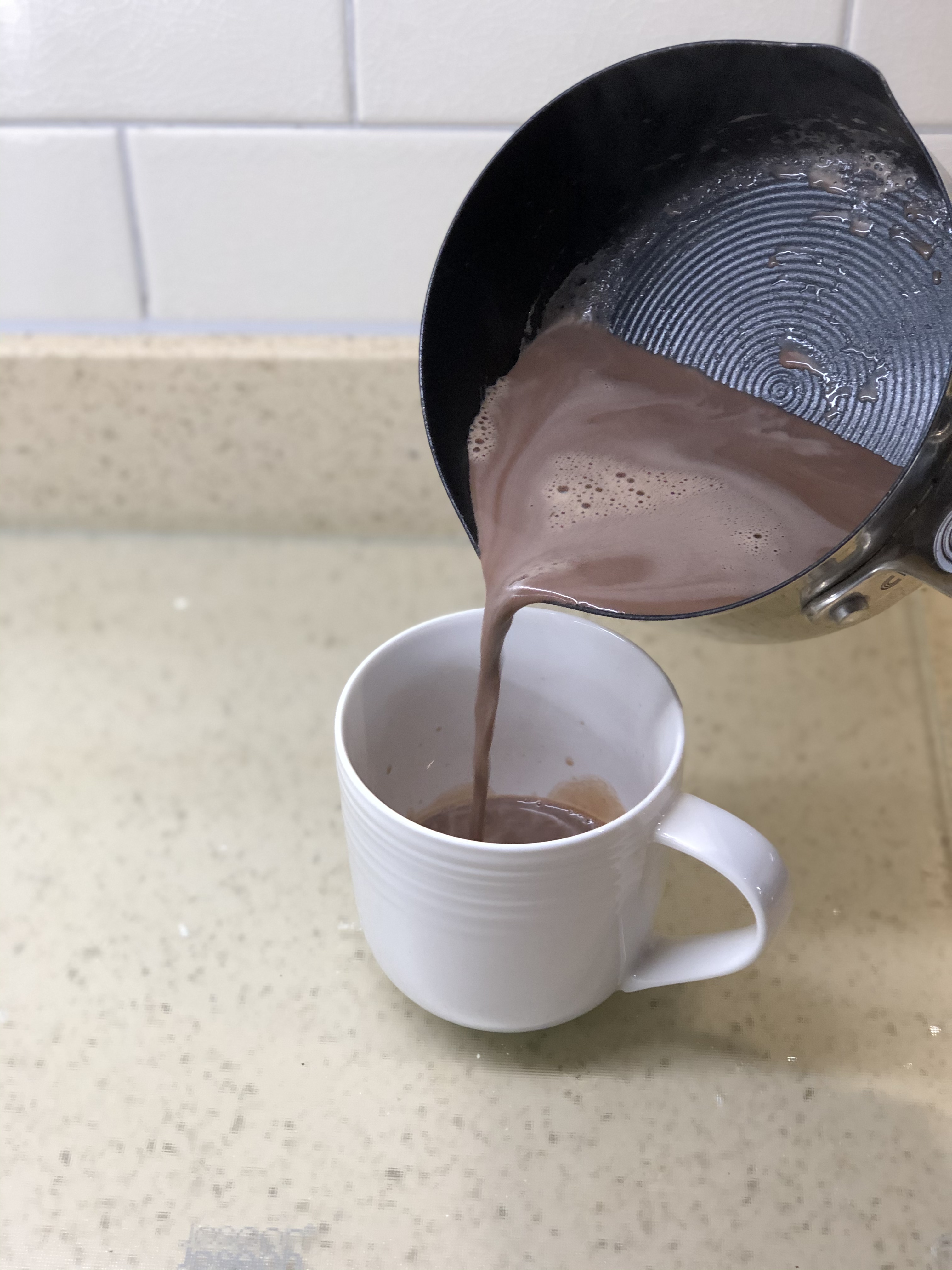 FOR THE SALTED CARAMEL SAUCE
60g caster sugar
1tbsp water
60ml double cream
1/4tsp sea salt
1/4tsp vanilla extract
FOR THE HOT CHOCOLATE
480ml milk of your choice (I use oat)
60g dark chocolate (60-70% cocoa solids is best here as the salted caramel is very sweet!)
2 heaped tablespoons of salted caramel
1/2tsp instant espresso powder (or coffee granules)

1/4tsp vanilla extract
Squirty cream, to serve
Extra drizzle of salted caramel, to serve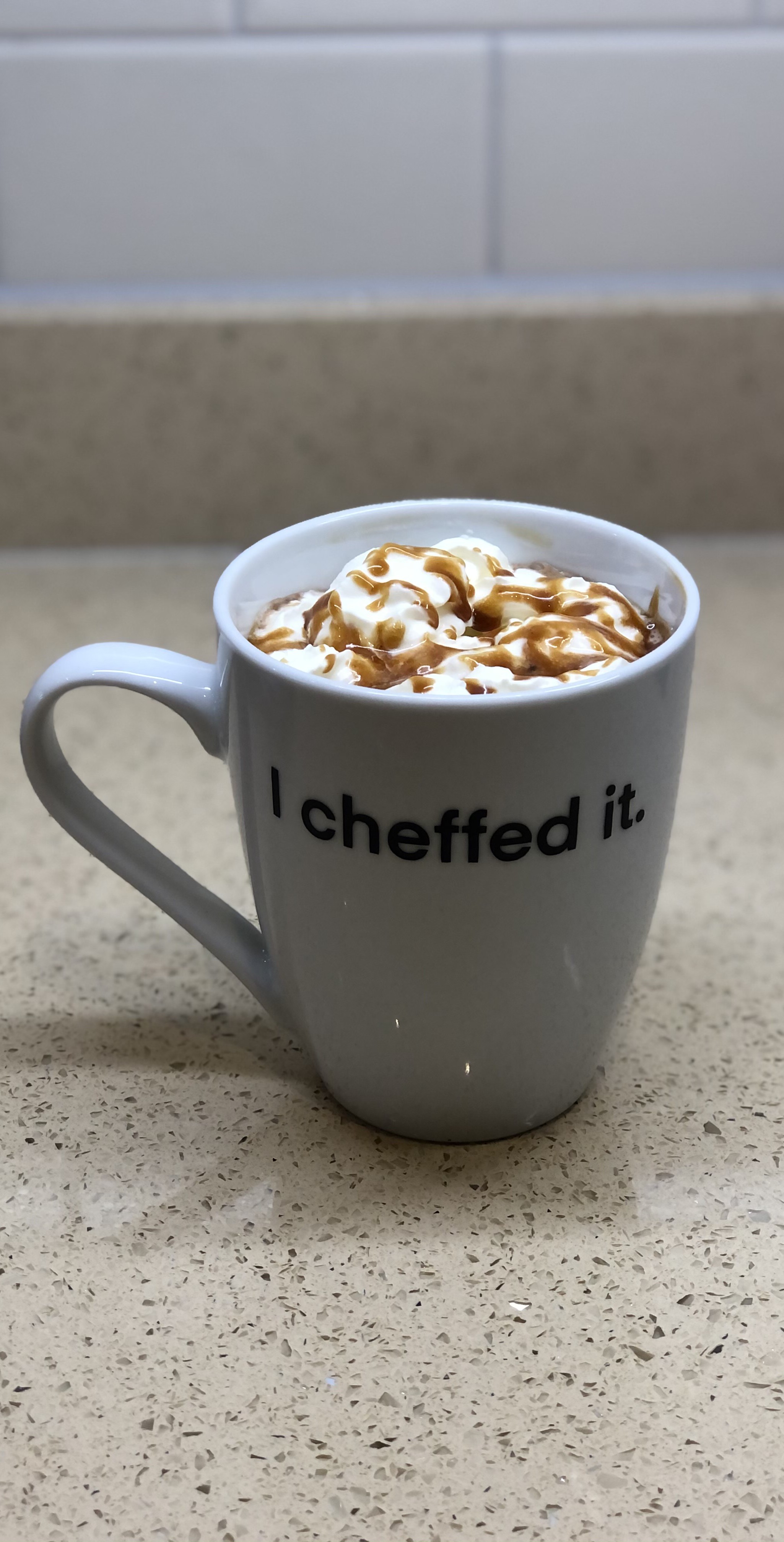 1
Firstly, make your caramel. Make sure you have everything for the caramel measured out first, as this can move very quickly!
Place your sugar in a single layer in a medium-sized saucepan and cover with the 1tbsp of water.
Place over a medium heat and be patient! Do not stir for the entire duration of this - simply swirl the pan from time to time to ensure the heat is evenly distributed. 
The sugar will begin to melt down and bubble away. Eventually it will start to change from colourless, to an increasingly golden-yellow colour. This could take several minutes - just make sure you keep watching it, as burnt caramel is not pleasant.
Once the contents of the pan are an orange-yellow-caramel colour all over, immediately remove from the heat and gradually pour in the cream whilst constantly stirring with a heatproof utensil. It will bubble up quite a bit! Keep stirring until all of the cream is mixed in, and the bubbles subside.
Stir in the vanilla and salt whilst the caramel is still hot. Do not taste it at this point as it will be painfully hot! Leave to cool for at least half an hour before using.
2
To make the hot chocolate, place the chocolate in a medium-sized saucepan and pour over the milk (I do it this way round to avoid milk splashing everywhere).
Sprinkle over the sugar, espresso (or coffee) and vanilla.
3
Set the saucepan over a low heat, and bring to a simmer, but not to a boil.
Once you have a few bubbles and small wisps of steam coming from the pan, remove from the heat and whisk until all of the chocolate is melted into the milk.
4
Pour into mugs, and top with squirty cream to serve.
I like to place a small spoonful of caramel back into the pan which I made the hot chocolate in, and let it melt gently, before drizzling it over the whipped cream for decoration. 
Enjoy! If you are a bit apprehensive about using dark chocolate, please don't subsitute it for milk chocolate! Give it a go with the dark chocolate, as you'll be surprised at how sweet it is once you add the caramel! If you don't want the trouble of making the caramel, shopbought is absolutely fine! A

ny leftover caramel works perfectly warmed and poured over ice cream!