Sweet Potato and Aubergine Katsu Curry
Cirspy, panko-coated vegetables in a curry sauce with rice - so tasty! There is a certain popular restaurant chain in which this is my go-to order. It also happens to be the only way I will eat aubergine. This dish is super fun to make - I know there are a few steps, but the result is delicious!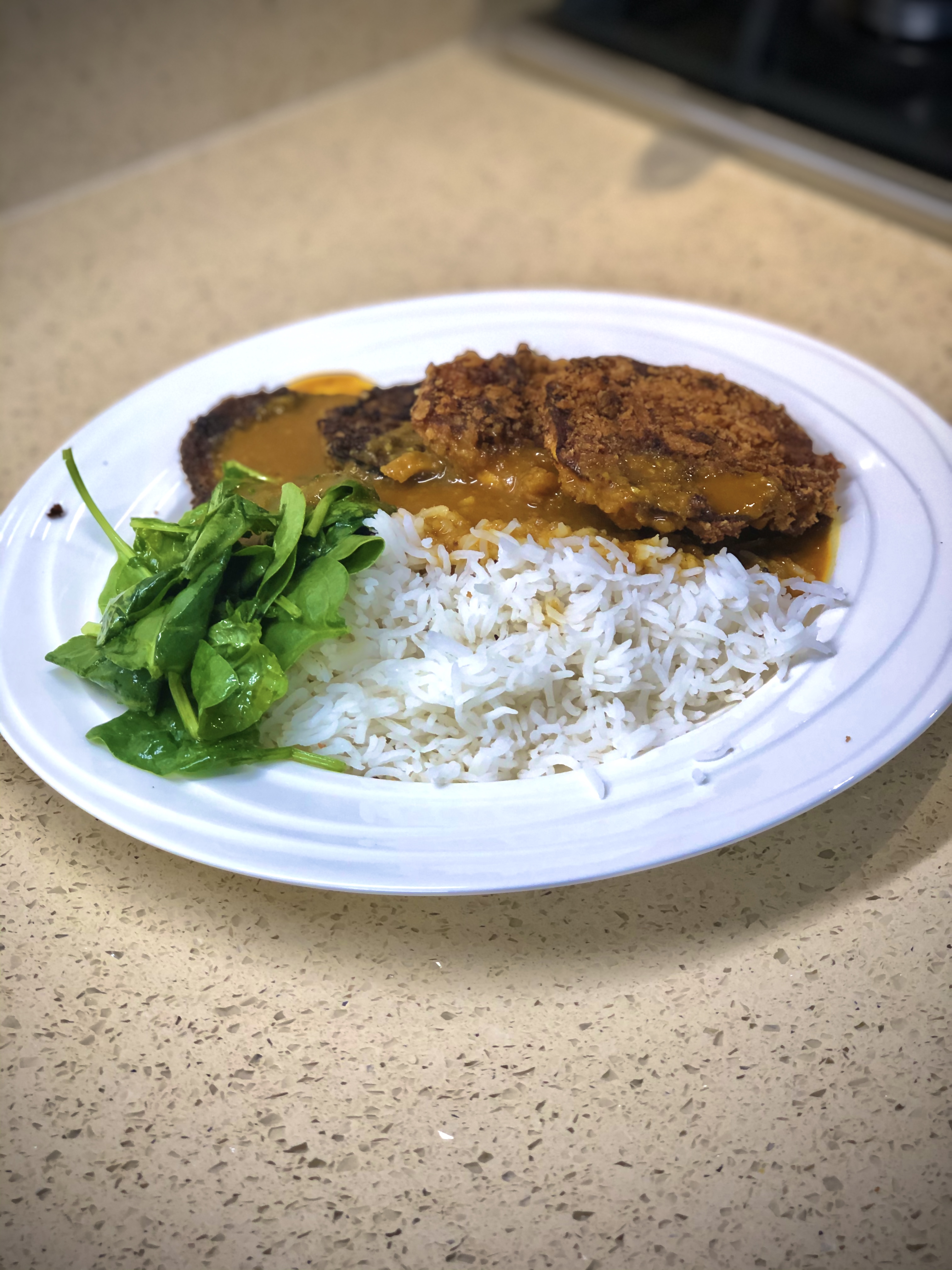 FOR THE CURRY SAUCE
2tbsp vegetable oil
1 onion, finely chopped*
1-inch piece ginger, finely chopped*
2 garlic cloves, finely chopped*
2tbsp flour
2tsp garam masala
1tsp tumeric
1/2tsp ground fenugreek
1/2tsp hot chilli powder
1/4tsp black pepper
1tbsp tomato puree
1tbsp soy sauce
1tbsp honey
1tbsp rice wine vinegar
300ml vegetable stock
200ml coconut milk
FOR THE VEGETABLES
1 large aubergine, cut into 1/2cm thick rounds**
1 large sweet potato, cut into 1/2cm thick rounds**
25g seasoned flour (that is, flour with a pinch of salt and pepper)
60ml non-dairy milk
1tbsp soy sauce
100g panko breadcrumbs
Vegetable oil, for shallow frying
TO SERVE
80g mixed salad leaves
2tbsp sesame seeds
3tbsp rice wine vinegar
1 squeeze of honey
480g cooked rice (240g dry weight)
*Blending the onion, garlic and ginger in a mini food chopper is very useful here, though of course you can finely chop them by hand.
**I really do recommend slicing these as thin as stated, to ensure they cook evenly.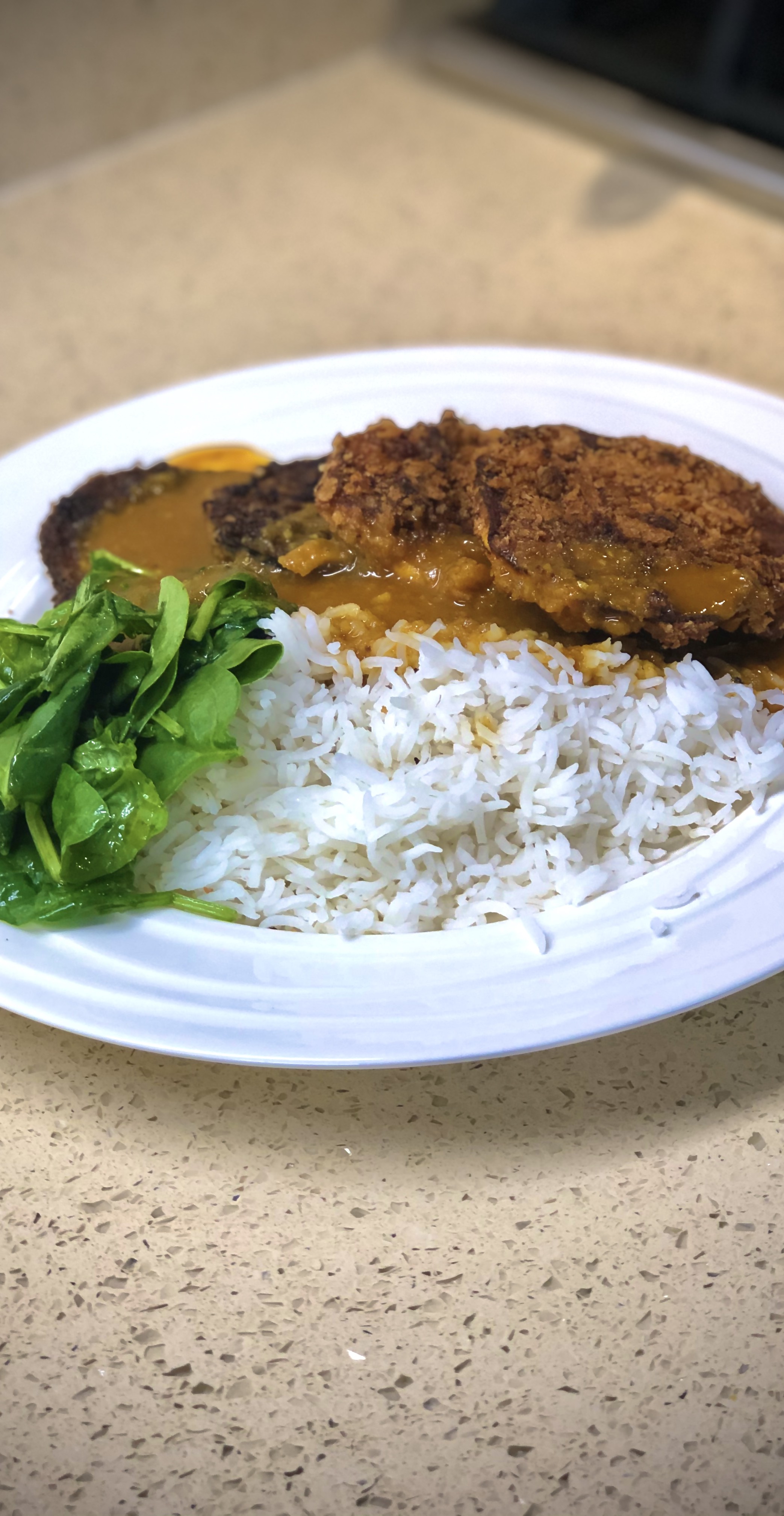 1
I first begin by making the sauce. Heat the oil in a medium-sized saucepan, then add in the onion, garlic and ginger, along with a pinch of salt. 
Fry for 5-6 minutes, until softened. 
2
Add the flour, tomato puree, garam masala, tumeric, ground fenugreek, chilli powder and black pepper. Fry for 1 minute, until fragrant.
3
Slowly pour in the vegetable stock, followed by the coconut milk, honey, soy sauce and vinegar.
Bring to a boil, and then reduce the heat and let it simmer away for about 10 minutes or so. The sauce should thicken slightly, though be aware it will continue to thicken as it cools.
4
Whilst your curry sauce is bubbling away, it is a good idea to get on with prepping the veggies.
This is your standard conveyor-belt method for breading anything really. I like to have one dish to dredge the vegetable discs in flour, another for the milk (mixed with 1tbsp soy sauce) and another with the panko breadcrumbs.
It is also good to have one 'dry' hand for dipping into flour and breadcrumbs, and one 'wet' hand for the milk mixture, to avoid a scraggly mess on your hands (though that is still pretty unavoidable in my case).
Dip into the flour first with your 'dry' hand, then into the milk (tossing the round with your wet hand), then into the breadcrumbs (using your dry hand to sprinkle and press in the breadcrumbs).
Set aside to a plate until you have breaded all of your vegetable pieces.
5
Now to fry the veggies! Preheat a generous amount of oil in a large frying pan over medium heat (you want the entire pan to be covered in a layer of oil).
Once hot, you can start frying your vegetables. I recommend doing this in batches to avoid overcrowding the pan (they cook quicker this way). I like to line a baking tray with kitchen paper in order to soak up any excess oil for when the veggie slices are cooked. It may also be a good idea to keep the first batch warm in a low oven (around 110°C) whilst the next batch cooks. 
Both the aubergine and sweet potato require just 2 minutes a side, after which the panko coating will be crisp and crunchy, and the interior fluffy and cooked through.
6
To finish, toss a bag of mixed salad leaves in the rice wine vinegar and honey for a light dressing.
Plate up with rice, a few slices of the crispy sweet potato and aubergine, followed by a generous helping of the curry sauce and a side of the dressed salad leaves. Serve immediately. As an alternative to all of the spices mentioned above, a heaped tablespoon of curry powder should suffice (play around with different brands until you find one you love). If you are a fan of katsu chicken curry, you can of course use chicken breasts instead. I like to cover them in clingfilm and bash them with a rolling pin untl they're flattened slightly, bread them as above, and fry them for about 3-4 minutes a side.