Cookie Cheesecake Bars
I do love a hybrid dessert, especially when I can't decide what to make. I first made these when I was at university, and they got zapped up almost instantly, which I take as a positive thing!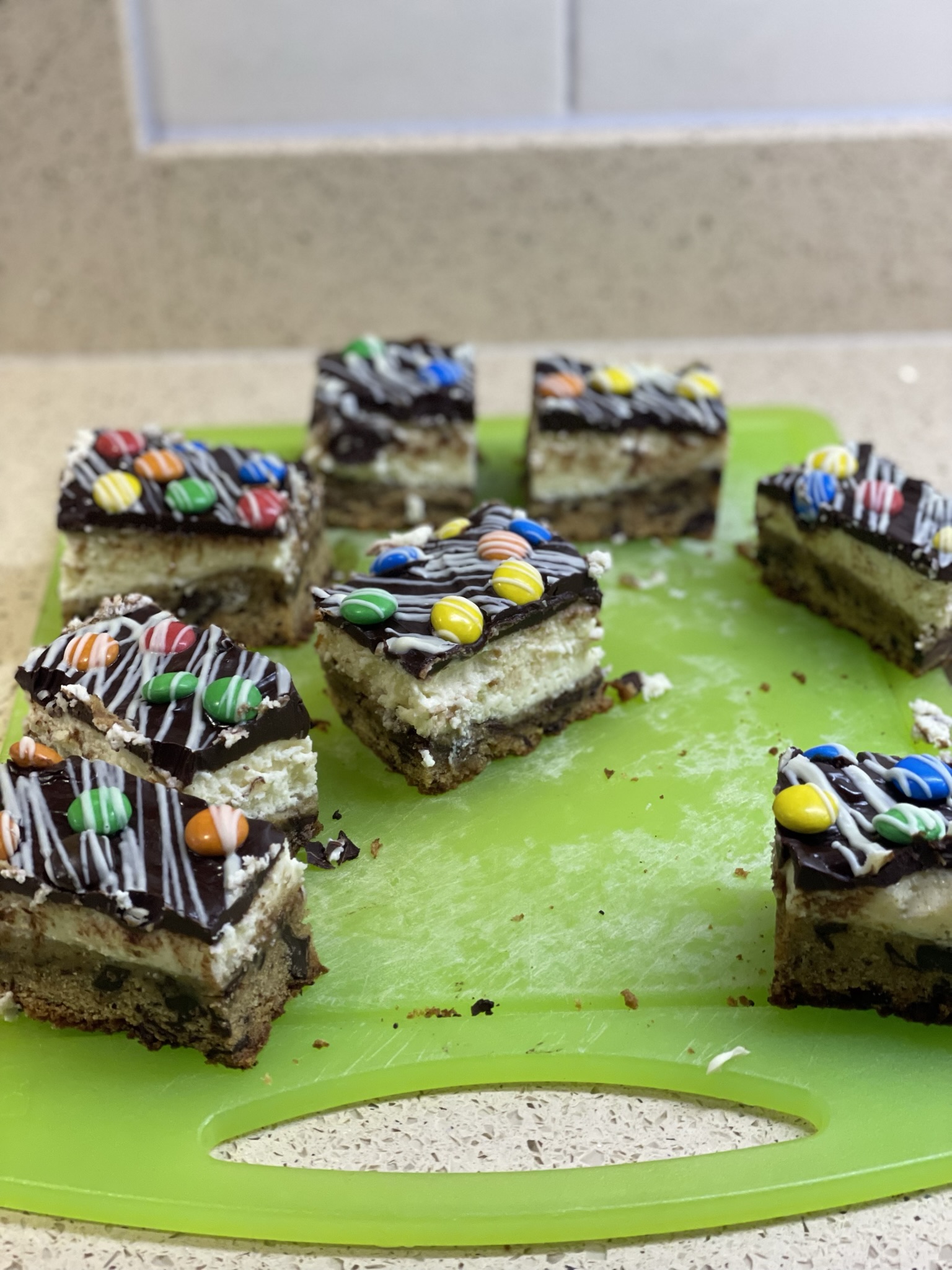 FOR THE COOKIE BASE
100g butter, softened at room temperature
140g soft light brown sugar
1 egg, plus 1 yolk (keep the white in the freezer for meringue!)
1tsp vanilla extract
130g plain flour
25g malted milk powder (you can just use another 25g flour if you don't have this)
1/4tsp salt
100g dark or milk chocolate, finely chopped 
FOR THE CHEESECAKE
250g full-fat cream cheese
75g caster sugar
60g sour cream
1 egg
1tsp vanilla extract
FOR THE GANACHE/TOPPING
75g double cream
75g dark chocolate, finely chopped
Handful of sugar-coated chocolate candies
25g white chocolate
7 x 7 inch square pan.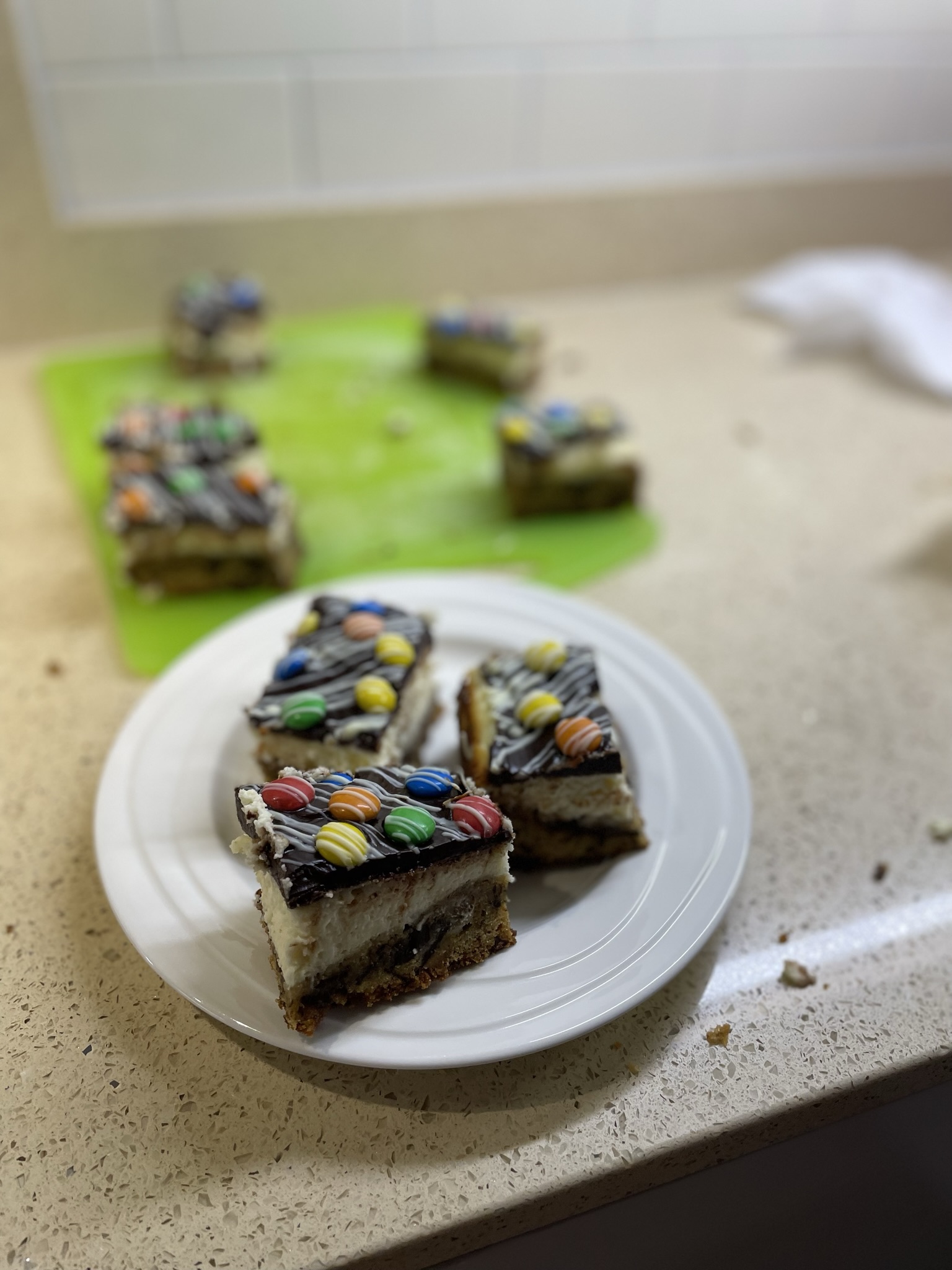 1
Preheat the oven to 170°C. Grease (I like to use spray oil) and line an 8-inch square baking pan (or a 9-inch circle pan) with baking parchment. I like to have the sides of the parchment overhanging on each side of the pan so the bars are easy to lift out.
2
Firstly, make the cookie base. Beat together 
3
In a separate bowl, sift together the flour, cocoa powder and salt. Whisk in the chocolate chips until evenly distributed, and set aside.
4
In another large bowl, whip together the eggs and sugar for 2-3 minutes with a handheld electric mixer until you have a thick, pale mixture. To test when it is done, the mixture should form faint ribbons before sinking back into the batter.
5
Whisk in the coffee and vanilla, before gradually pouring in the melted chocolate mixture, whilst constantly stirring.
Fold in the dry ingredients using a spatula, being careful to ensure no flour is stuck at the bottom of the bowl.
Set aside 1/2 cup (1-2 big spoonfuls) of batter in a small bowl. Spread the remaining batter into your tin. 
6
Now for the cheesecake! Give the beaters on your electric mixer a quick rinse and place all of the ingredients into a bowl, and mix for a couple of minutes until all the sugar is dissolved and you have a thick, creamy mixture (rubbing a small amount between your fingers you should not feel any sugar granules).
6
Spread the cheesecake on top of the brownie. Dollop bits of brownie on top of the cheesecake, then using a skewer or knife, swirl the batter around the cheesecake, to create a marbled pattern.
Bake for 35 minutes! The cheesecake should jiggle slightly, and a skewer inserted into the centre of the brownie should come out either clean or with a few moist crumbs attached (no wet batter).
7
Once out of the oven, cool to room temperature, then refridgerate for a couple of hours until fully set. Then cut into squares (I like to trim the edges - chef's treat - though you don't have to do this) and serve!
STORAGE NOTES:
Keep in the fridge for up to 5 days. Try to avoid keeping them at room temperature as the cheesecake layer will soften and lose its structure. This brownie recipe works great on its own without the cheesecake layer (should you wish to go without it!) Make sure you use full fat cream cheese for the cheesecake layer, otherwise you risk the brownies not setting properly!