Millionaire Shortbread
This absolute classic is a firm favourite amongst many of my friends, and I can see why - the combination of buttery, melt-in-the-mouth biscuit, sweet, slightly salty caramel and creamy chocolate is unbeatable. Make these for a bake sale or gift - they are guaranteed to impress.
FOR THE SHORTBREAD
170g butter, softened at room temperature
1tsp vanilla extract
95g caster sugar
225g plain flour
1/2tsp salt
FOR THE CARAMEL
397g tin condensed milk
125g caster sugar
125g butter
80g golden syrup
1tsp sea salt
1/2tsp vanilla extract
FOR THE TOPPING
150g dark chocolate
50g milk chocolate
50g white chocolate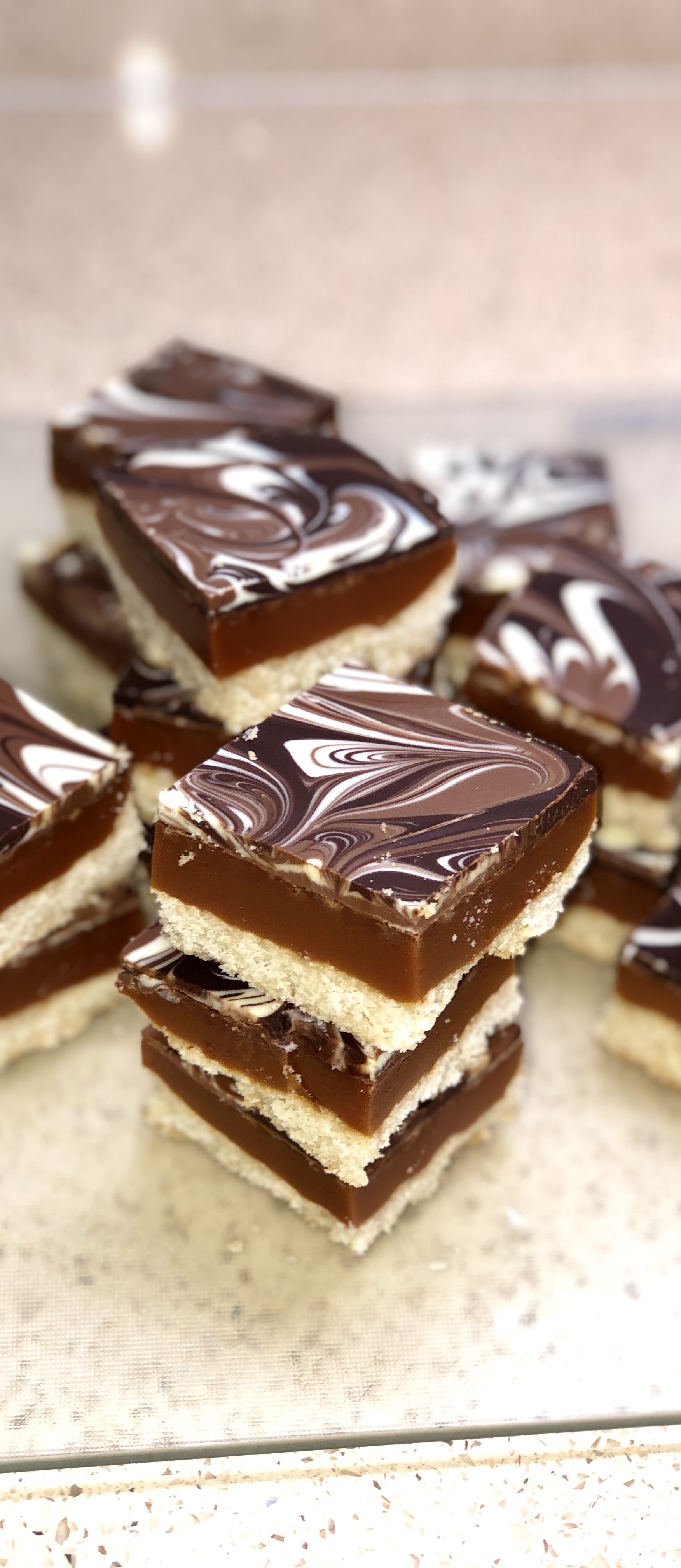 1
Preheat your oven to 170°C.
Line an 8x8 inch square tin (or 9x9 inch round tin) with baking parchment. I like to have the sides of the paper overhanging so it's easier to take out the shortbread at the end.
2
Cream together the butter and vanilla in a large-ish bowl for a couple of minutes until smooth, pale and creamy.
Add in the icing sugar (you may want to do this in two stages to avoid a cloud of sugar going everywhere!) and beat until creamy.
Add the flour and salt and mix until combined.
3
Press into your prepared tin. It may help to press it in with clean hands or the back of a spoon.
Bake for 30 minutes. The shortbread should be lightly golden on top.
5
Meanwhile, make the caramel. Place all of the caramel ingredients into a large saucepan, and melt gently over low heat. Make sure you are constantly stirring to avoid anything burning.
Once everything has completely melted, whack up the heat and bubble away until it turns a nice golden caramel colour, again consistently stirring to prevent any burning. Whilst it should take around 6-8 minutes, I cannot give you the exact timings for this, and you will have to go with your eyes (this particular method of making caramel is very forgiving, so don't panic!)
Pour the caramel over your prepared shortbread crust (don't worry if it's just out of the oven).
Cool for one hour at room temperature.
6
Melt the chocolate in three separate bowls. I like to do this in the microwave for 20 seconds at a time on the highest setting. Stir between each blast until completely melted.
Pour the dark chocolate first all over the cooled caramel shortbread. Spread it out with the back of a spoon or cranked palette knife into a single layer.
Next, using a teaspoon, spoon on dollops of both milk and white chocolate all over your blank canvas, until they are both used up.
Using a skewer or knife, swirl the chocolate around a few times to make a marbled pattern.
Refrigerate for 1 hour before slicing and enjoying.
STORAGE NOTES:
Keep in an airtight container for up to 5 days.
The caramel can be made up to a week in advance. If where you are you cannot easily access golden syrup, corn syrup will also do nicely. These can be stored in both the fridge or at room temperature, though I recommend the former if it's a hot day!