Cinnamon Buns
Here I am with my answer to a cinnamon roll, gorgeous, sweet and fluffy. When you have a bit of time in the kitchen, these make for an excellent project.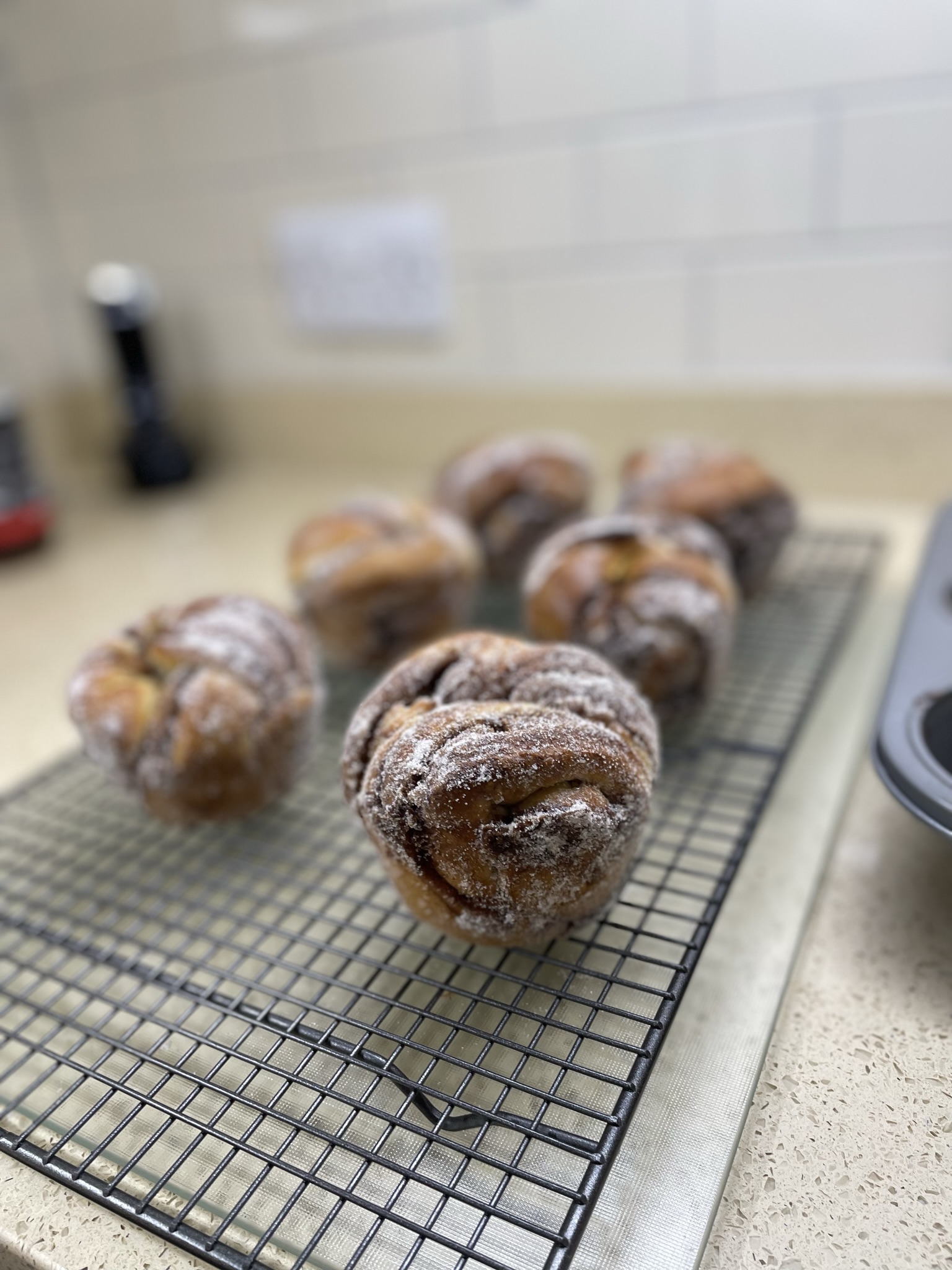 FOR THE DOUGH
450g plain flour
50g caster sugar (+1tsp for proofing the yeast)
1x 7g sachet fast-action dried yeast (2 + 1/4tsp)
1 egg
120ml milk
1tsp vanilla extract
1/2tsp salt
110g butter, cubed and softened at room temperature
FOR THE FILLING
80g butter, softened at room temperature
130g soft light brown sugar
2tbsp ground cinnamon
1/2tsp vanilla extract 
FOR THE EGG WASH
1 egg
40ml whole milk
FOR THE CINNAMON SUGAR TOPPING
2tbsp caster sugar
1 heaped tsp ground cinnamon
YOU WILL ALSO NEED
Large 6-hole muffin tin (a 12-hole muffin tin is also acceptable for smaller buns)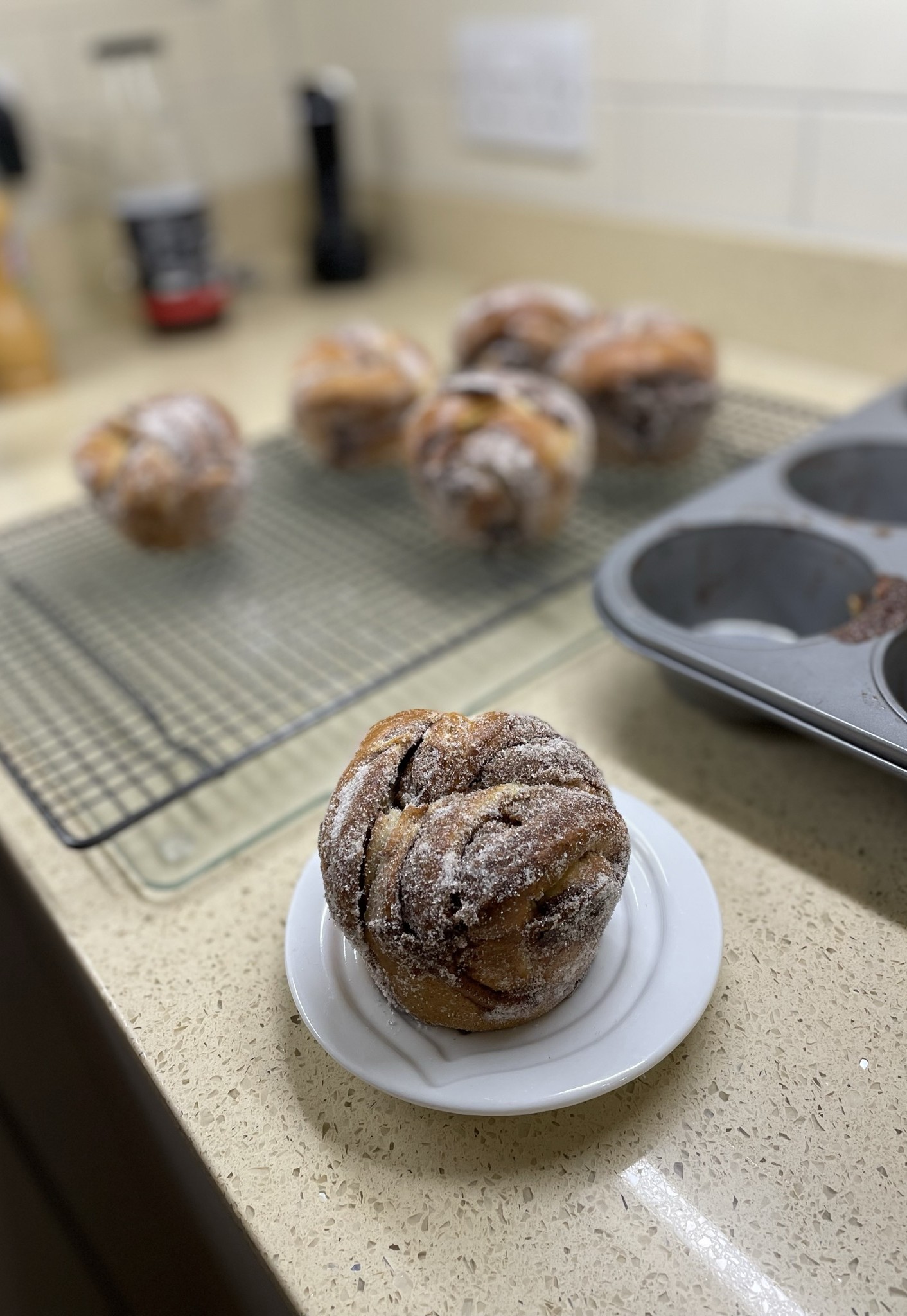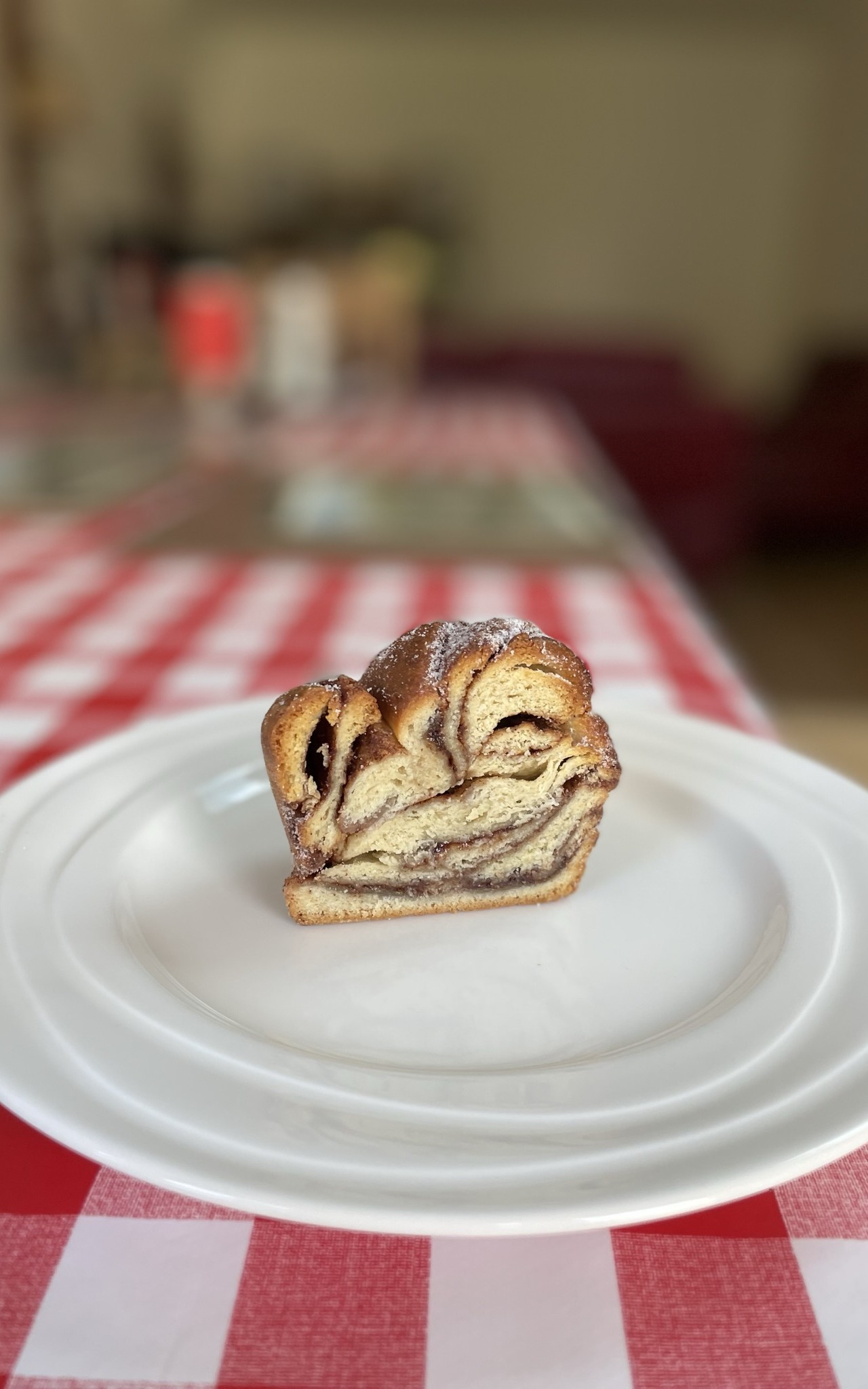 1
Warm the milk until lukewarm (you should be able to put your finger in the milk and not feel a major temperature difference in the milk - if it's too hot, wait for it to cool a bit). You can do this in the microwave or gently on the stove as you wish.
Stir in 1tsp of sugar, then sprinkle over the yeast. Leave to stand for five minutes or so. You will begin to get a signature bakery smell and it will begin to look foamy once it is ready).
2
In a large bowl, add the flour, sugar, salt, butter, egg, vanilla and yeast mixture.
3
I now like to grab my hand mixer with a dough hook attachment and mix on medium to high for 10 minutes, until you have a smooth, soft dough.
4
Turn out onto a clean, lightly floured surface, and shape into a ball by cupping your hands underneath the dough and turning the dough clockwise.
Place this into a floured bowl and leave in a warm place for 45 minutes, or until the dough springs back halfway. Alternatively, you can leave the dough in the fridge overnight.
5
Now prepare the filling. Beat all of the ingredients together until smooth.
6
For the next two parts, I have added some images (scroll down to see; note these are currently available on desktop only) so you have a visual aid as well as a written aid.
Flour your surface well, and turn your dough out into a lightly floured surface. With a lightly floured rolling pin, and gentle pressure, roll the dough out into a large rectangle (roughly 20x50cm; no need to be exact). You should fluff the dough up to release it from sticking to your surface as you roll it out. 
Spread the filling evenly across the dough with an offset palette knife or back of a spoon.
With the short side facing you, take 1/3 of the dough and fold over, then fold the remaining 2/3 over. Trim the edges (this is to ensure every pastry has filling in).
7
Now to shape the buns! Grease your muffin tin holes with soft butter or flavourless oil.
Divide your rectangle into 6 pieces (or 12 if making smaller ones). Stretch each piece out slightly to lengthen, then cut an incision 3/4 of the way up each piece, to give you what you might describe as dough trousers.
Plait one side over the other, then roll from the top towards you to give a nice knot-like piece of dough. Place into your greased muffin tin, and repeat with the others.
Cover, and proof for another 45 minutes.
8
Just before you are ready to bake the buns, preheat your oven to 180°C.
Prepare your egg wash my combining the egg and milk. Brush over the tops of the buns.
Bake for 20-25 minutes (the latter if baking larger buns, though do still check at 20, you want no raw dough peaking through). Cool for 5 minutes before tipping out into a mixture of cinnamon and sugar. Roll each bun in the sugar, then place on a cooling rack. Serve warm!
STORAGE NOTES:
These buns are best on the same day. However, should you want to keep them longer, they will last for a couple of days in an airtight container at room temperature. I recommend you bake for 6 minutes at 160°C to warm through before eating, to restore that gorgeous fluffy texture. Chocolate and cardamom powder makes for a great filling alternative! This can also be baked in a loaf tin for 30-35 minutes, as a tear and share loaf. Just place the buns together in the loaf tin and the magic should happen in the oven!