Pancakes


Don't get me wrong - I love the flat pancakes or 

crêpes you have on pancake day, but these 

American-style pancakes have become a favourite of mine and my friends. We often go out on brunch dates to get a fix of these delicious breakfast treats, but of course, I have to have my own recipe to make for my family at home.
Please don't knock the bacon and maple syrup combo until you've tried it - it's really good!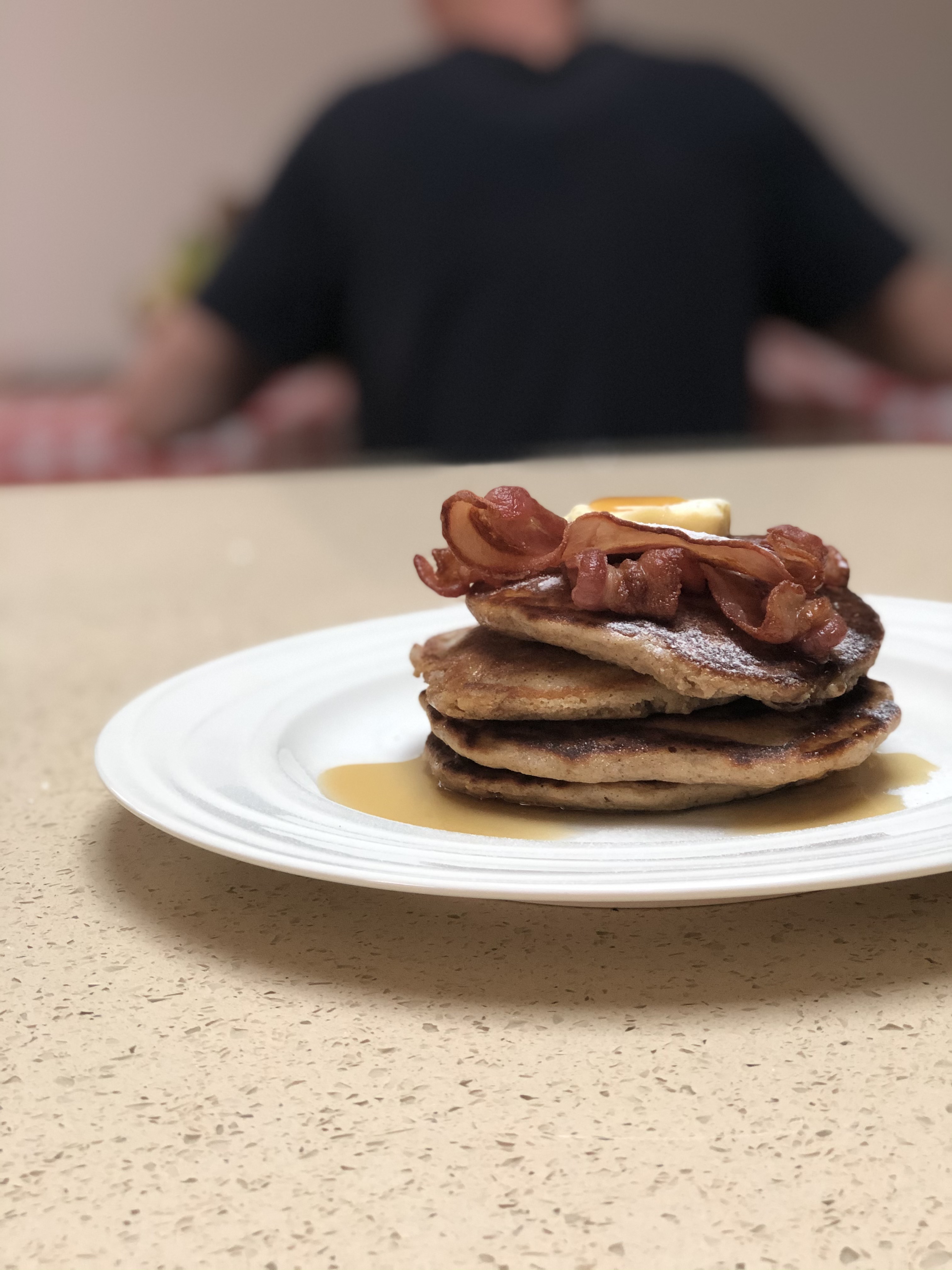 FOR THE PANCAKE BATTER
225g plain flour
1tbsp baking powder
1/2tsp bicarbonate of soda
2tsp ground ginger (optional)
1tsp ground cinnamon (optional)
1/4tsp ground nutmeg (optional)
1/4tsp salt
1 lemon
240ml milk
60ml melted butter (or vegetable oil)
2 eggs
1tsp vanilla extract
3tbsp soft light brown sugar
TO SERVE
12 slices bacon or pancetta
Icing sugar
Butter
Maple syrup
1
Sift together the flour, baking powder, bicarbonate of soda, ground ginger, ground cinnamon, nutmeg and salt into a large bowl. Mix in the zest of the lemon. Set aside. These are your dry ingredients. 
2
In a separate bowl or jug, squeeze about a tablespoon of lemon juice into the milk (juice of about 1/2 lemon - no need to be exact!). Be careful to catch any pips in your hands. Leave to sit for 10 minutes or so. This effectively makes buttermilk. If you don't have a lemon, you can use vinegar.
Beat together the eggs, melted butter, vanilla, sugar and buttermilk. These are your wet ingredients.
3
Combine the wet ingredients and dry ingredients. If you have lumps - please do not worry! Just make sure you have no dry flour in the batter. Set aside.
4
Preheat a dry frying pan over medium heat and fry the pancetta or bacon for 2-3 minutes a side, or until crisp. Set on a baking tray lined with paper towel to soak up any excess grease, and place in an oven preheated to 110°C to keep warm. 
Alternatively, set the bacon onto a tray lined with foil and grill at 275°C for 3 minutes each side.
5
In the same pan, cook the pancakes. Add some oil or butter to the pan and pour about 1/4 cup batter into the pan per pancake (use a mechanical ice cream scoop, 1/4 cup measure, or large spoon as you wish). Cook for around 2 minutes a side over medium to low heat. You will know they are ready to flip once the edges look set and they are forming bubbles in the centre.
Flip and cook for another couple of minutes on the other side, before transferring to a baking tray in the oven to keep warm.
Cook in batches until all of your batter is completely cooked. Adjust the heat as necessary to avoid burning the pancakes. 
6
Stack the pancakes on top of each other (you should get around 3 per person) and top with bacon, icing sugar, and a small slab of butter. Finally, drown the entire thing in maple syrup and serve! If you don't eat bacon - don't worry! These go great with fresh fruit, yoghurt, honey - whatever you like! You can prepare the dry ingredients in advance the night before, and mix in the wet ingredients the following morning to save time!