Bang Bang Cauliflower
I first tried this in a popular restaurant chain after hearing rave reviews. I was admittedly skeptical at the fact that the star of the show was cauliflower, a vegetable very low on my list. Though rest assured this might just be my favourite vegetarian dish!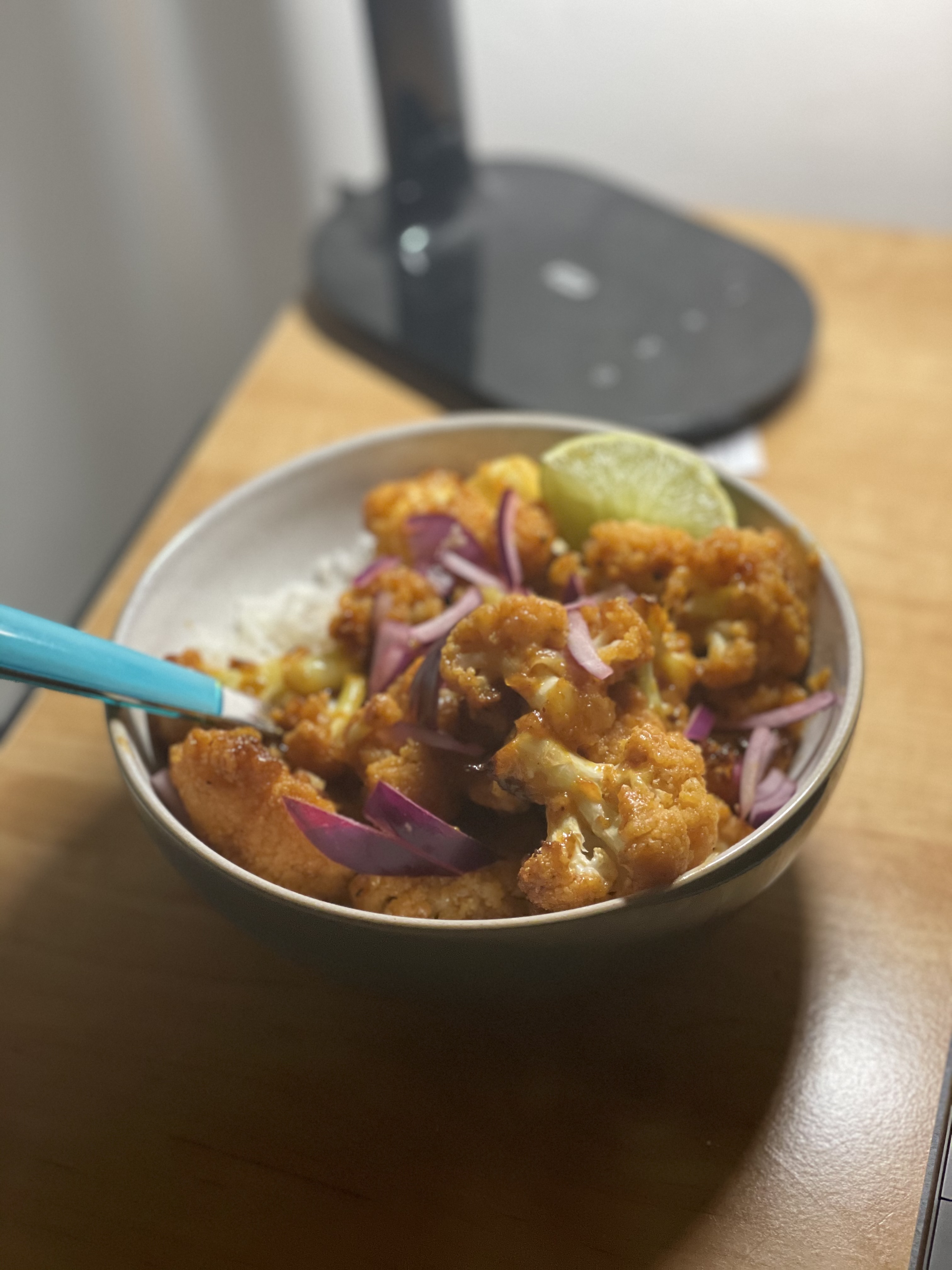 FOR THE CAULIFLOWER
Vegetable oil
2 large heads of cauliflower, broken into florets (easily done by hand)
1tsp hot chilli powder
1tsp salt
1/2tsp black pepper
FOR THE BANG BANG SAUCE
2tbsp vegetable oil
3 garlic cloves, finely chopped
1-inch piece of ginger, finely chopped
4tbsp water
2tbsp sriracha (any other hot sauce you like should do)
2tbsp soy sauce
2tbsp brown sugar (any liquid sweetener will work too)
2tbsp mirin (you can also use 1tbsp vinegar + 1tbsp sugar) 
2tbsp rice wine vinegar (white vinegar or balsamic will also do)
TO SERVE
Rice
2 spring onions, sliced on the diagonal (optional)
Pinch of chilli flakes (optional)
Fresh coriander (optional)
1/4 red onion, finely chopped and spritzed with lime juice (it goes pink!)
Handful of toasted sesame seeds (optional, as you can see I did not have any to hand; simply toast in a dry frying pan for a minute or so until fragrant)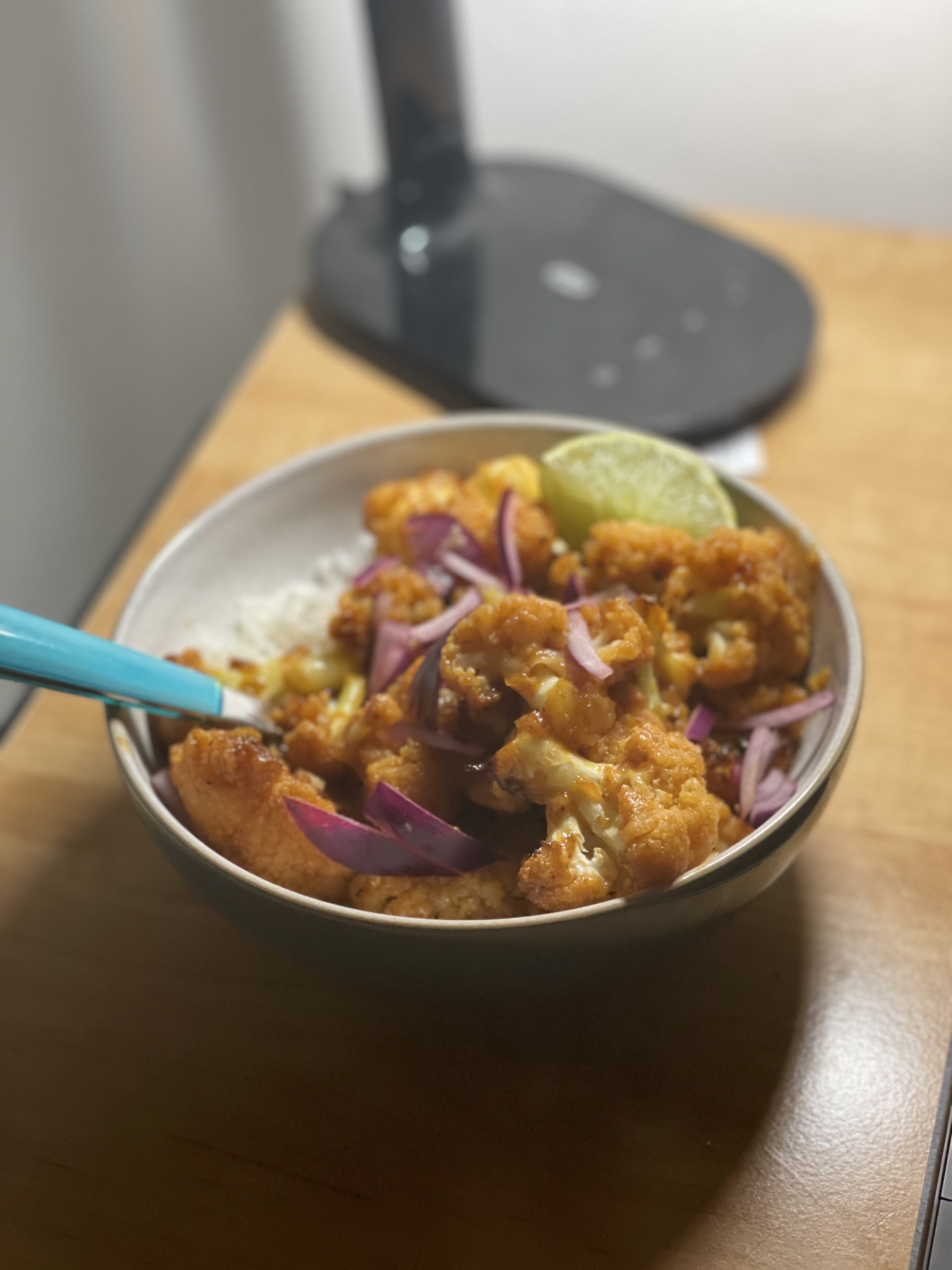 1
First preheat your oven to 210°C. 
Spread your cauliflower florets into a single layer on a large baking tray, and drizzle with some vegetable oil. Sprinkle over the chilli powder, salt and pepper. I like to rub these seasonings into the cauliflower so it's all distributed evenly.
Roast for 12 minutes, then give everything a good flip to ensure even cooking then roast for a final 12 minutes.
2
Whilst the cauliflower roasts, prepare all your other ingredients. Finely slice the spring onion and the red onion (if using). Spritz the red onion with some lime juice - this will make it turn pink and lose some of its acrid-tasting edge. This is not essential but makes for a delicious garnish!
3
Now for the sauce. Preheat the oil in a medium-sized saucepan over a medium heat. Add in the finely chopped garlic and ginger, and sizzle away for 30 seconds or so.
Add all of the remaining ingredients to the pan and and let it bubble away. You want it to thicken slightly, I would say from watery to syrupy in consistency (bubbling away for 6-8 minutes should suffice). 
4
Once the cauliflower is out in the oven, add to the sauce and stir until evenly coated. Toss in the sesame seeds too (if using).
5
Serve on a bed of rice, and top with fresh coriander, spring onion, red onion and extra sesame seeds (all of which only if desired).
Enjoy!
STORAGE NOTES:
Keep leftovers in an airtight container for up to three days. Reheat in the microwave or in a pan as desired until piping hot. I am aware you may not have all of the ingredients mentioned. Rice wine vinegar can be subbed for white vinegar or balsamic, Mirin can also be subbed for 1 part sugar and 1 part vinegar.
If you are keen to source all of these ingredients, any large supermarket should have them in the international food section or around the same area you find soy sauce/egg noodles. Do be aware than mirin and rice wine contain alcohol.