BBQ Chicken & Ribs
This is one of my favourite dishes, and has been ever since I was little. The sweet-smokiness of barbecue sauce is something which is not quite like anyrhing else, though I was surprised to find a lot of recipes rely heavily on ketchup! I wanted to steer clear of this, and make a more stripped back sauce using real tomatoes!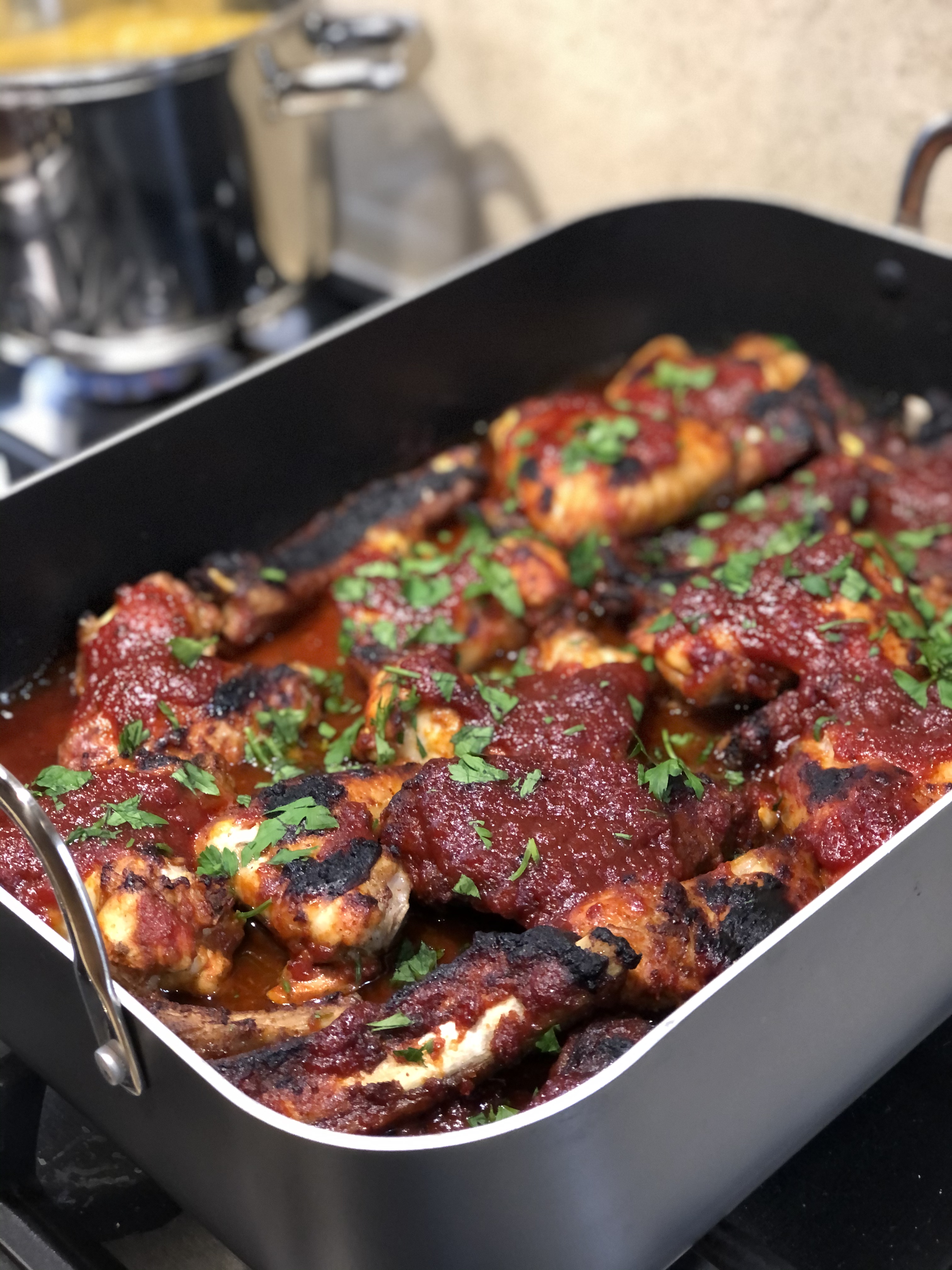 FOR THE CHICKEN & RIBS
1kg chicken wings
1kg pork spare ribs
3tbsp Chinese five spice powder (you can also use your preferred choice of seasonings if you don't have this)
FOR THE BARBECUE SAUCE
1x 400g tin chopped tomatoes
2tbsp apple cider vinegar (balsamic, red or white vinegar should do fine too)
3tbsp maple syrup (or honey)
Few shakes of Worcestershire sauce (do note this contains anchovies, soy sauce will do fine too)
100g brown sugar
2tsp smoked paprika
1/2tsp granulated garlic
1/2tsp salt
1/4tsp black pepper
FOR THE SPICY RICE
Knob of butter
1 red pepper, diced
1 onion, diced
240g basmati rice, rinsed well!
1tsp ground fenugreek (curry powder should also suffice)
1tsp paprika
1tsp chilli powder
1tsp ground cumin
1/2tsp salt
480ml chicken stock
Fresh coriander, to serve (optional)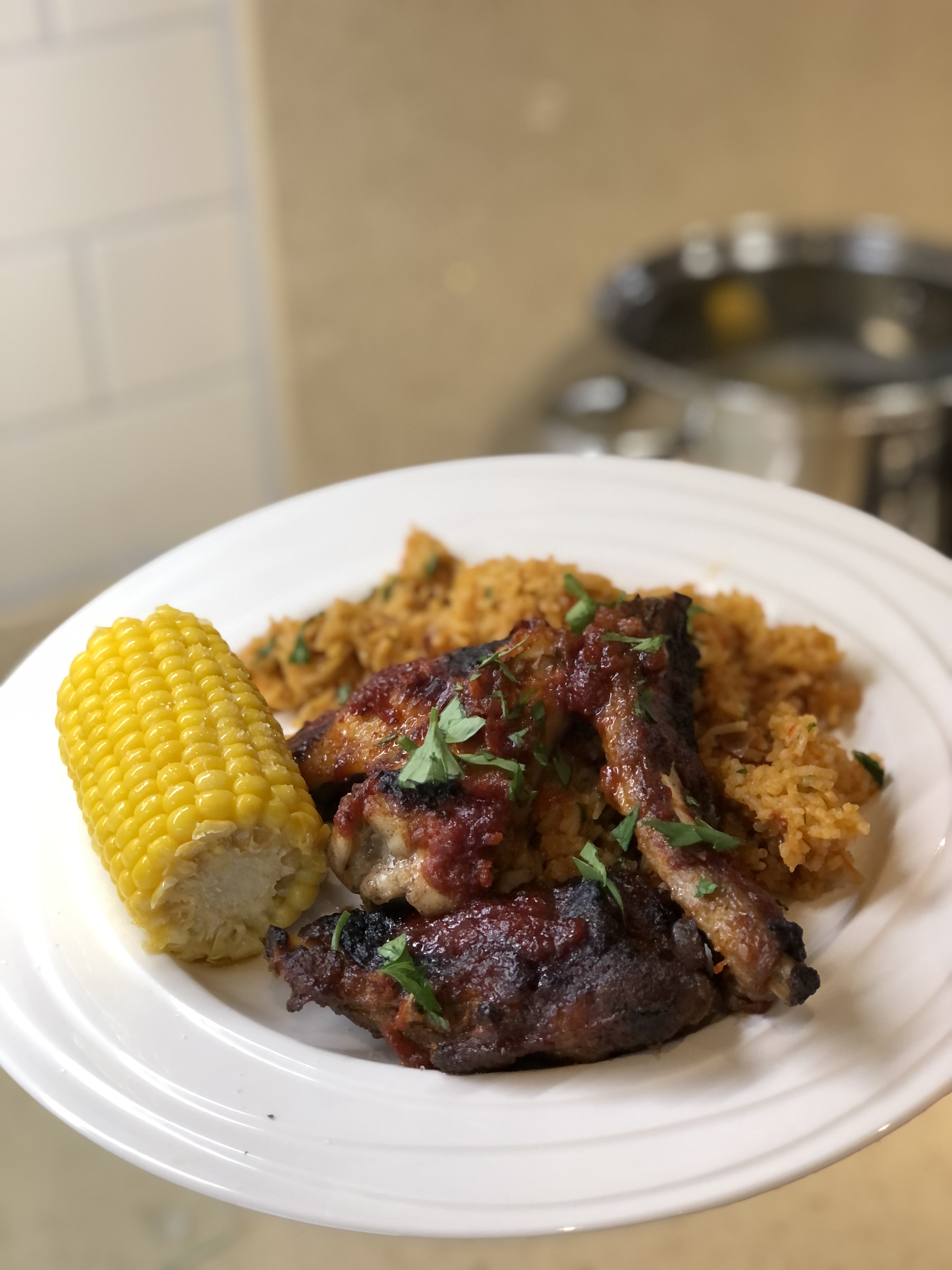 1
Preheat the oven to 150°C.
Line a large roasting tray with some foil. Pat the ribs dry, and place them into the tray. Rub half of the five spice powder into the ribs, wrap in the foil and bake for 1 hour.
2
Meanwhile, make the barbecue sauce. Place all of the ingredients into a medium sized saucepan, stirring well, and set over medium heat. Bring to a boil, then reduce the heat and simmer for 20 minutes.  
3
Once the ribs have had their first hour, remove from the oven and increase the oven temperature to 200°C. Remove the foil from the ribs.
Rub the remaining five-spice seasoning into the chicken wings and add them to the tray with the ribs. Brush everything liberally with the barbecue sauce, and return to the oven for another 30 minutes until everything is glazed and cooked through.
4
Now for the rice. Melt the butter in a medium sized saucepan and fry the peppers and onions for 5 minutes, until softened slightly. Add in the rice and spices, and fry for 30 seconds or so until everything is coated.
Pour in the stock, and bring to the boil, then reduce the heat to as low as it will go, cover and leave for 15 minutes or so, until all the water has been absorbed. After this period, leave covered for a further 5 minutes, then fluff the rice up with a fork and it's ready! 
5
I love to serve the chicken and ribs on a bed of spicy rice, with corn on the cob on the side (see tip #2). Top with some fresh coriander if you're feeling fancy! The Chinese five spice powder is a mix of Szechuan pepper, cinnamon, star anise, fennel and cloves. It gives an amazing distinct flavour to the meat, though should you not have this, your preferred choice of seasonings are fine. To cook the corn on the cob, simply place in salted boiling water for 8 minutes, and serve with butter.