Beef Burgers with Parmesan & Basil Fries
Homemade burgers are surpisingly easy to make - quicker than getting delivery I'd argue! And of course, feel free to use oven fries instead of the homemade ones and apply the same seasoning - they will still be delicious!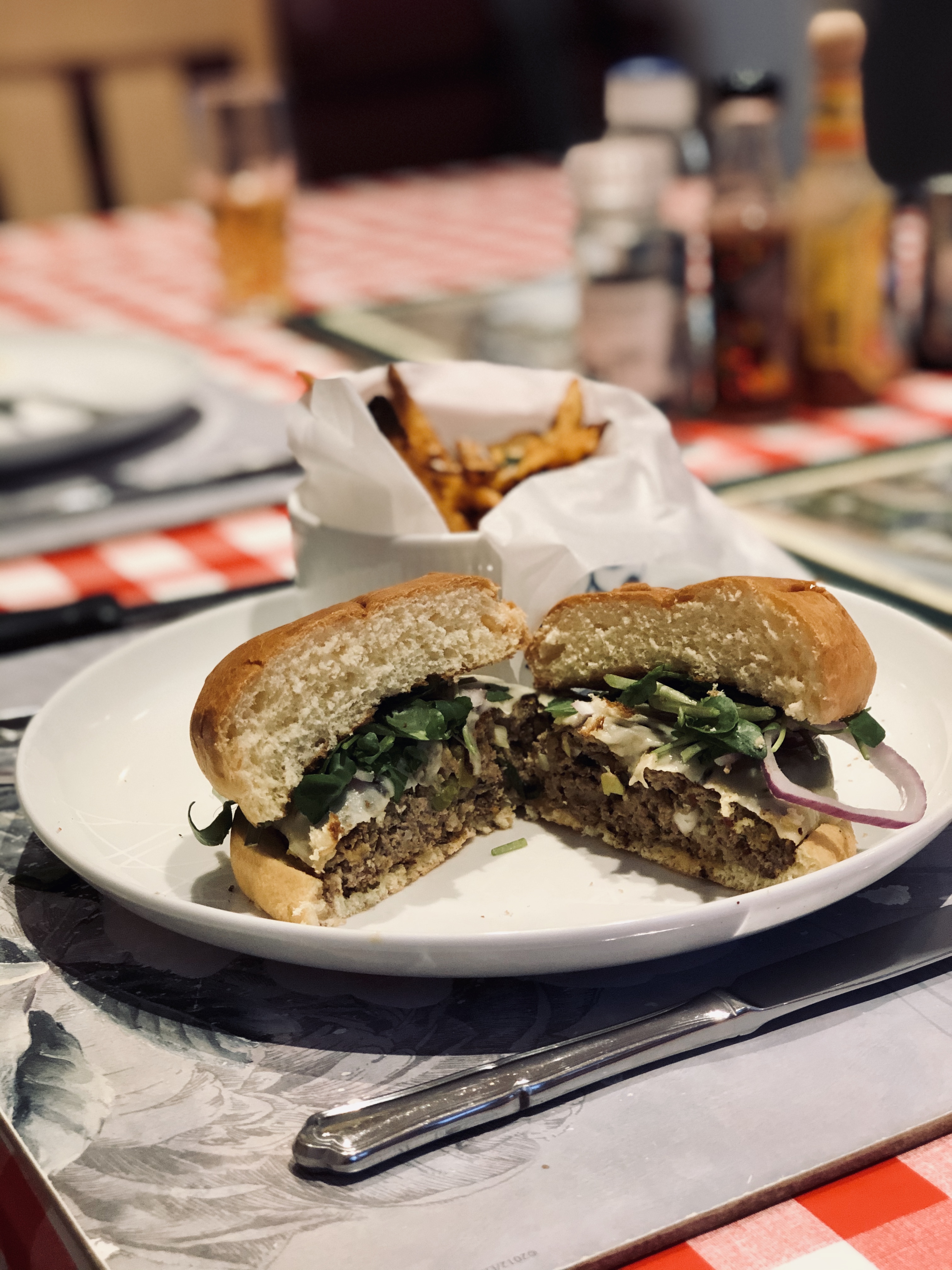 FOR THE FRIES
3 large baking potatoes, peeled and cut into chips
A large pot of salted, boiling water
1tsp mixed herbs
1tsp smoked paprika
1/2tsp salt
1/4tsp black pepper
Drizzle of vegetable oil
15g grated parmesan cheese
Small handful of fresh basil (fresh parsley is also good), finely chopped
FOR THE BURGERS
250g minced beef
50g seasoned breadcrumbs
3 spring onions, finely sliced
1 garlic clove, finely chopped
1 egg
1tbsp ketchup
1tbsp american mustard
A few shakes of Worcestershire sauce
1tsp mixed herbs
1/2tsp dried chilli flakes
1/2tsp salt
1/4tsp black pepper
TO SERVE
Sliced red onion
Cheese slices
Bag of salad leaves (I like rocket)
3 burger buns, sliced in half (use brioche burger buns if you can!)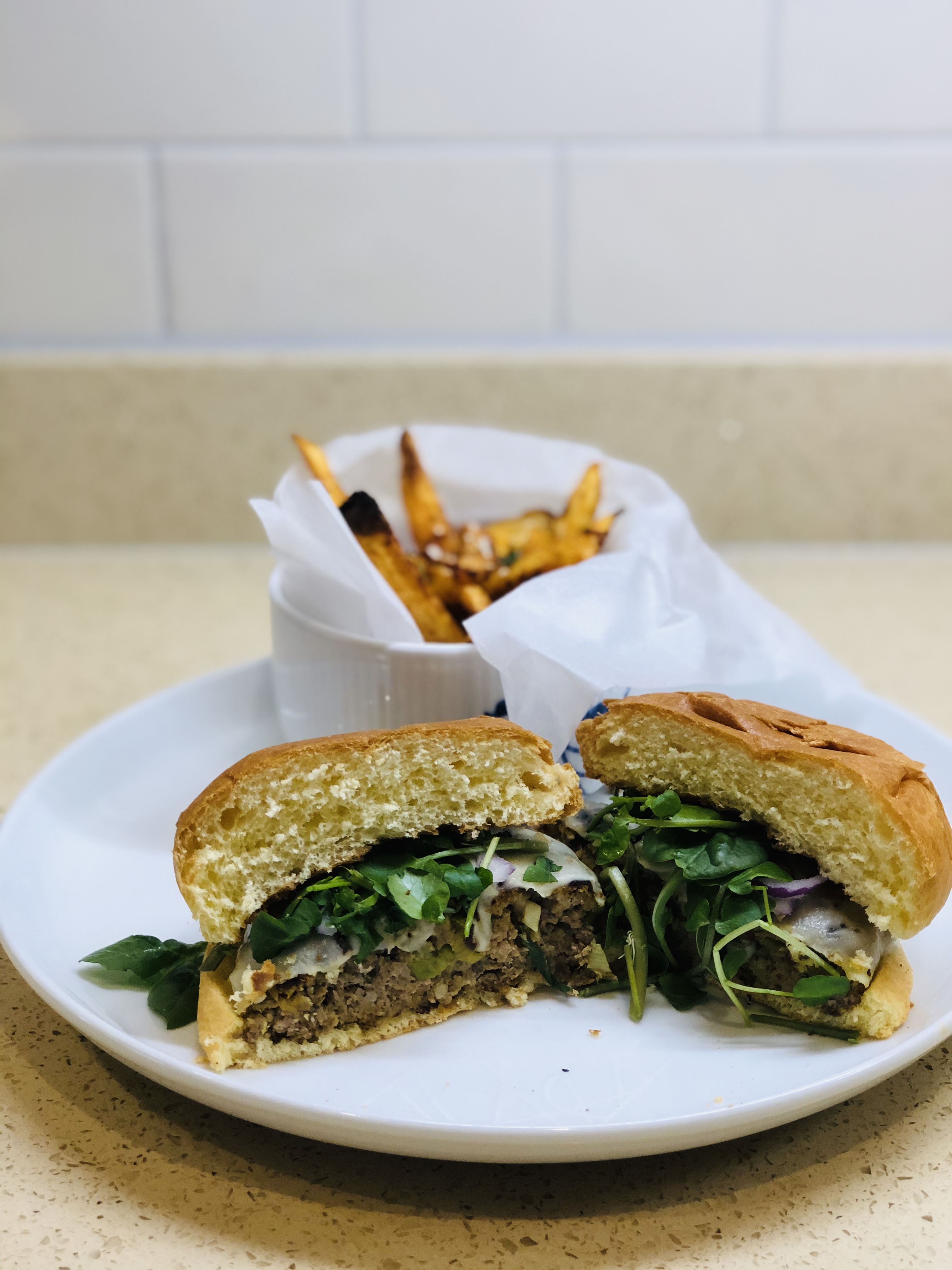 Preheat your oven to 240°C.

Place your chips in a pan of boiling salted water and boil for 5 minutes. Drain and pat dry with a tea towel.

Spread onto a large baking tray in a single layer. Season with the salt, pepper, smoked paprika and dried mixed herbs, along with a drizzle of oil. 

Bake for 30 minutes, giving them a flip halfway through to ensure even cooking.

Now is a good time to get on with preparing the burgers (see below).

Once out of the oven, cover with parmesan and fresh herbs.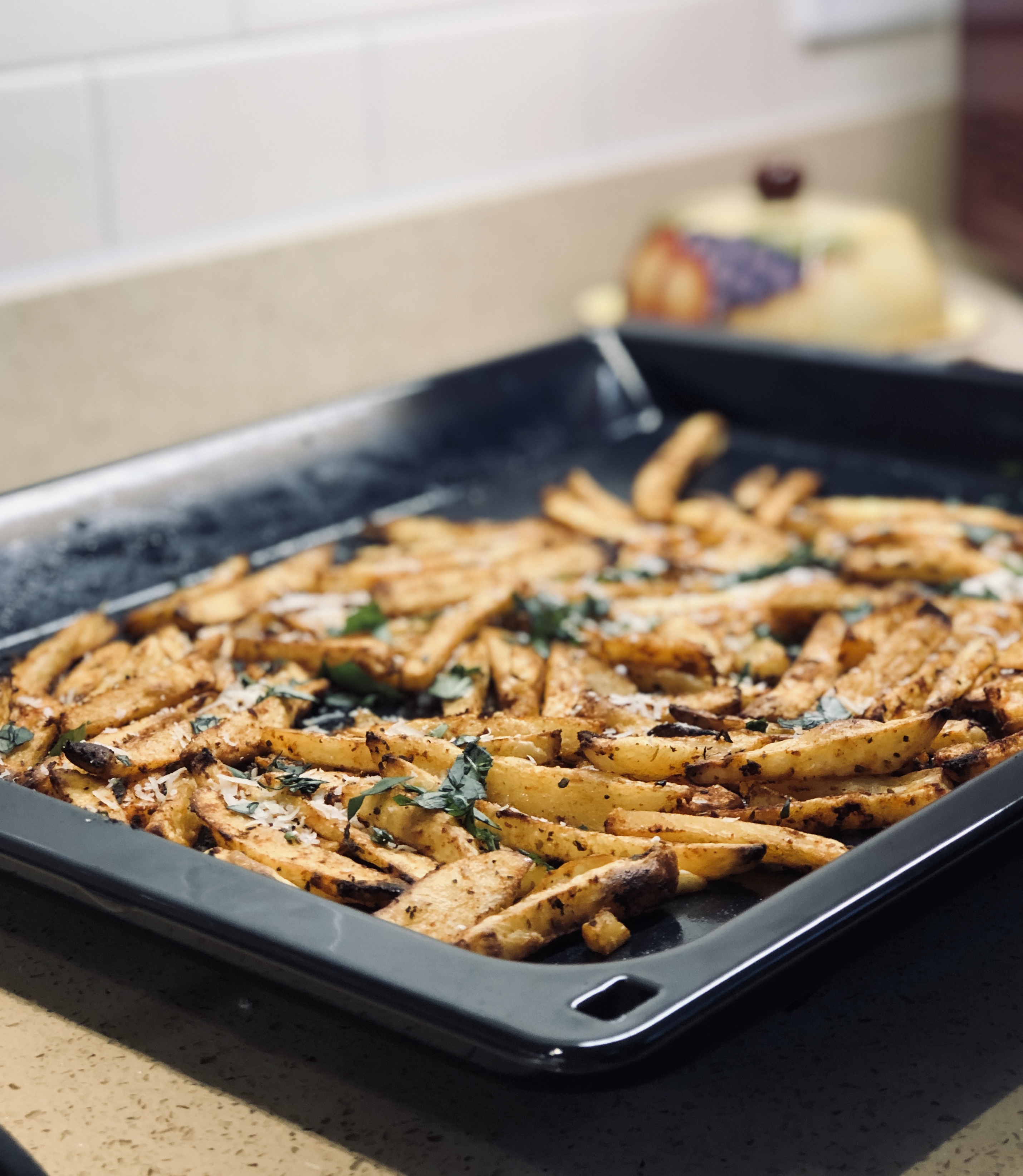 In a large bowl, add in all of the burger ingredients and mix together (the best way to do this is with your hands I'm afraid!)

Divide the mixture into 3 and shape into burgers (don't worry it doesn't have to be perfect!)

Heat some oil in a large pan over a medium-high heat. Once hot, add in the burger patties, cover and reduce the heat to medium-low. Cook for about 5 minutes on the first side, remove the lid, flip and finish cooking on the other side for another 5 minutes.

Assemble the burgers as you wish! I like to place the burger on the bottom half of the bun, top it with a cheese slice and place it under the grill to melt the cheese. Then, I top with red onion and salad leaves. Feel free to use minced lamb in place of beef, or if you are vegetarian there are a lot of meatless minces out there which you could try and use for these burgers. If you don't want to go to all of the effort to make your own chips, use the same seasoning for any old oven chips or fries you like!