Mac n' Cheese
I am torn as to whether you can actually call this a "mac n' cheese". I use rigatoni pasta for preference and have added so many random bits and bobs to this I might as well call it 'pasta bake', but I guess that's what cooking is - putting your own spin on something so it's to your taste! This delicious dinner is super indulgent and rich - my family love it!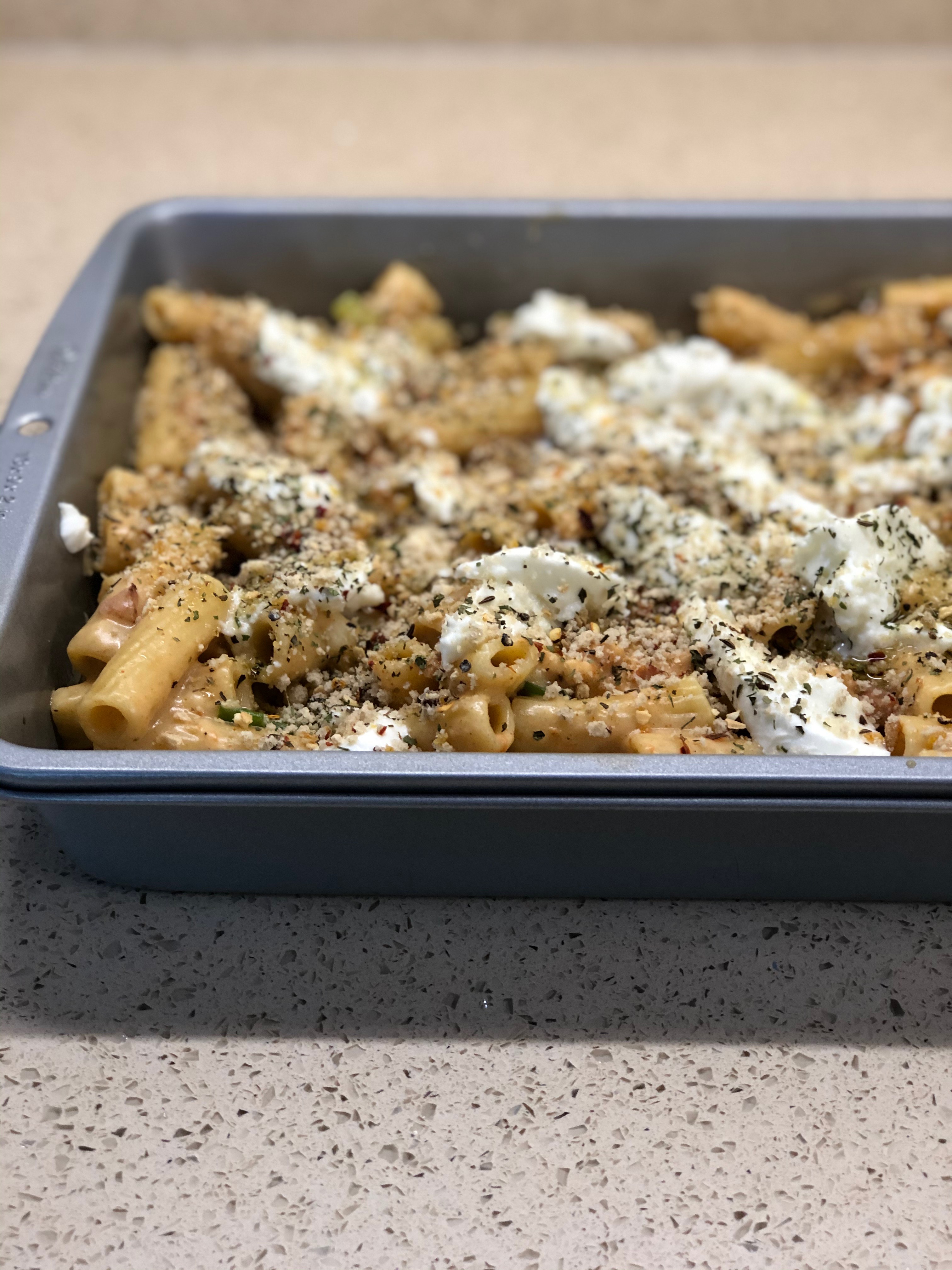 FOR THE PASTA
300g uncooked short-cut pasta (I highly recommend rigatoni, you can also use a mixture)
Large pinch of salt
FOR THE SAUCE
40g butter
40g flour
240ml chicken stock
240ml milk (any kind will do)
1tbsp dijon mustard
1tsp smoked paprika
1/2tsp ground nutmeg
1/2tsp salt
1/2tsp black pepper
60g cheddar cheese (or other moderately strong cheese such as Gruyère)
60g mozzarella cheese (or other mild cheese)
30g parmesan (or other strong nutty cheese, such as pecorino)
TO FINISH
Large handful panko breadcrumbs
1 heaped tsp mixed herbs
85g pancetta cubes
125g cooked chicken breast, roughly chopped (you can find this in the same aisle with the ham/lunch meats)
1/2 bunch spring onions (around 3)
Large baking tin (mine is 9" x 13")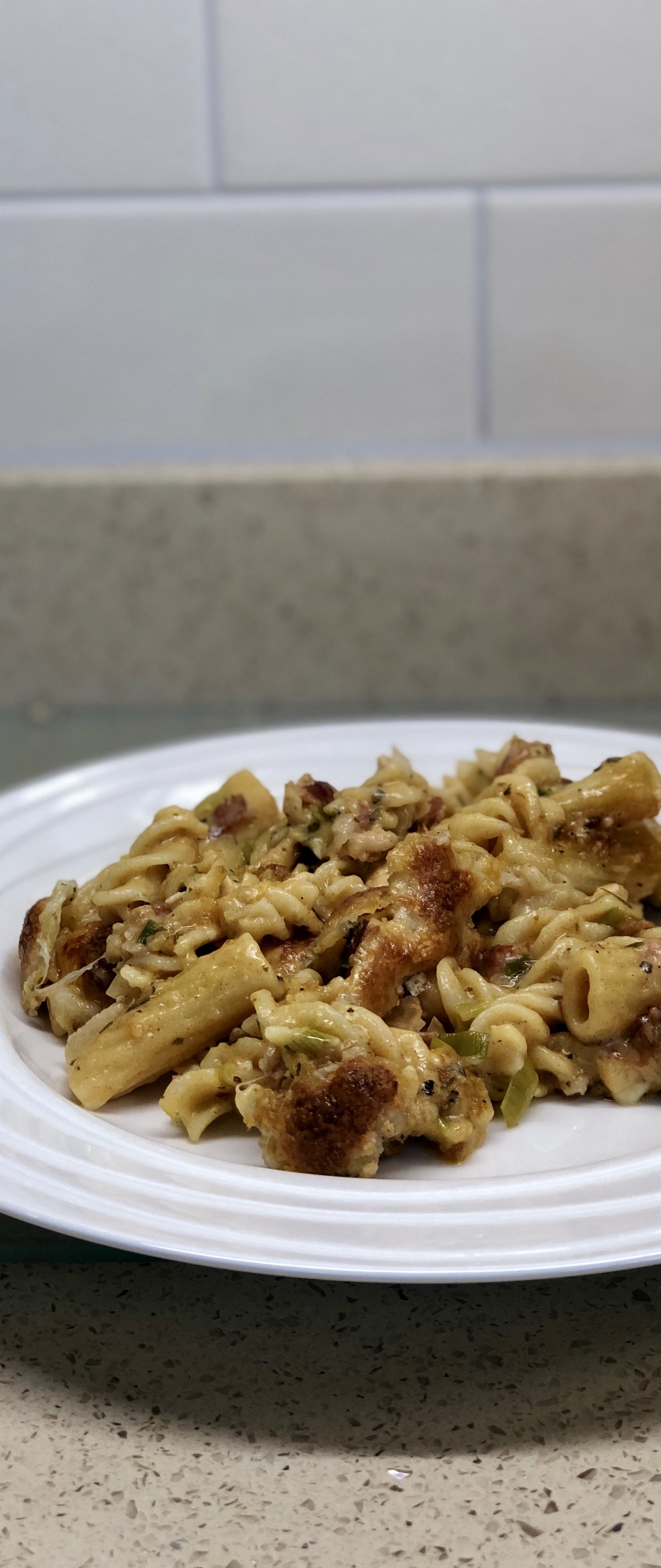 1
Firstly, bring a pan of salted water to the boil. Add in your pasta and cook according to the packet instructions, but take 2 minutes off the minimum cooking time (i.e. if it says boil for 8-10 minutes, go for 6).
Before you drain your pasta, make sure you reserve 1 cup (240ml) of the pasta cooking water. Combine this with the chicken stock and milk and set aside.
Drain and set aside. 
2
Preheat your oven to 170°C.
Get your baking tray and spray/grease with oil or butter. Set aside.
3
Preheat a separate frying pan over medium heat (you could use the same large saucepan you will use later to make the sauce). 
Add in the pancetta, and fry for a few minutes until the fat renders out and it is starting to crisp up.
Next, add in the spring onions, and allow them to fry for about 30 seconds, followed by the cooked chicken to warm through.
Remove from the heat, stir in the mixed herbs, and stir into your drained pasta.  
4
In a large saucepan, add in the butter and flour. Set over a low heat and allow the butter to melt into the flour so you have a paste. 
Gradually pour in your milk mixture, stirring after each addition until smooth before adding some more (I'd say add about 1/4 cup each time, then once the sauce starts to become more liquid you can increase this to about 1/2 cup each time). This process is to prevent any lumps from forming.   
5
Bring the sauce to a boil, and cook for a minute or two. Reduce the heat to low, and stir in the nutmeg, salt, pepper, smoked paprika and dijon mustard, followed by about two thirds of your cheese. Stir until all the cheese has melted in to the sauce.
Remove from the heat and stir in the pasta mixture you prepared earlier.  
6
To assemble, pour your entire pasta mixture into your baking tray and spread out evenly. Top with breadcrumbs, the remaining cheese and some mixed herbs.
Bake for around 25 minutes, until the cheese has melted and the top turns golden brown.
Serve! This dish is a great way of using leftover chicken or any bits and bobs in the fridge that need to be used up! Feel free to use any types of cheese you like!