Garlic & Coriander Naan
These gorgeous breads are so delicious and versatile - you can serve them as wraps, with soups or curries, or even make a pizza out of them! As there are a few steps to making these, I like to make a lot of them, and store the leftovers in the freezer. When I want some naan, I take them out of the freezer and leave them on the counter for a couple of hours before I get cooking.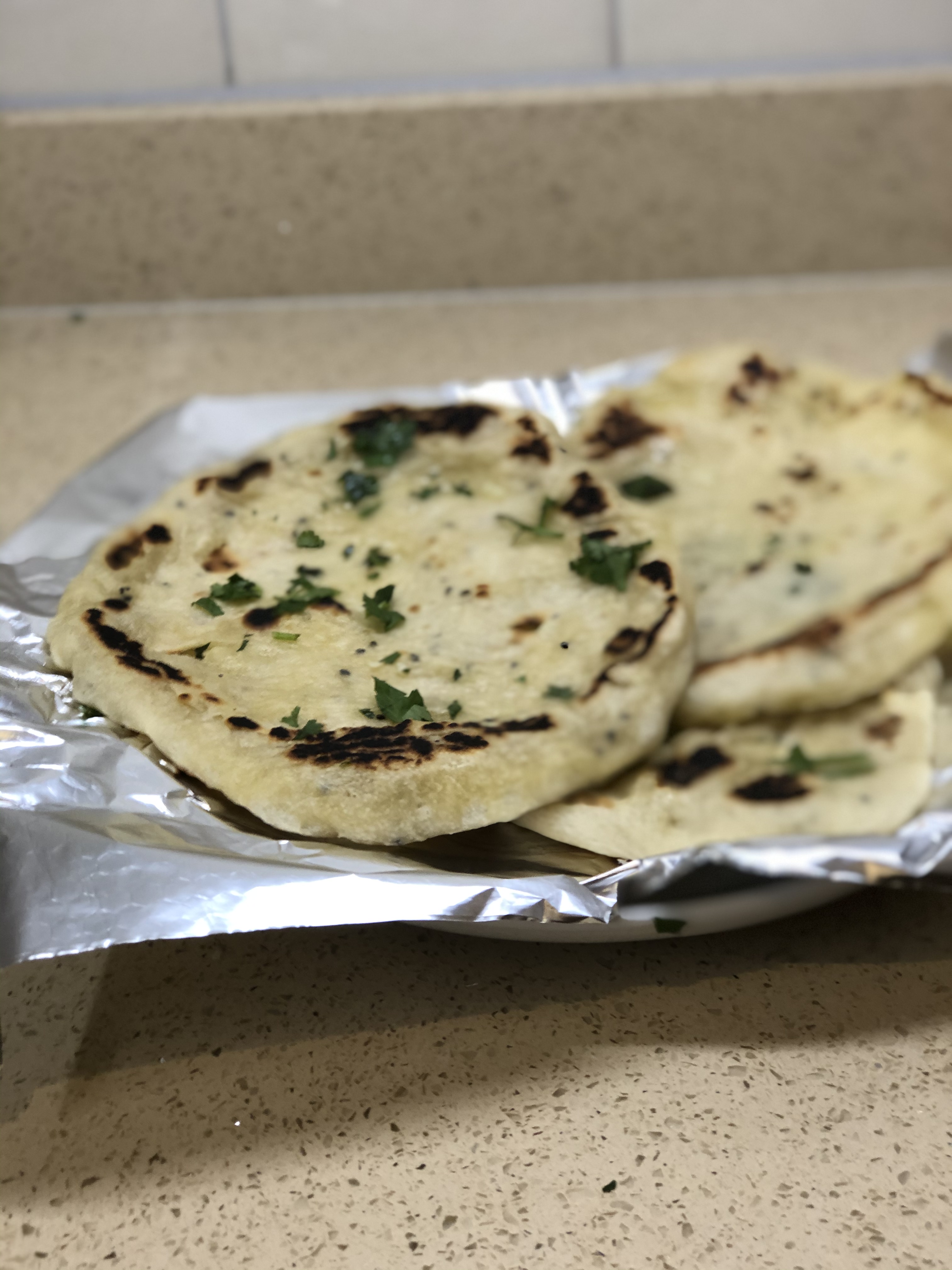 550g plain flour, plus extra for dusting
1 1/2tsp salt
1tsp nigella seeds
1/2tsp bicarbonate of soda
7g sachet of fast-action dried yeast
1tsp sugar
120ml water
5tbsp oil
240g natural yoghurt
To finish
Small handful of fresh coriander
15g butter
1/2 clove garlic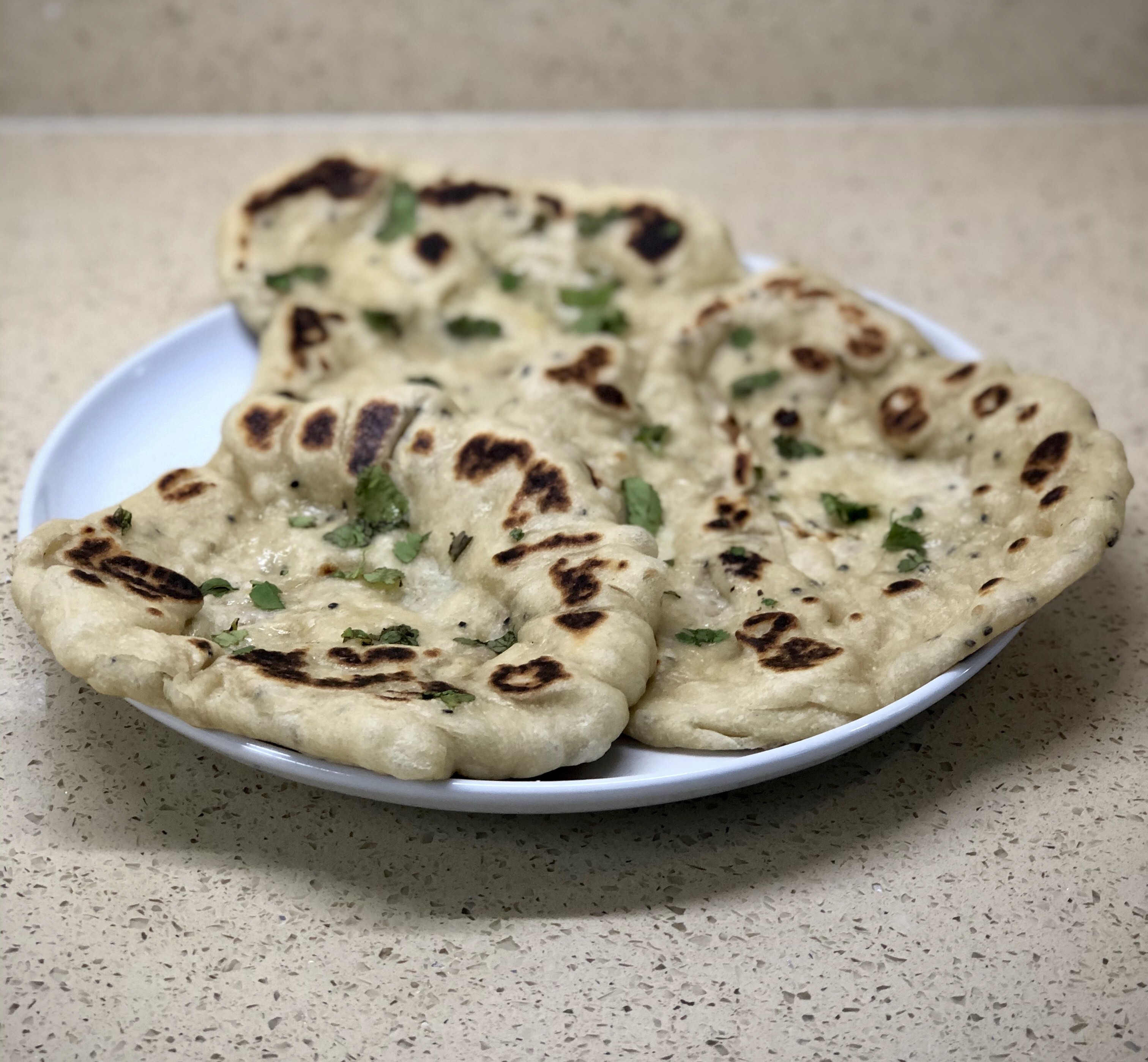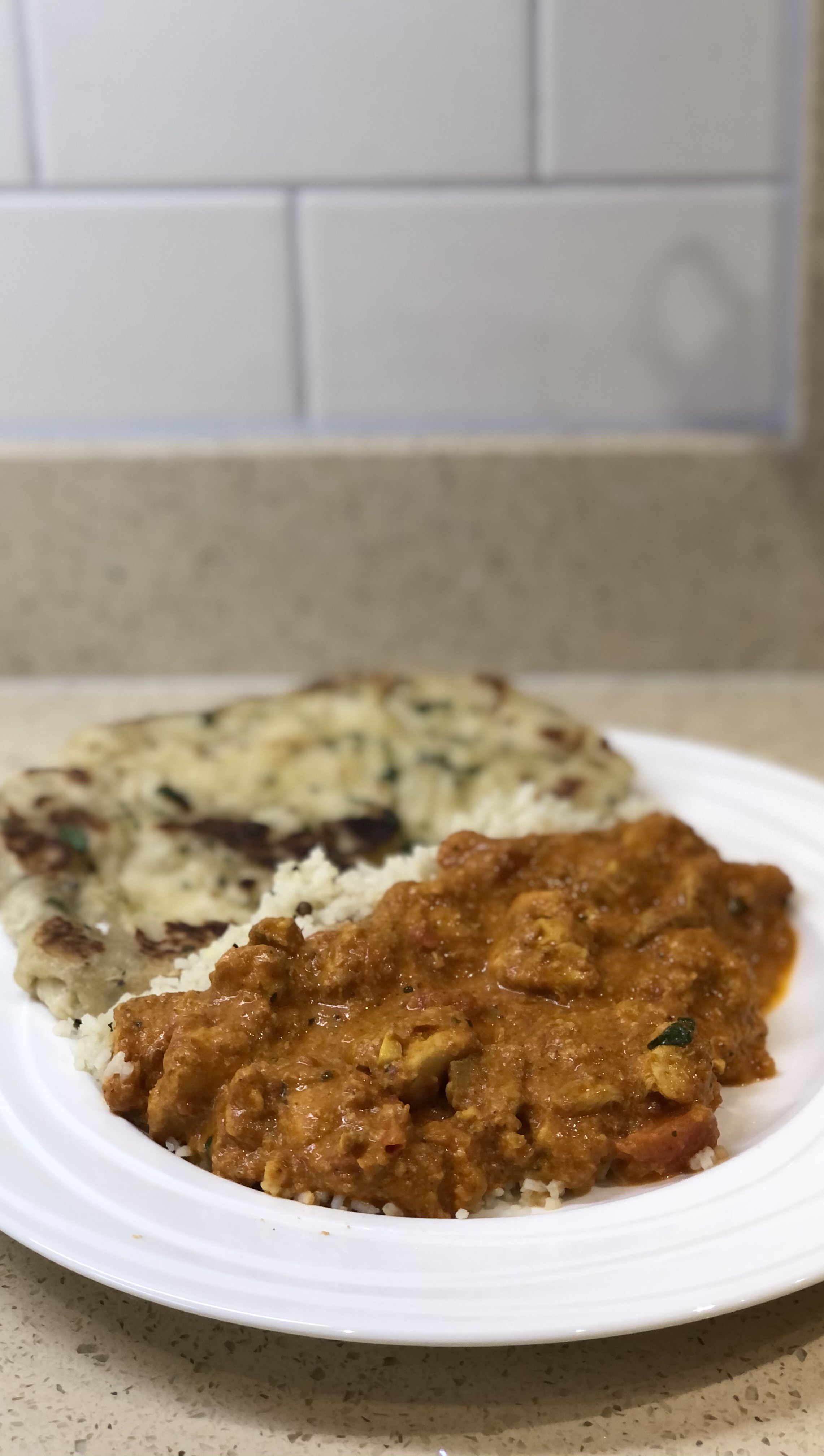 1
I first like to heat my water to body temperature. You can do this in the microwave (you should be able to put your finger in the water and not really feel a major temperature difference).
However, I am incredibly pedantic when it comes to this and do this by putting the water in a small pan with a sugar themometer and bringing it up to 110°F (this is optimal for yeast fermentation which will help the breads to puff up). So you may also do this if you wish (though it is really not necessary)
I then stir in the sugar and sprinkle over the yeast. Set this aside for five minutes or so until it puffs up a bit. This is proofing the yeast to make sure it is active, though I do use yoghurt and bicarbonate of soda as insurance for this! 
2
Stir together the flour, salt, nigella seeds and bicarbonate of soda. Do this well as yeast does not like being directly added to salt!
Add in the oil, yoghurt, and yeast mixture, and mix to form a scraggly ball of dough.
Massage over some more oil and leave in the bowl, loosely covered with some clingfilm. Leave in a warm place for 2 hours to rise.
3
Once your dough has risen (save back the clingfilm!), knock out all the air (simply by punching the dough - very satisfying) and knead on a lightly floured counter for five minutes (be sure to flour your hands too!). I do this by pushing the dough away from me with the heel of my hand, then bringing it back towards me before repeating with the other hand. Once you get into the rhythm of this it is pretty straightforward!
4
Once you have kneaded your dough, divide into 8 (simply cut in half, then cut each half in half, then cut each quarter into half so you have 8 pieces). If you are freezing any of the doughballs, do this now (see storage notes below).
Should you wish to make your naan today, cover loosely with your clingfilm and leave to rise for about another 30 minutes.
5
Now for the fun part! Take one dough ball then stretch it out by holding it from one end and letting it droop, rotating it in your hands. It should naturally stretch itself out into a circle as you do this. If this sounds confusing or you feel you need a little more practice with this, a floured surface and rolling pin should do the job, or you could shape it into a large circle on the counter with your hands.
Ultimately, you want to roll this out as thin as possible (if you get any holes in the dough, don't worry too much!). Generally, the less you handle to dough at this stage, the better.
6
Melt the butter in the microwave (20 seconds on high should do the trick) and stir in the chopped coriander and grate in the garlic. Set aside until ready to use.
7
Preheat a dry frying pan over high heat. Once hot, place over the bread, and splash over some water (I like to wet my hands and flick at the pan), then cover with a lid. This creates steam which helps the bread to puff up nicely.
Reduce the heat and cook for about a minute, covered, then flip and cook uncovered for another minute.
Once cooked, brush with the melted butter mixture you prepared earlier and move on to the next one.
I like to keep these warm in a low oven (around 110°C) until I've cooked all the breads and am ready to serve. 
These are so delicious as a side! I insist you try them, even if it's just once!  
STORAGE NOTES:
I like to freeze any naan I am not eating on the same day as soon as I have divided the naan into 8 pieces. Simply place in a freezer bag and leave at room temperature to defrost at room temperature for a couple of hours and it will be ready to use. For a naan pizza, make the naan in the pan as required, then simply top with your favourite sauce, cheese and toppings and pop onto a baking tray lined with foil under the grill until the cheese is melted. You now have your own individual pizza! Nigella seeds have such a unique flavour and add so much to these breads - I insist you try them!