Singapore Noodles
One of the things I love about cooking is fusing multiple cultural influences into one dish. Singapore noodles, which to my understanding have no affiliation with Singapore at all, fuse east Asian flavours with south Asian spices, which to me is just utter perfection. Even better - you can have this dish on your table in no time at all!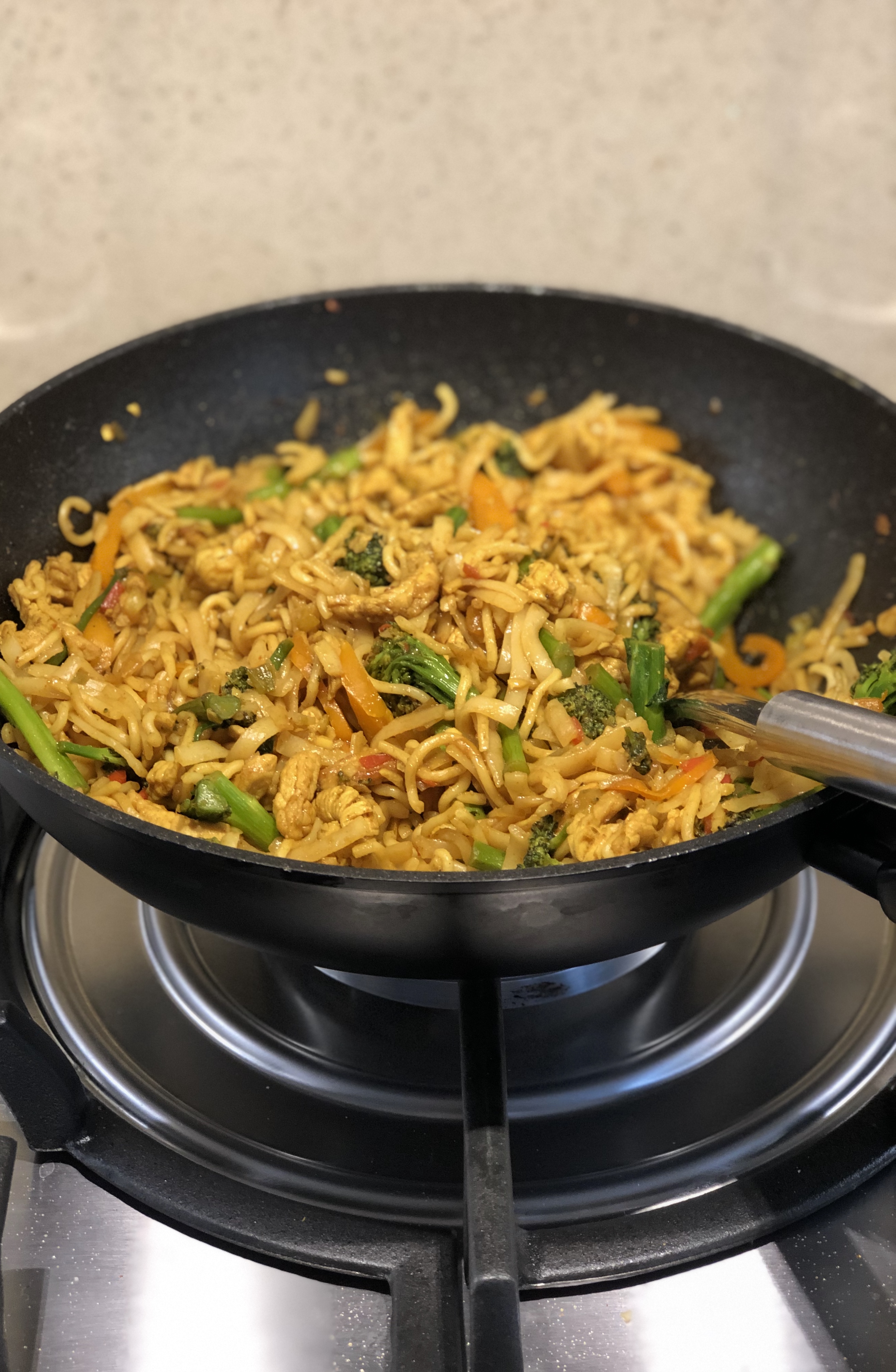 FOR THE SAUCE
3tbsp soy sauce
2tbsp oyster sauce
2tsp sugar
FOR THE CHICKEN
4 chicken breasts (turkey also works well here) cut into thin strips
2tsp soy sauce
2tsp oyster sauce
Salt and pepper
FOR THE STIR FRY
1tbsp sesame oil
2 cloves garlic, finely chopped
1-inch piece fresh ginger, finely chopped
1 red chilli, finely chopped
4 spring onions, finely sliced
~300g mixed stir fry vegetables (such as tenderstem broccoli, carrot, mixed peppers - cut into strips/bite-sized pieces) 
1tsp ground coriander*
1tsp ground cumin*
1tsp tumeric*
1/2tsp chilli powder*
1/2tsp ground fenugreek*
1/4tsp salt
1/4tsp black pepper
4 x 150g straight to wok noodles (or 4 dried noodle nests prepared according to package instructions)
1 lime
*see tip at the bottom of the page!
1
It's very important you prepare your ingredients as specified above as stir fries move quickly!
Mix together all of the sauce ingredients and set aside.
I also like to mix together the ground coriander, cumin, tumeric, chilli powder, fenugreek, salt and pepper in a small bowl at this stage.
Mix together the strips of chicken with the soy sauce, oyster sauce, and a small amount of salt and pepper. Set aside.
2
Preheat the sesame oil in a large frying pan or wok. Once hot, add in the chicken, and cook for 2 minutes until the meat is browned. 
Next, add in the garlic, ginger, chilli and spring onion, and fry for a further 30 seconds.
Add in the stir fry vegetables, and cook for another couple of minutes. Then, add in the spices, and cook for a further 2 minutes. 
3
Go in with your noodles and sauce. Stir fry until all of the sauce is clinging to the noodles and none is sitting at the bottom of the pan.
4
Remove from the heat, and squeeze in the juice of half a lime (the remaining half can be cut into four and used as a garnish). Serve!

If you don't have all of the above spices, a heaped tablespoon of curry powder can be substituted here. If you are vegetarian, you can substitute oyster sauce for a vegetarian oyster sauce (usually made from mushrooms) or extra soy sauce. And of course, omit the chicken!