Chocolate Chip Cookies
Chocolate chip cookies were the first thing I ever learnt to bake. And if you're new to baking, I suggest this to be your first venture too. No fancy equipment - just some ingredients and a bit of elbow grease and you can knock up these delicious, soft and gooey cookies in no time! Over the years, I've found some new tips and tricks which will really bring your cookies to the next level.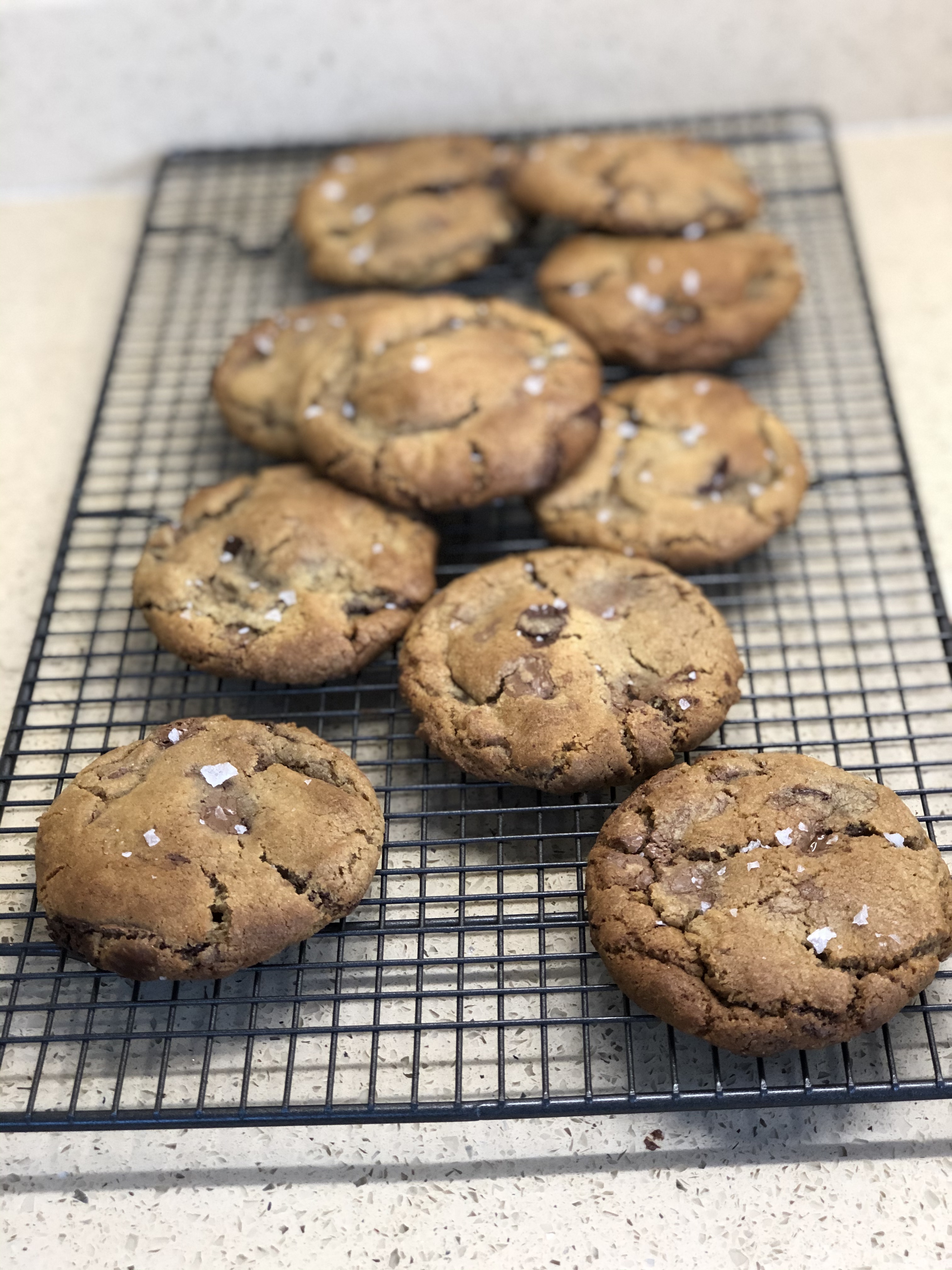 130g butter
200g soft light brown sugar
1 egg
2tsp vanilla extract
200g plain flour
1/2tsp baking powder
1/2tsp bicarbonate of soda
1/4tsp salt
100g dark chocolate chips
100g milk chocolate chips
Flakey sea salt (optional; do make sure its flaked though otherwise they will be unpleasantly salty)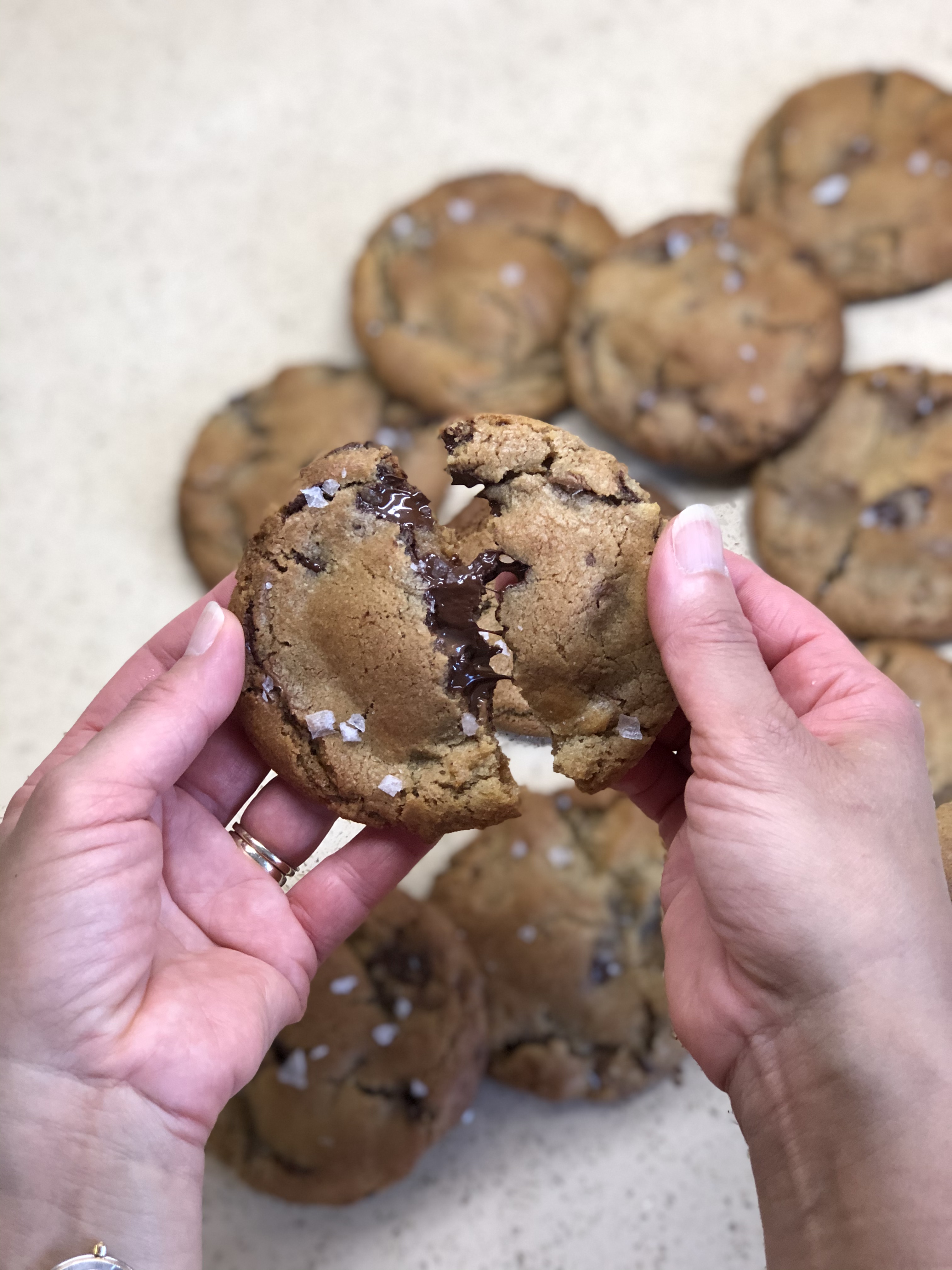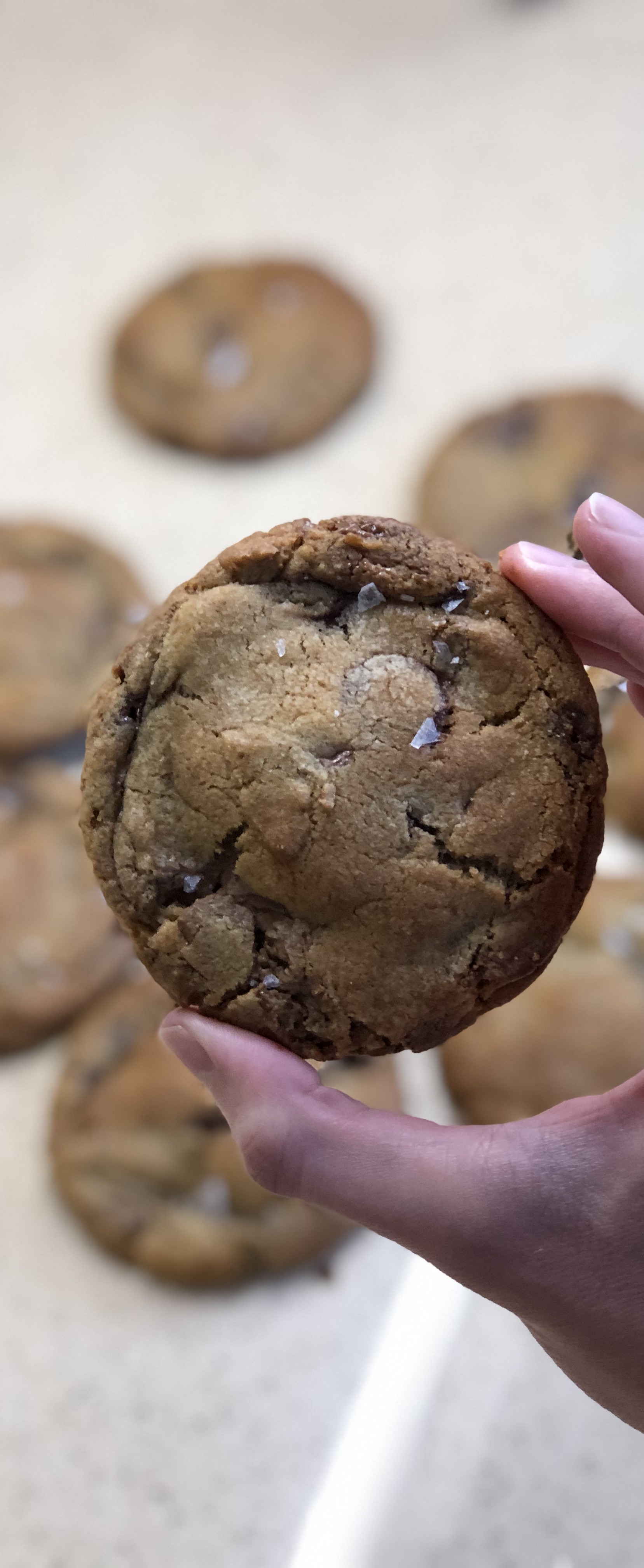 1
Melt the butter in a large saucepan set over low heat. Once entirely melted, turn up the heat to medium-low, and bubble away until the butter turns to a brown colour, and smells amazing (believe me you will know!). Stir frequently to prevent burning.
Pour into a large, heatproof bowl to allow it to cool, whilst you prepare the remaining ingredients. 
2
To the browned butter, whisk in the sugar until just combined, then beat in the egg and vanilla until you have a smooth mixture.
3
Finally, sift in the flour, baking powder, bicarbonate of soda and salt. Mix until you have a smooth dough. Add in your chocolate chips and mix until they are evenly distributed throughout the dough.
4
Using a mechanical ice cream scoop (my weapon of choice, though you can of course use a spoon), scoop out mounds of dough and roll them into balls with clean hands.
I find it easiest to layer the cookie balls in a large Tupperware container, separating each layer with a sheet of parchment paper to avoid them sticking together. Though of course, you could just put them back in the same bowl you made the dough in and cover them with clingfilm. You should get roughly 14 cookies.
Refrigerate for at least 30 minutes, though I recommend leaving them in the fridge overnight as your cookies will be all the better for it!
Make sure you scoop out the dough balls before you refrigerate, otherwise the dough will be too hard straight from the fridge.
6
When you are ready to bake the cookies, preheat your oven to 190°C and line 2 large baking trays with baking parchment. Place the dough balls roughly 10cm apart from each other, as they spread a lot (and for that reason - do not be tempted to flatten them out, the oven will do all the work for you!).
Bake for 12 minutes, no more, no less - they may appear underbaked, but they will continue to set as they cool.
7
Once out of the oven, top with some flaky sea salt if desired. Leave to cool for 30 minutes, before diving into your freshly baked cookies.  
STORAGE NOTES:
Keep in an airtight container for up to 2 days.
Any unbaked dough will keep in the fridge for up to 5 days. You can freeze the doughballs for up to 3 months (wrap them individually so they don't stick together). Bake from frozen, adding 2 minutes to the cooking time. For perfectly round cookies, get a large round cookie cutter and circle it around the edges of the freshly baked cookies to coax them into round shapes.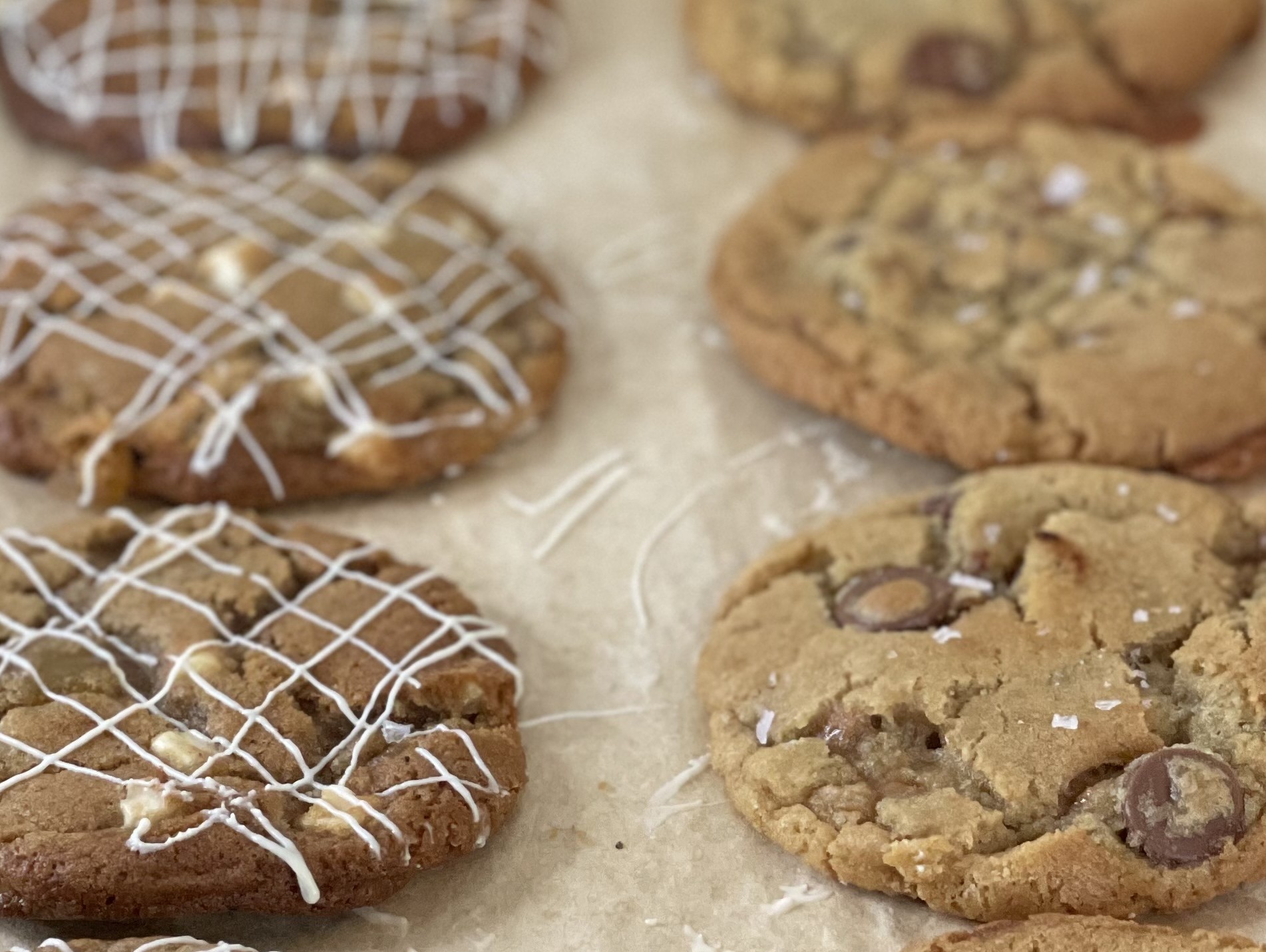 For milk chocolate and fudge cookies
Fold 100g milk chocolate chips and 100g chopped vanilla fudge pieces into the dough. For white chocolate and stem ginger cookies
Sift in 1tsp ground ginger, 1tsp ground cinnamon and 1/4tsp ground nutmeg with the flour. Stir in 6 pieces of chopped stem ginger and 100g of white chocolate chips into your dough. Drizzle melted white chocolate over the cookies once cooled.