Cornflake Crunch Bars
These millionaire shortbread-cookie hybrids are absolutely to-die-for. A layer of cookie, topped with salted caramel and chocolate, with a final flourish of crunchy, malted cornflakes. These might just be one of my favourite treats.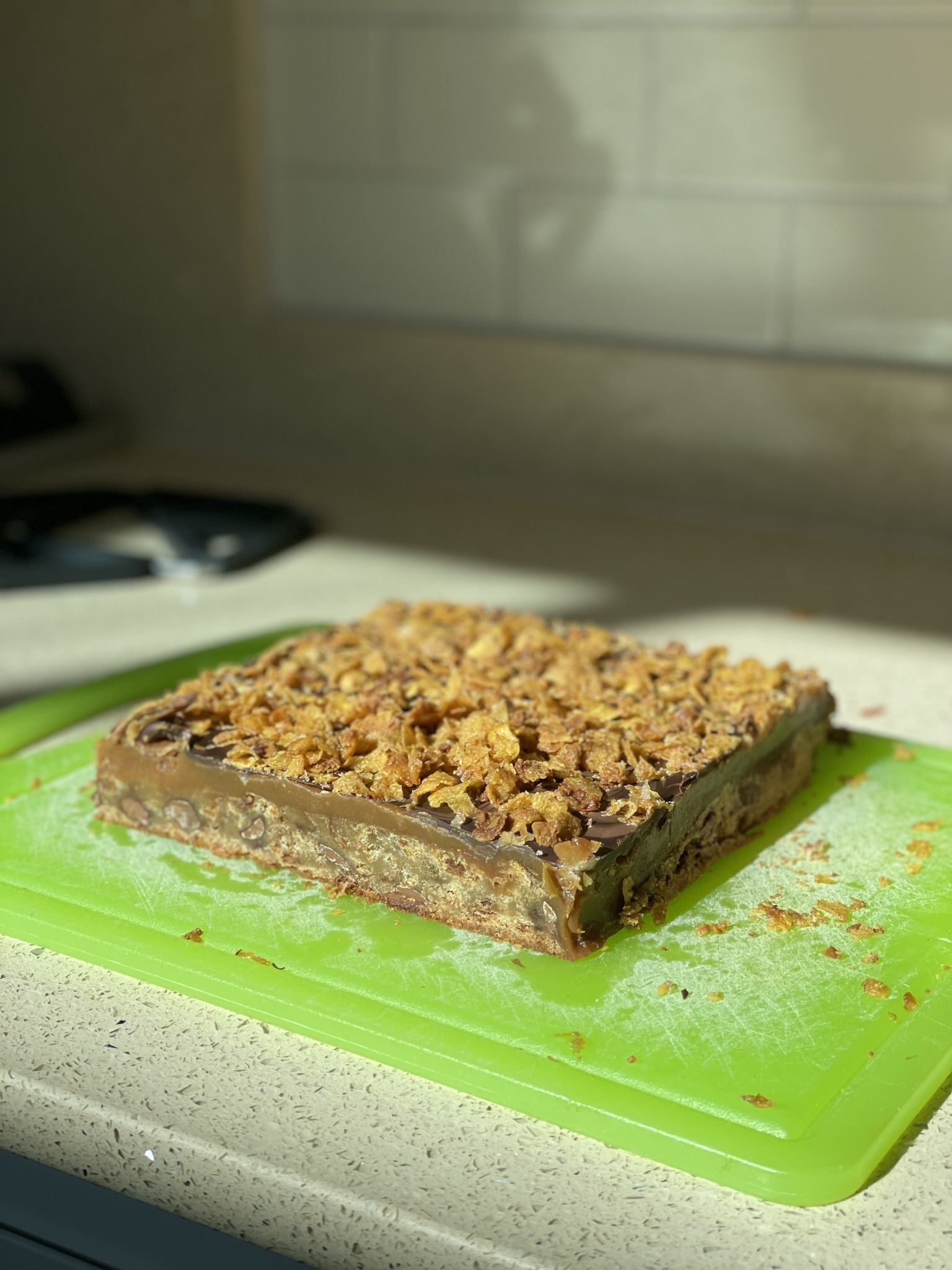 FOR THE MALTED CORNFLAKES
35g butter, melted (can do this in a microwave for 30 second intervals, stirring in between, or over the hob over low heat in a small pan)
20g malted milk powder
20g white sugar
1/4tsp salt
60g cornflakes
FOR THE COOKIE
100g butter
140g soft light brown sugar
1 egg, plus 1 yolk (keep the white in the freezer for meringue!)
1 1/2tsp vanilla extract
130g plain flour
25g malted milk powder
1/4tsp salt
100g milk chocolate chips (feel free to use a bar chopped up too)
FOR THE CARAMEL
150g caster sugar
60ml water
150ml double cream
35g butter
1/2tsp vanilla extract
1/2tsp fine sea salt
1tbsp plain flour (needed for later)
FOR THE TOPPING
100g dark chocolate
50g milk chocolate
Leftover malted cornflakes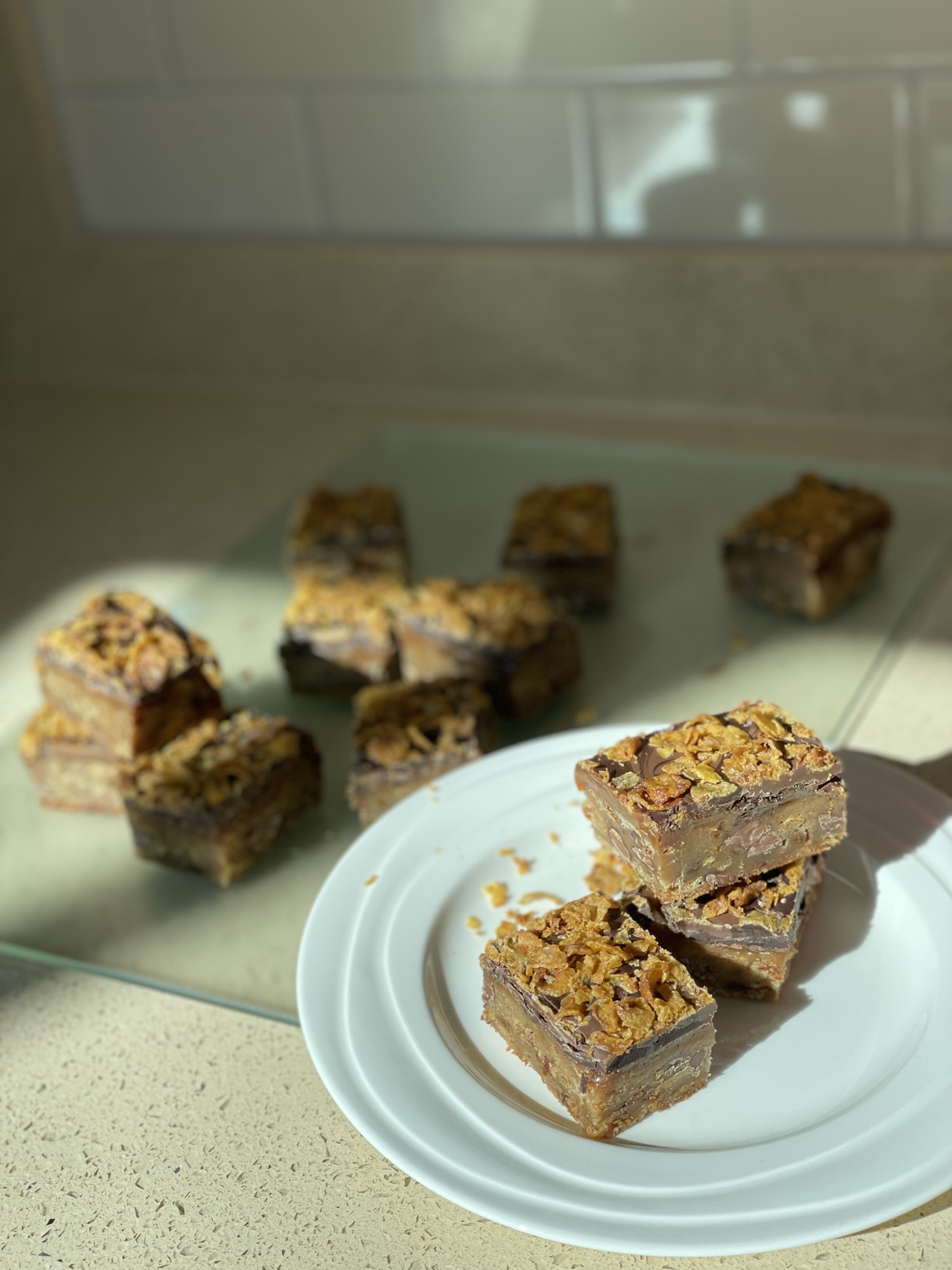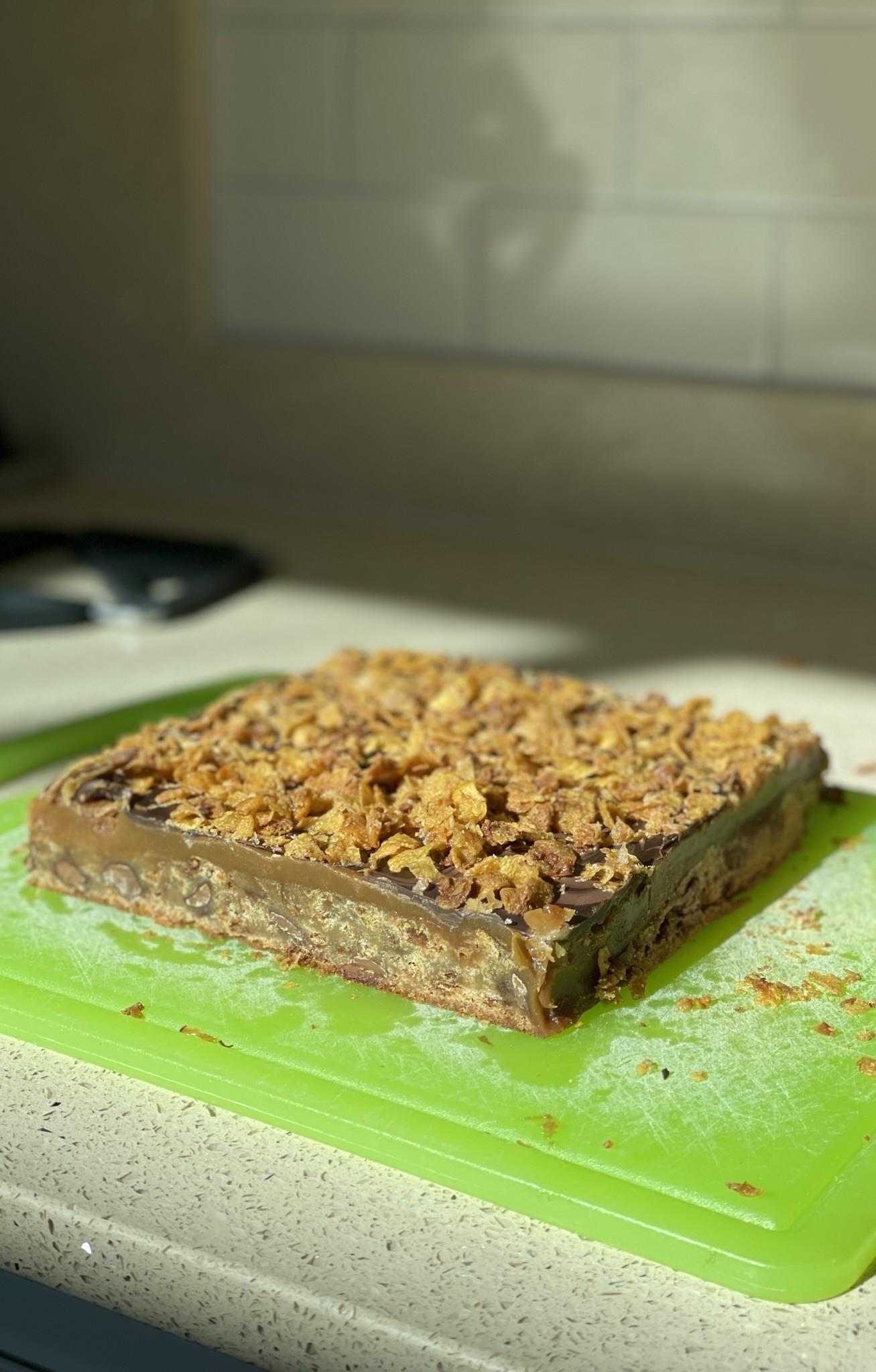 1
Begin with the salted caramel.
I start by heating the cream in the microwave for a minute on full power (use a tall jug/container to be extra safe it doesn't bubble over). Having the cream hot should prevent your caramel from seizing up when you add it later. 
In a medium-large sized saucepan, add your sugar. Pour over the water. Do not stir now, or at any stage - resist the temptation! All that is permitted is keeping a pastry brush on the size dipped in some cold water, to gently brush down the edges of the pan should any sugar crystalise on the side of the pan as the caramel cooks.
Set over medium heat and leave it to do its thing. You may gently tilt/rotate the pan from side to side to ensure even cooking, but do not stir. 
I cannot tell you exactly how long yours will take, though scroll below to find a guide with pictures and estimated time frames for your caramel :).
You're looking for a golden colour throughout before you add the hot cream. Once you reach this stage (it will take around 15 minutes or so), you may gradually pour in the hot cream whilst continuously whisking. 
In the event that they caramel begins to form lumps/clump together, you may return to a low heat and keep stirring until the lumps dissolve, though this is unlikely.
Lastly, add the butter, and allow this to melt, followed by the vanilla and salt. Set aside until ready to use, and don't taste it just yet as it will be super hot!
2
Next up, prepare the cornflakes.
Preheat your oven to 140°C.
Add your cornflakes to a medium-sized bowl and toss with the sugar, salt and malted milk powder. Drizzle over the melted butter and mix well. 
Tip out onto a small baking tray and flatten out. Bake for 20 minutes. Remove from the oven, give them a stir and set aside (decanting them into a bowl will help them cool faster).
3
Now for the cookie layer. Increase the oven temperature to 170°C. Liberally grease (with oil or butter) and line a 7-inch square or 8-inch round baking tin with parchment paper (I like to have it hanging over the sides so it is easy to pull out later). Set aside. 
Melt the butter in a large pan over a low heat, then bring to the boil over a medium-high heat, and stir continuously until the butter browns in colour (it will bubble up and go foamy first, then begin to develop a nutty aroma).
Pour into a heatproof bowl and set aside to cool slightly.
4
Sift together the flour, malted milk powder and salt into a separate bowl. Whisk in the chocolate chips until evenly distributed and set aside.
5
To the browned butter, whisk in the sugar until just combined. Follow with the egg (and additional yolk) and vanilla and beat really well, either with a stand mixer or by hand. It should go paler in colour. Do note the mixture may look grainy at this stage - this is normal!
6
Fold in the dry ingredients and about 3/4 of the cornflakes you prepared earlier (though to be honest, there's no need to be exact, just hold a couple of handfuls back for later).
Tip the mixture into the prepared tin, and press flat into a single even layer. Bake for 15 minutes.
7
Whilst the cookie bakes, return to the caramel. Sift in 1tbsp plain flour, and mix well.
Once your cookie base is out of the oven, immediately pour the caramel over the partially-baked cookie crust. Return to the oven, and bake for a further 15 minutes - this should help to set up your caramel.
Once out of the oven, leave to cool at room temperature for 2 hours.
8
For the topping, melt the dark chocolate in the microwave, for 20 seconds at a time, stirring well between each blast until it is fully melted. Do not be tempted to do longer than 20 seconds at a time - I've tried and often the chocolate burns.
Repeat with the milk chocolate.
Firstly, pour the dark chocolate over the caramel layer. Tilt the pan so that it covers everything evenly (you can also use an offset palette knife or spoon to help smooth everything out).
Next, using a spoon, dollop bits of milk chocolate all over the top of the dark chocolate. Then, using a skewer, toothpick, or knife, gently swirl around to make a pretty marble pattern (be careful not to pierce the caramel!)
Top with the remaining cornflakes, then remove from the pan (but keep the parchment on and do not cut just yet. I do this as I find refrigerating in the pan can cause it to stick, though if this does happen, submerge the outside of the tin in some hot water from the kettle to help loosen it. Refrigerate for at least an hour before removing from the tin and cutting into squares.
STORAGE NOTES:
Keep in an airtight container for up to 2-3 days. After this period the cornflakes will begin to lose their crunch (though these will still taste pretty good). Why not replace the cornflakes with another type of cereal? Puffed rice maybe? Try it out! If you can't get hold of or don't want to use malted milk powder, simply use extra flour in the cookie layer and omit it from the cornflakes - your bars will still come out great!