Easy Vegan Chocolate Cake
This chocolate cake recipe is so easy, so soft, and as you might have guessed by the title - suitable for vegans! Though you wouldn't be able to tell - it's simply a fantastic cake recipe which I highly recommend you try out for yourself!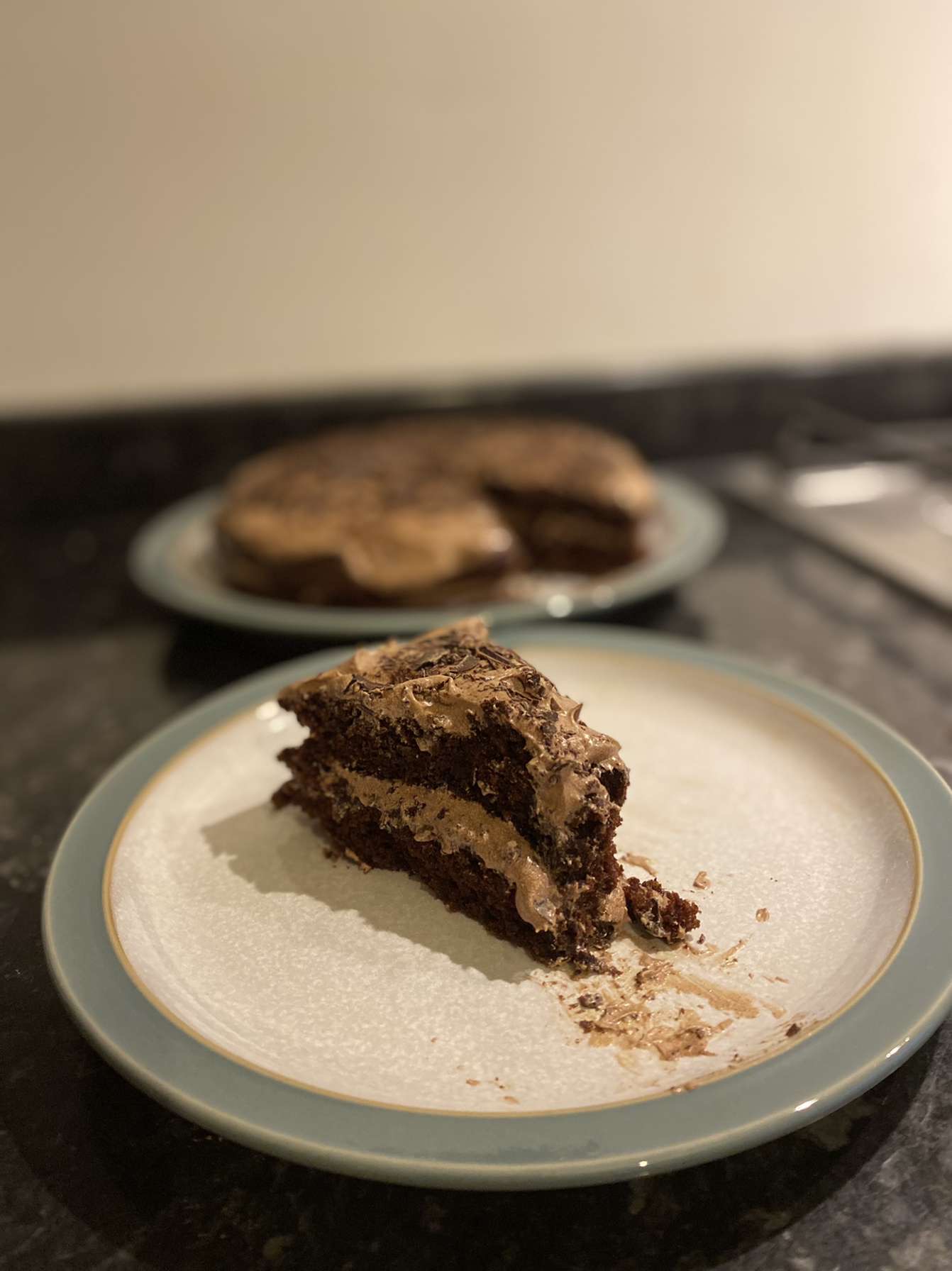 FOR THE CHOCOLATE SPONGE
1/2tbsp instant espresso/coffee granules dissolved in 120ml hot water
120ml oat milk
1tbsp cider vinegar or lemon juice (essential - this will help your cake to rise!)
1tsp vanilla extract
110g flavourless oil
180g plain flour
30g cocoa powder
1/2tsp salt
3/4tsp bicarbonate of soda
200g sugar
1x8-inch round cake tin, or an 8x8inch square pan
FOR THE CHOCOLATE SYRUP
60ml water
25g caster sugar
50g golden syrup
30g dark chocolate, roughly chopped
20g cocoa powder
1/4tsp salt
1/4tsp instant espresso/coffee granules
FOR THE BUTTERCREAM FROSTING (IF MAKING THE CAKE IN A SQUARE PAN)*
45g vegan butter, softened at room temperature
40g vegetable shortening, at room temperature
160g icing sugar, sifted
1/2tsp vanilla extract
1tbsp oat milk
Chocolate syrup, from earlier
TO FINISH
40g Dark Chocolate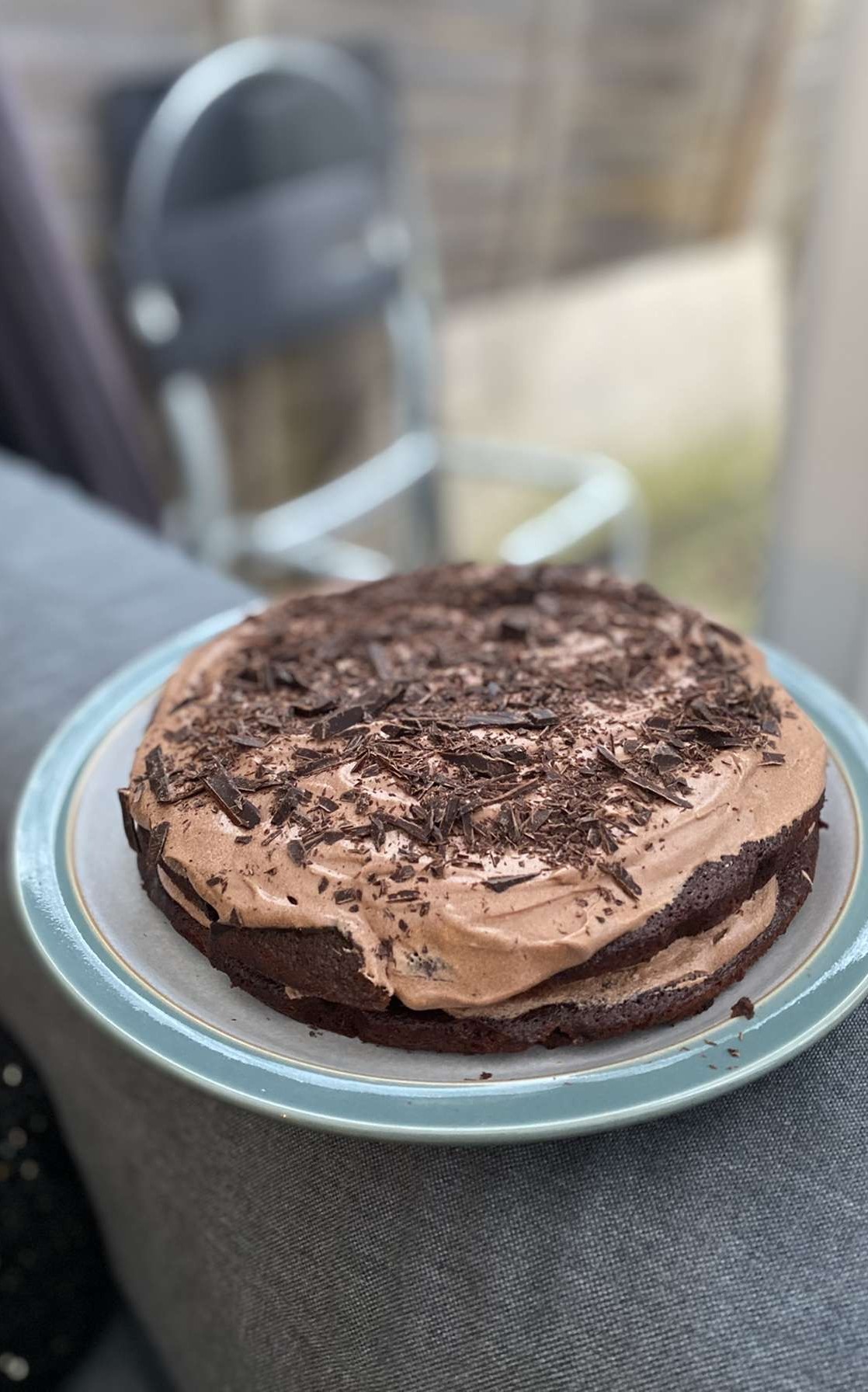 1
First, make the sponge.
Preheat your oven to 180°C.
Grease the base of your cake tin with some oil or butter and line with some parchment paper.
2
Sift together the flour, cocoa powder, baking powder, bicarbonate of soda and salt in a largeish bowl. Set aside.
3
In a jug, mix together the coffee, milk, lemon juice (or vinegar), vanilla and oil.
Pour into the prepared cake tin.
Bake for 20-25 minutes until a skewer inserted in the centre of the cake comes out clean (if you are making this in a round tin, 30-35 minutes).
4
Whilst your cake is baking, make the syrup. To a jug or bowl, add your chocolate, cocoa powder, salt and coffee. Set aside.
To a small-medium sized pan, add your water, sugar and golden syrup. Bring to a boil and bubble away for a couple of minutes. It won't change an awful lot, you just want it to bubble away for a bit to get it nice and hot. 
After a couple of minutes of boiling away, pour this hot mixture over the chocolate, cocoa, salt and coffee. Leave to sit for about 30 seconds or so, before stirring until smooth.
Once out of the oven, poke the cake with loads holes all over (maybe using the back of a wooden spoon) once fresh out of the oven and drizzle/brush/pour over some of the syrup - this helps to keep the cake moist and extra-chocolatey. 
Leave the remaining syrup to cool.
5
Now for the frosting!
In a large bowl, beat the vegan butter and shortening for a couple of minutes until creamy and light. 
Gradually add in the icing sugar (perhaps in 3-4 additions, mind you should probably just accept your fate of being covered in a cloud of icing sugar). Beat well between each addition.
Once all of your sugar has been added, add in the oat milk and vanilla and beat again. You will begin to recognise this as the buttercream you know and love.
Pour in the leftover syrup (make sure it is no longer hot). Mix again and you will be left with a gorgeous vegan chocolate buttercream. Cover and set aside until ready to use.
5
Now to assemble! Make sure your cakes are completely cool before proceeding to this step. You may divide your cake into 2 as I have, though to be honest I find this is much better as a single layer cake.
Simply spread the icing all over the top (you may have some left over depending on how much icing you want). 
Finally, I like to chop up a bar of dark chocolate on the diagonal to give some nice pretty looking shards, and scatter these over the top before serving.
STORAGE NOTES:
Keep in an airtight container at room temperature for up to 5 days.
Both the sponge and frosting can be made a day or two in advance to save on time. You may store this particular cake in the fridge if desired. This cake mix also works great for cupcakes! The baking time should be reduced to 20 minutes or so (still use the skewer test!). You should get 12 cupcakes. Please do check your dark chocolate is vegan!