Kinder Bueno Cupcakes
I'm sure many of you will agree that Kinder Bueno is a top tier grade chocolate bar. These goodies are an homage to the chocolatey-hazelnutty-creamy bars you love, in cupcake form.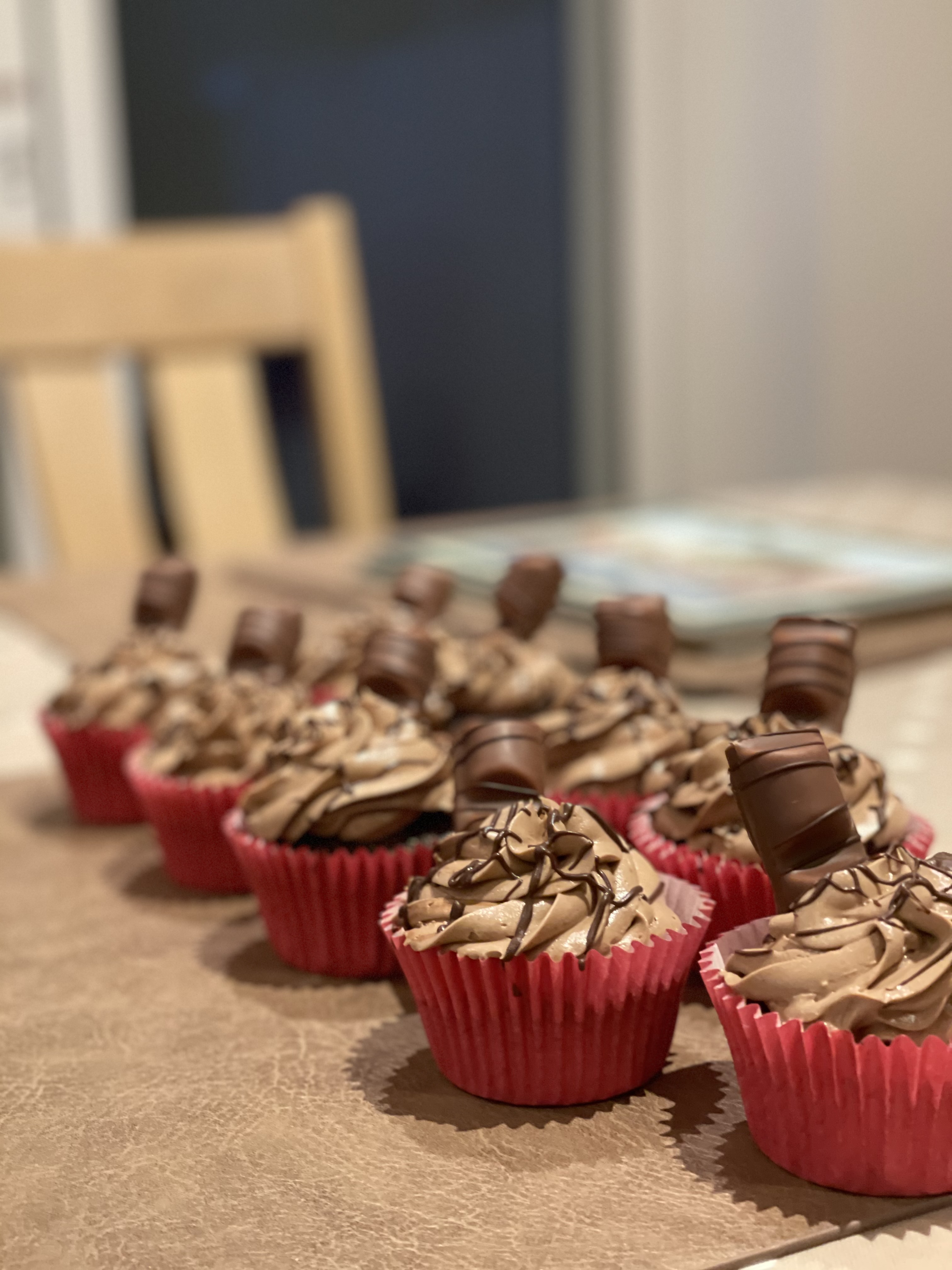 FOR THE CUPCAKES
180g plain flour
20g cocoa powder
1/2tsp bicarbonate of soda
1/4tsp salt
75g dark chocolate chips 
200g soft light brown sugar
1/2tbsp coffee granules/powder, dissolved in 120ml hot water from the kettle
120g vegetable oil
150g natural yoghurt
1 egg
1tsp vanilla extract
FOR THE SWISS MERINGUE BUTTERCREAM
2 egg whites
150g caster or granulated sugar
200g butter, cut into cubes and left to soften to room temperature
1tsp vanilla extract
150g nutella
TO FINISH
75g nutella
6 Kinder Bueno bars, halved
40g dark chocolate, melted in the microwave (do this for 20 seconds at a time on high, stirring well inbetween each blast until completely melted)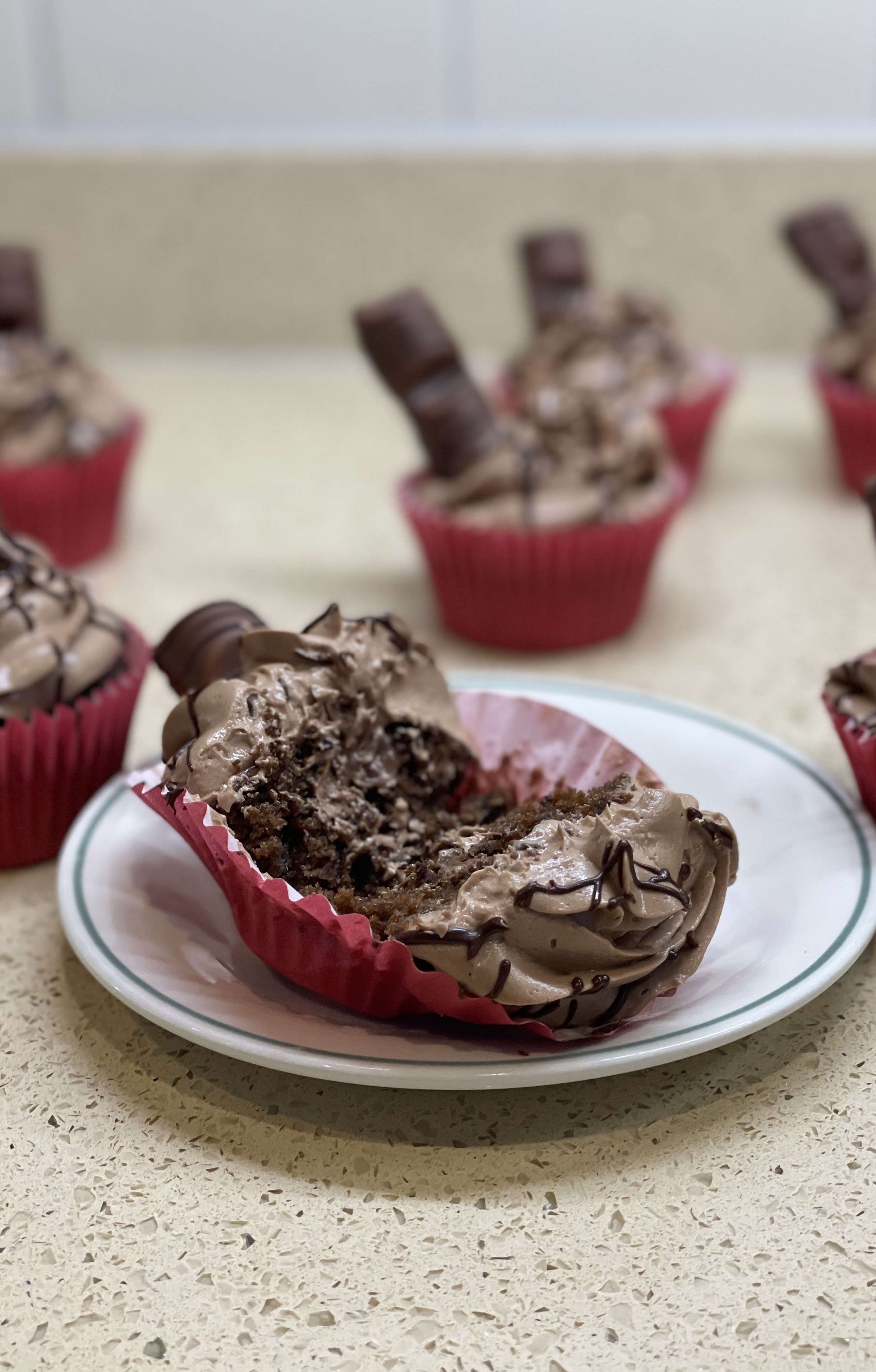 1
First, make the cupcakes. Preheat your oven to 170°C, and line a 12-hole muffin tray with cupcake cases.
Sift together the flour, cocoa powder, bicarbonate of soda and salt into a large bowl. Stir in the chocolate chips, and set aside.
Add in the sugar, coffee, oil, yoghurt, egg and vanilla and mix until combined. Make sure you scrape to the bottom of the bowl to ensure there are no dry lumps of flour.
Divide the batter between the cupcake cases. I like to use a mechanical ice cream scoop for this, but if you don't have one, you can use two spoons, or as this mixture is quite liquid, you can pour it into the cases from a jug.
Bake for 20 minutes (check with a toothpick or skewer to see if they are done, if it does not come out clean, give them another 2 minutes in the oven).
Leave to cool completely before icing.
2
Next, make the buttercream.
Place the egg whites and sugar in a large, heatproof bowl set over a pan of simmering water (a couple of inches deep), making sure the bottom of the bowl is not directly touching the water.
Keep over a low heat, and gently whisk until the sugar is dissolved. If you want to ensure the eggs are essentially sterile, you want to cook this to 160°F.
Remove from the heat and mix on high for 10 minutes with an electric whisk or mixer. The mixture will become very stiff and meringue-like as you mix.
After 10 minutes, add the soft butter, a couple of cubes at a time. As the first cubes of butter dissolve into the icing, add the next few. Keep going until all of the butter is incorporated.
Place the 150g of nutella in the microwave for 20 seconds on high to help loosen it up, before mixing it into your buttercream, along with the vanilla extract.
At this stage, I like to pop the buttercream in the freezer for 15 minutes (or the fridge for 30 minutes) to firm up, before giving it another beat so it holds its shape well for piping.
3
To assemble, carve out the centre of each cupcake (chef's treat!) using an apple corer, butter knife, melon baller or end of a wooden spoon - it's really up to you!
Warm the other 75g of nutella in the microwave for 20 seconds on high to help loosen it. Then, transfer this to a piping bag or freezer bag, snip the tip, and fill each cupcake hole with nutella.
As for the buttercream, fit a piping bag with a nozzle of your choice (I always use a Wilton 2D or 1M nozzle) and fill with your buttercream. I like to fit the bag over a tall glass to hold it in place whilst I fill the bag with buttercream. Push the buttercream to the bottom of the bag, and bring the sides of the bag up and twist the top well so none can escape.
Pipe from the centre, and move outwards, until the cake has a pretty swirl of buttercream (one advantage of swiss meringue is that it is not overly sweet, so a large amount isn't too sickly).
Drizzle with some melted dark chocolate and top with Kinder Bueno pieces. Your hard work is now over!   
STORAGE NOTES:
Keep in an airtight container for up to 4 days.
The frosting can be made a day in advance and kept in the fridge until ready to use, as can the cupcakes. If you're a bit anxious about making Swiss meringue buttercream, don't worry - it's just a bit more time consuming than American buttercream (which I find a bit too sweet).
For the frosting, you do need an electric hand mixer at the very least. Fortunately, these are relatively inexpensive for the home baker (I got mine for £20 and use it everytime I bake!)