Chocolate, Coffee & Salted Caramel Cupcakes
This is such a classic combo, and for good reason. Moist cupcake, silky smooth icing, and a salted caramel centre make for the perfect cupcake.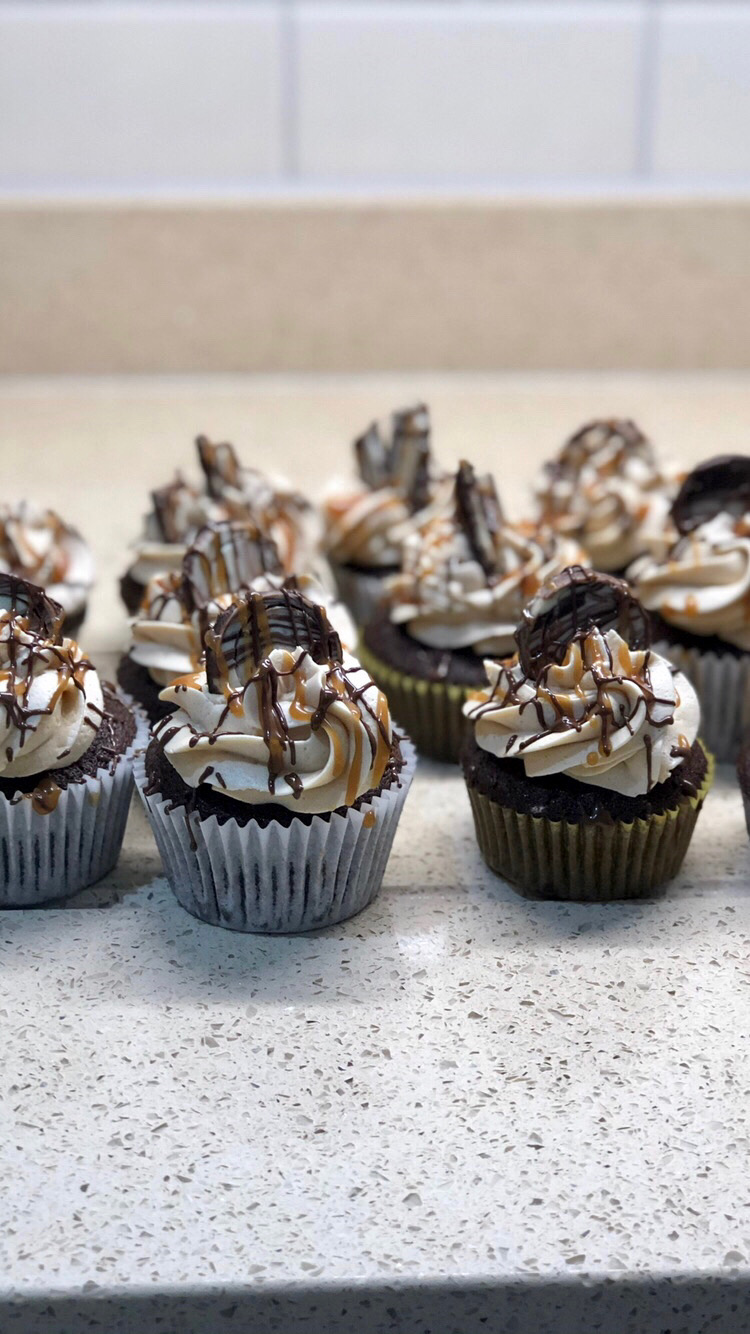 FOR THE CARAMEL (YOU CAN ALSO USE SHOPBOUGHT)
220ml double cream
1 1/2tbsp coffee powder
20g butter
1tsp vanilla extract
220g caster sugar
6tbsp water
1tsp sea salt
FOR THE CUPCAKES
140g plain flour
30g cocoa powder
1/2tsp bicarbonate of soda
1/4tsp salt
75g dark chocolate chips (or the same amount of chocolate from a bar, finely chopped) 
185g caster sugar
1/2tbsp coffee powder, dissolved in 120ml hot water from the kettle
105g vegetable oil
150g natural yoghurt
1 egg
1tsp vanilla extract
FOR THE SWISS MERINGUE BUTTERCREAM
2 egg whites
150g caster or granulated sugar
200g butter, cut into cubes and softened at room temperature
1tsp vanilla extract
150g salted caramel sauce (prepared earlier)
FOR THE CHOCOLATE COINS (please feel free to use chocolate chips instead)
50g dark chocolate
15g milk chocolate
15g white chocolate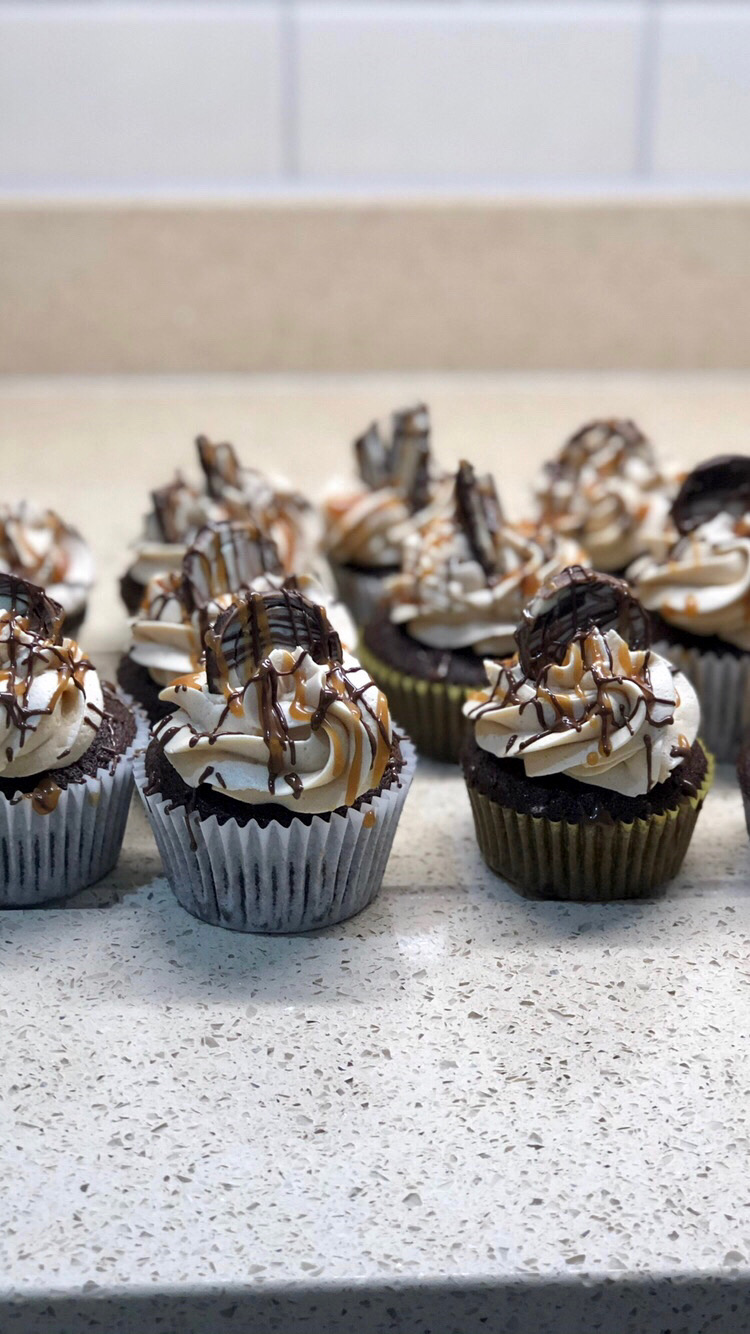 1
Firstly, make your caramel. Make sure you have everything for the caramel measured out first, as this can move very quickly!
Heat the cream in the microwave until warm (2-3 30-second blasts should do the trick) and stir in the coffee powder. 
Place your sugar in a large saucepan (do make sure it is big and deep) and cover with the water.
Place over a medium heat and be patient! Do not stir for the entire duration of this - simply swirl the pan briefly from time to time to ensure the heat is evenly distributed. 
The sugar will begin to dissolve and bubble away. Eventually it will start to change from colourless, to an increasingly golden yellow colour. I find this can happen anywhere between 5-20 minutes, so do be patient! Just make sure you keep watching it, as burnt caramel is not pleasant.
Once the contents of the pan are an orange-yellow colour all over, immediately remove from the heat and pour in the cream whilst constantly stirring with a heatproof utensil. Keep stirring until all of the cream is mixed in, and the bubbles subside.
Stir in the butter, vanilla and salt whilst the caramel is still hot. Do not taste it at this point as it will be painfully hot!
Leave to cool slightly whilst you prepare your cupcakes.
2
Next, make the cupcakes. Preheat your oven to 170°C, and line a 12-hole muffin tray with cupcake cases.
Sift together the flour, cocoa powder, bicarbonate of soda and salt into a large bowl. Stir in the chocolate chips, and set aside.
In a medium-sized jug or bowl, mix together the sugar, coffee, oil, yoghurt, egg and vanilla until combined. Pour into your dry mixture, and stir gently until just combined. Make sure you scrape to the bottom of the bowl to ensure there are no dry lumps of flour.
Divide the batter between the cupcake cases. I like to use a mechanical ice cream scoop for this, but if you don't have one, you can use two spoons, or as this mixture is quite liquid, you can pour it into the cases from a jug.
Bake for 20 minutes (check with a toothpick or skewer to see if they are done, if it does not come out clean, give them another 2 minutes in the oven).
Leave to cool completely before icing.
3
Next, make the buttercream.
Place the egg whites and sugar in a large, heatproof bowl set over a pan of simmering water (a couple of inches deep), making sure the bottom of the bowl cannot touch the water.
Keep over a low heat, and gently whisk until the sugar is dissolved. 
Remove from the heat and mix on high for 10 minutes with an electric whisk or mixer. The mixture will become very stiff and meringue-like as you mix.
After 10 minutes, add the soft butter, cube by cube. As one cube of butter dissolves into the icing, add the next. Keep going until all of the butter is incorporated.
Mixing on low now, add in 150g of your salted caramel sauce and the vanilla extract. If at this stage the icing is too runny, place it in the fridge for half an hour. Whip it up again, and it should have thickened. 
5
For the chocolate coins, place the chocolate in separate heatproof bowls and microwave for 20 seconds at a time on high, stirring well between each blast until completely melted. 
Onto a small baking tray lined with greaseproof paper, pour over the dark chocolate first, and spread out into a single thin layer.
Dot the other two types of chocolate on top of the dark chocolate randomly with teaspoons, then ripple them through using a skewer to create a marbled pattern.
Freeze for 5 minutes. I then like to use the large end of a piping nozzle dipped in hot water (then dried on paper towel) to cut out circles of chocolate (you could also use a small cookie cutter). Return to the fridge or freezer until ready to use.
6
To assemble, carve out the centre of each cupcake (chef's treat!) using an apple corer, or a butter knife.
Place the leftover salted caramel sauce into piping bags (no nozzle required, just snip off the end).
Fill each cupcake hole with salted caramel.
As for the buttercream, fit a piping bag with a nozzle of your choice (I always use a Wilton 2D nozzle) and fill with your buttercream. I like to fit the bag over a tall glass to hold it in place whilst I fill the bag with buttercream. Push the buttercream to the bottom of the bag, and bring the sides of the bag up and twist the top well so none can escape from the top.
Pipe from the centre, and move outwards, until the cake has a pretty swirl of buttercream (one advantage of swiss meringue is that it is not overly sweet, so a large amount isn't too sickly).
Drizzle with leftover salted caramel, and melted dark chocolate and top with the chocolate coins. Your hard work is now over!   
STORAGE NOTES:
Keep in an airtight container for up to 2 days.
The frosting can be made a day in advance and kept in the fridge until ready to use.
Salted caramel will both last a week in the fridge in an airtight container, as will the chocolate coins. If you swap the salted caramel for melted chocolate, you will have yourself a chocolate cupcake. You don't need to pipe the buttercream - feel free to spread it on with a palette knife if you prefer!