Strawberry Marble Cake
This might just be my all-time favourite cake. It is so light and fluffy, easy to make, and has that nostalgic flavour of those angel cakes I used to have as a kid. Give it a go!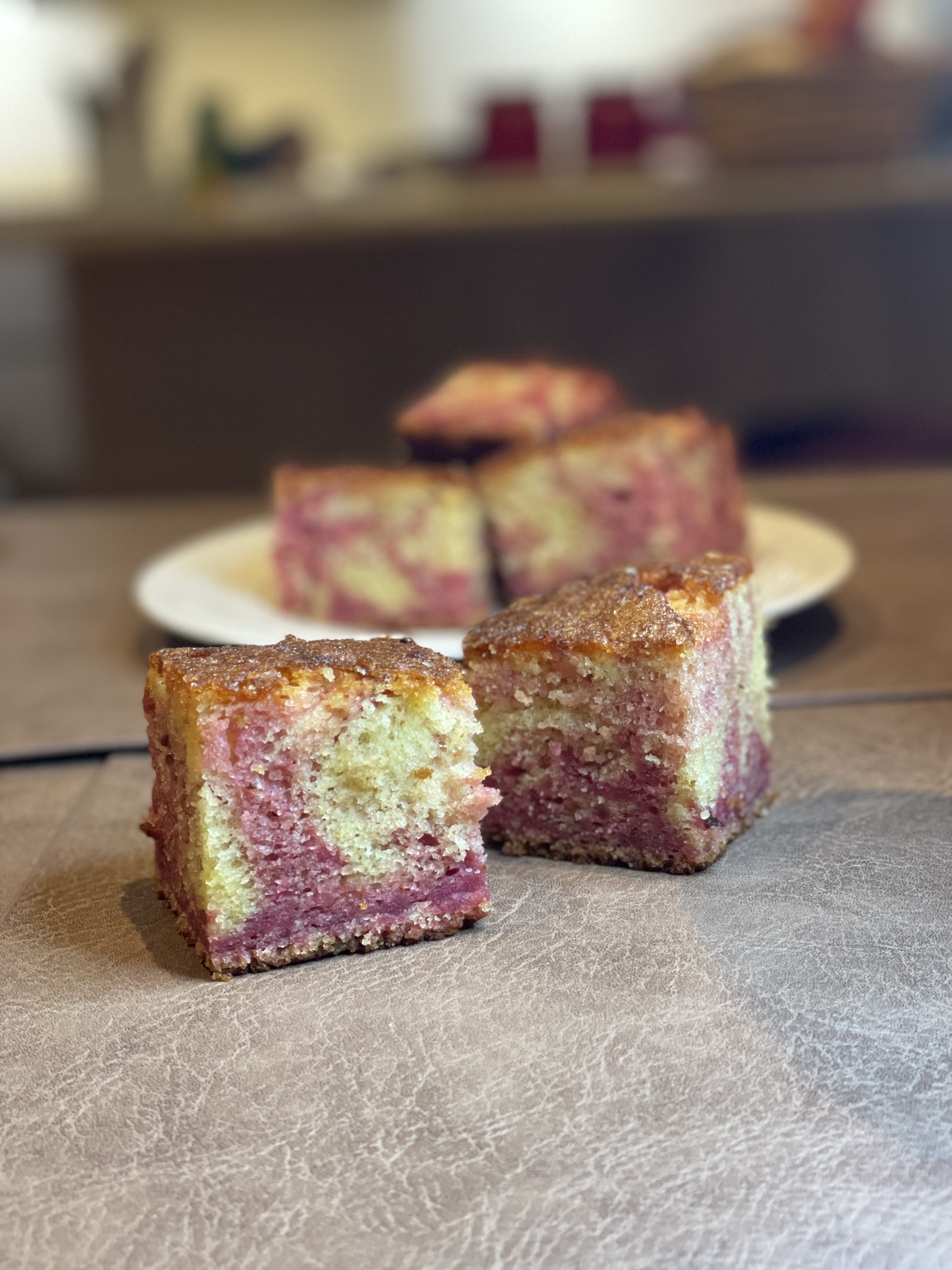 FOR THE STRAWBERRY JAM
800g fresh or frozen strawberries
250g caster sugar
Juice of 1 lemon
FOR THE CAKE
260g vegetable oil
330g caster sugar
6 eggs
1tbsp vanilla extract
330g plain flour
1tbsp baking powder
3/4tsp salt
1/2tsp bicarbonate of soda
225g full-fat natural yoghurt 
Few drops of pink gel food colouring (I recommend the Rainbow Dust brand)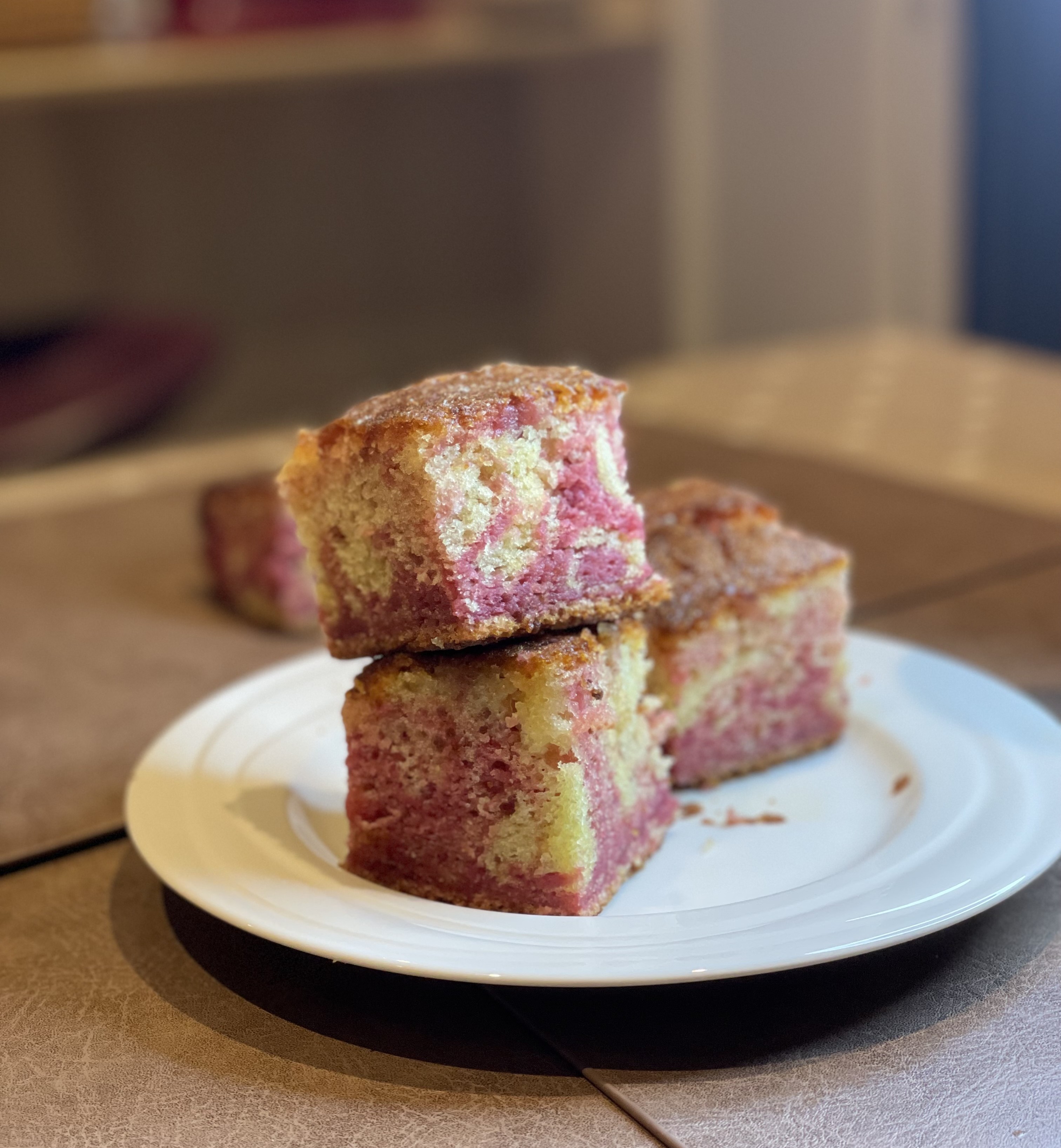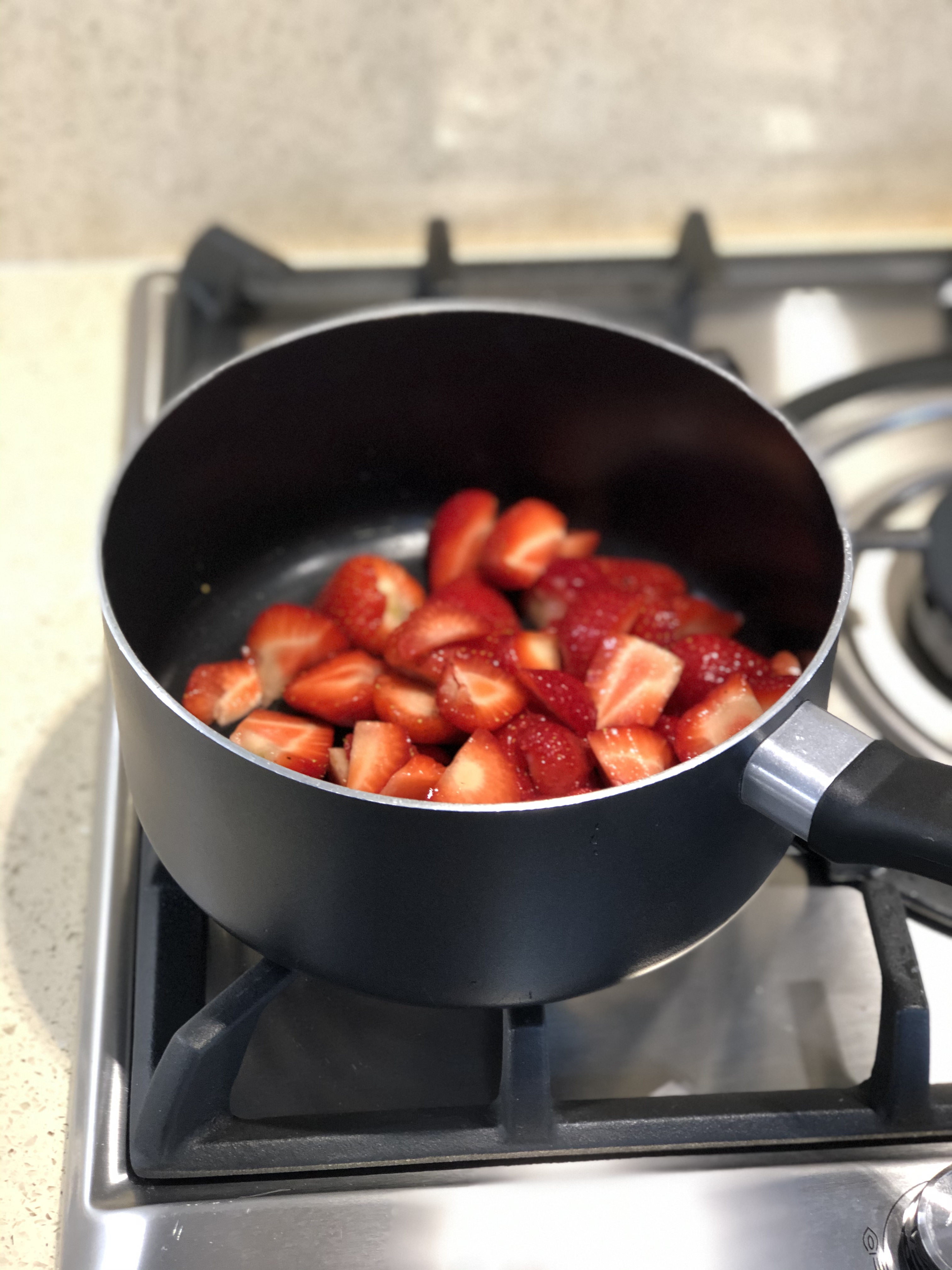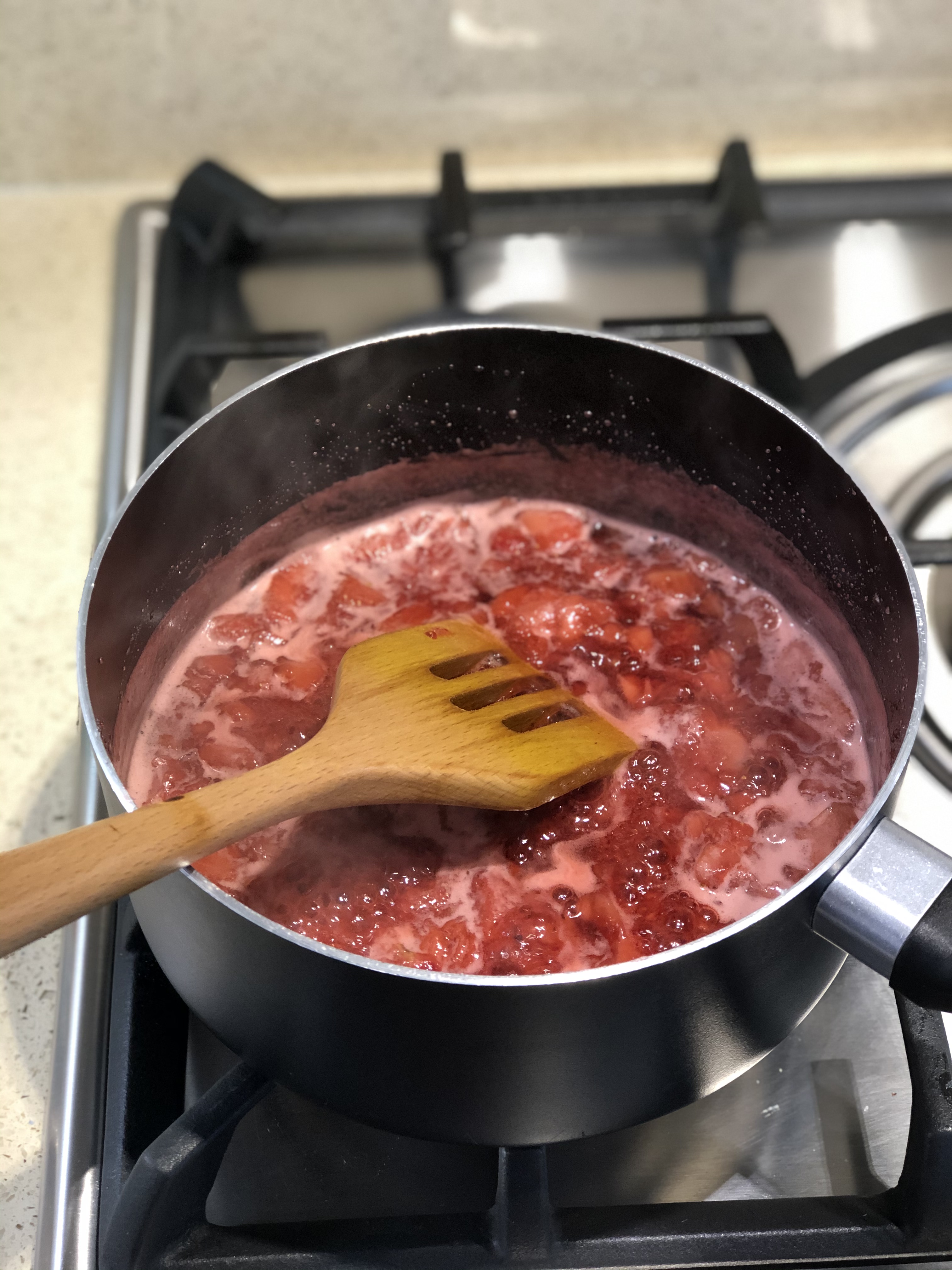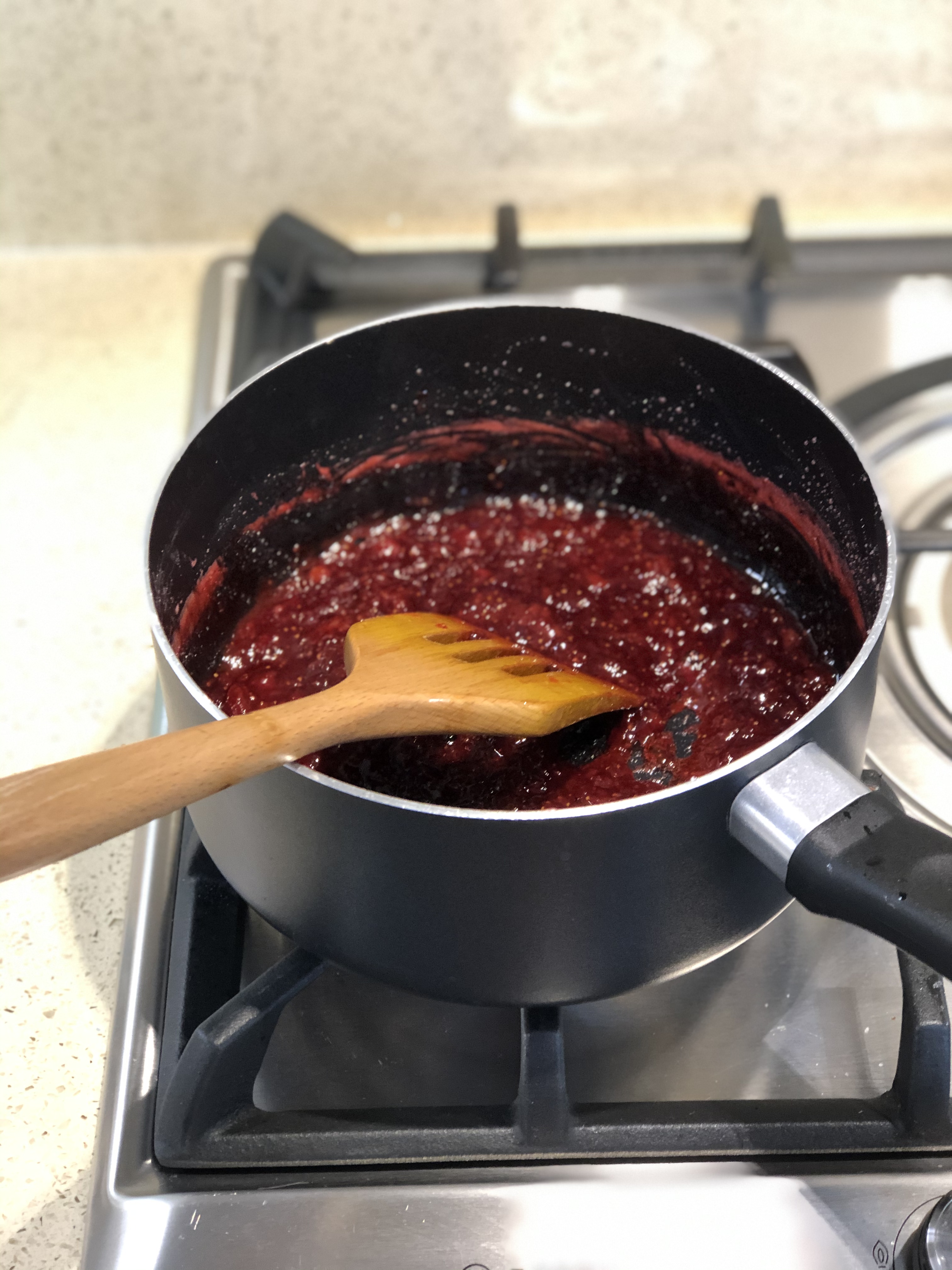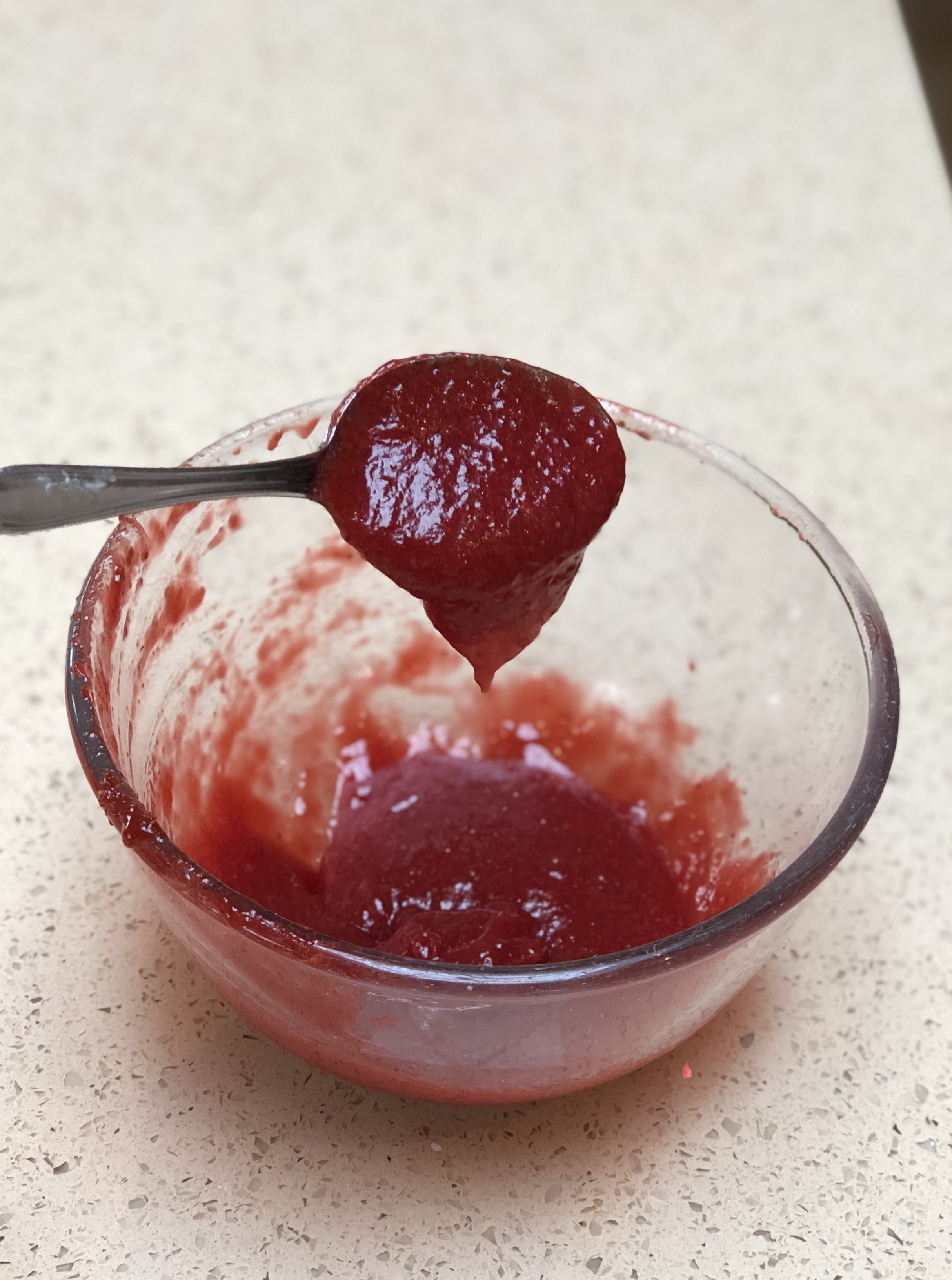 1
First, make the jam. 
Place the strawberries, sugar and lemon juice in a large saucepan set over low-medium heat.
Stir continuously with a wooden spoon. At first, the fruit will soften, allowing you to smush it with the back of the spoon. It will then bubble away and begin to break down further and thicken. Continue to stir until it is thick enough to leave a clean line in the pan for a couple of seconds when stirred. I find this takes around 25-30 minutes from the moment you switch the heat on. Use the images above to guide you.
Strain the mixture through a sieve, pressing it through to get as much out as possible (only the seeds and a small amount of pulp should remain - be patient with this).
Set aside to cool before storing in the fridge in an airtight jar. This can be done up to a week in advance - simply keep it in the fridge until ready to use.
2
Next, make the sponge. Preheat the oven to 170°C. Grease (I like to use spray oil) and line a 9x13-inch square baking pan (or a 7-inch square pan should you wish to halve this recipe) with baking parchment. I like to have the sides of the parchment hanging over the edges of the pan so the cake is easy to lift out.
3
In a large bowl, beat together the oil and sugar. Add in the eggs and vanilla extract, and beat until you have a smooth mixture.
4
In a separate bowl, sift together the flour, baking powder, bicarbonate of soda and salt. Stir in half of this mix into the wet ingredients until just combined.
Stir in the yoghurt, followed by the rest of the flour mixture, until just combined (be sure to scrape to the bottom of the bowl to ensure no dry flour is missed).
5
Take the jam you prepared earlier and stir about 1/3 of your cake batter into it, along with a few drops of pink gel food colouring. You now have two batters - vanilla and strawberry.
6
Alternate between adding spoonfuls of vanilla and spoonfuls of strawberry batter in your baking tin, until all of the batters are used up. Then, take a toothpick, skewer or knife and make a swirl pattern (a few figure-eights should do the trick).
Bake for 40-45 minutes, or until a skewer comes out clean. If it does not, return to the oven for a further 5 minutes, until it does.
6
Once your cake is out of the oven, mix together the orange juice and sugar for the topping. Poke holes all over the cake, using a skewer or a fork, and spoon this mixture all over the warm cake.
Leave the cake to cool for an hour or so, then it's ready to serve! I like to cut it into 16 cubes!
STORAGE NOTES:
Keep at room temperature, or in the fridge for up to 4 days, stored in an airtight container. Feel free to sub the strawberries for raspberries for a different flavour profile Do make sure you use strong gel food colouring - I recommend the brand 'Rainbow Dust' which you can find in some supermarkets or online.