Sweet Potato Falafel & Harissa Hummus
The mighty falafel is often helmed as the quinteseential vegetarian food, to the point where it can be frustrating when it's almost always the only meat-free item on the menu, Nonetheless, this will never make me love them any less - I am a massive fan of these gorgeous, spicy balls of flavour. I bake mine instead of frying - much easier, and less messy. And I love to serve them with a gorgeous homemade hummus.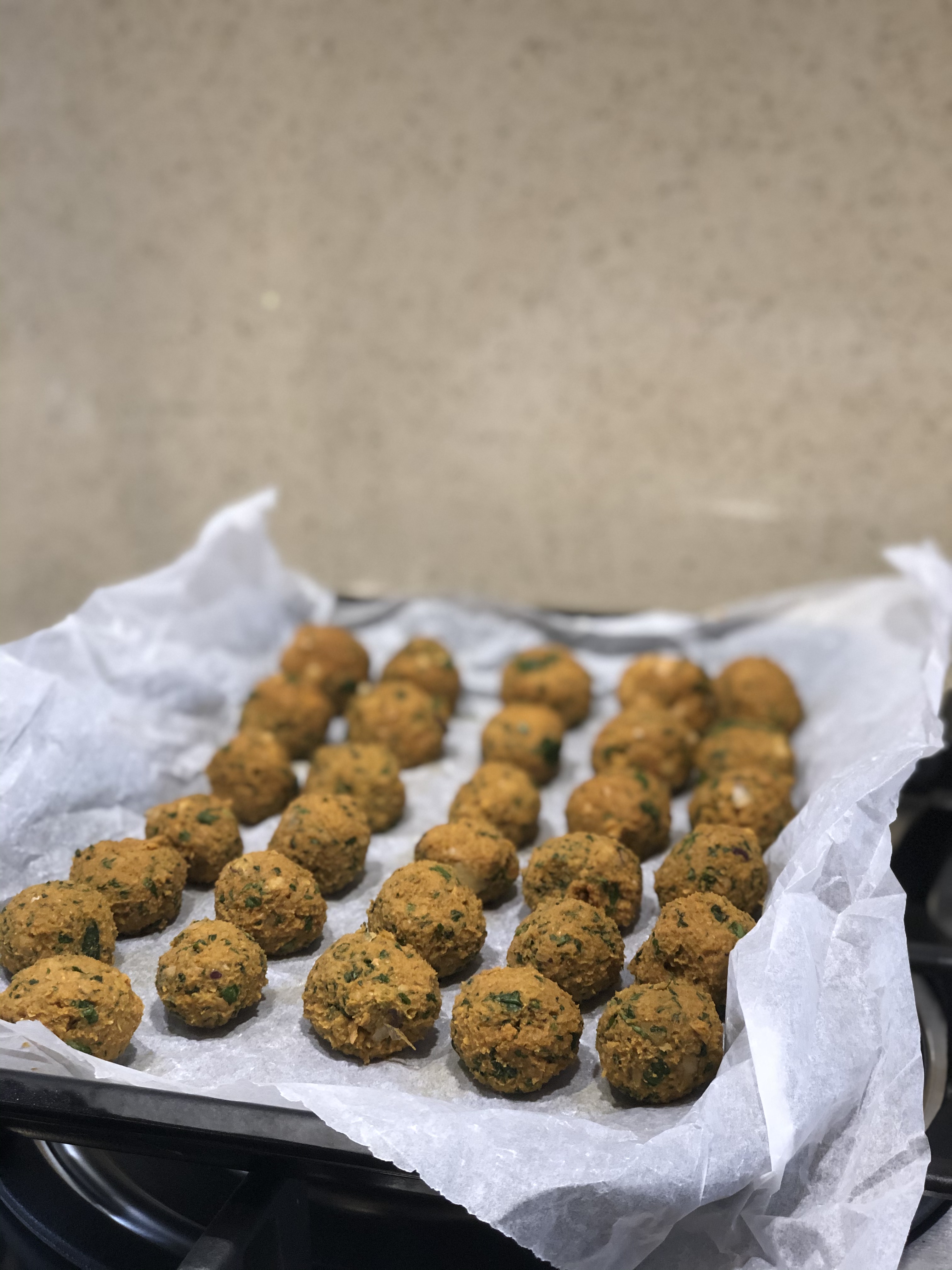 FOR THE FALAFELS
Olive oil
1 large sweet potato, peeled and cut into chunks
3 fat cloves garlic
1/2tsp smoked paprika
1/2tsp salt
1/4tsp black pepper
1 X 400g can chickpeas, drained and rinsed
Handful fresh parsley
Handful fresh coriander
2tsp ground cumin
FOR THE HUMMUS
1 X 400g can chickpeas, drained and rinsed
Juice of 1 lemon (about 4tbsp)
60g peanut butter (you can use tahini, I just rarely have it)
2tbsp olive oil (extra virgin if you have some!), plus extra for drizzling
1/2tsp ground cumin
1/2tsp salt
2tbsp harissa paste
2tbsp water
Pinch of paprika (smoked or unsmoked as you wish)
TO SERVE (OPTIONAL)
Flatbreads (why not try homemade?)
Plain yoghurt
Fresh coriander
Juice of 1 lime
Chips, seasoned well with salt and paprika
1 x 225g block halloumi (see bottom of methods on how to cook this!)
Salad leaves of your choice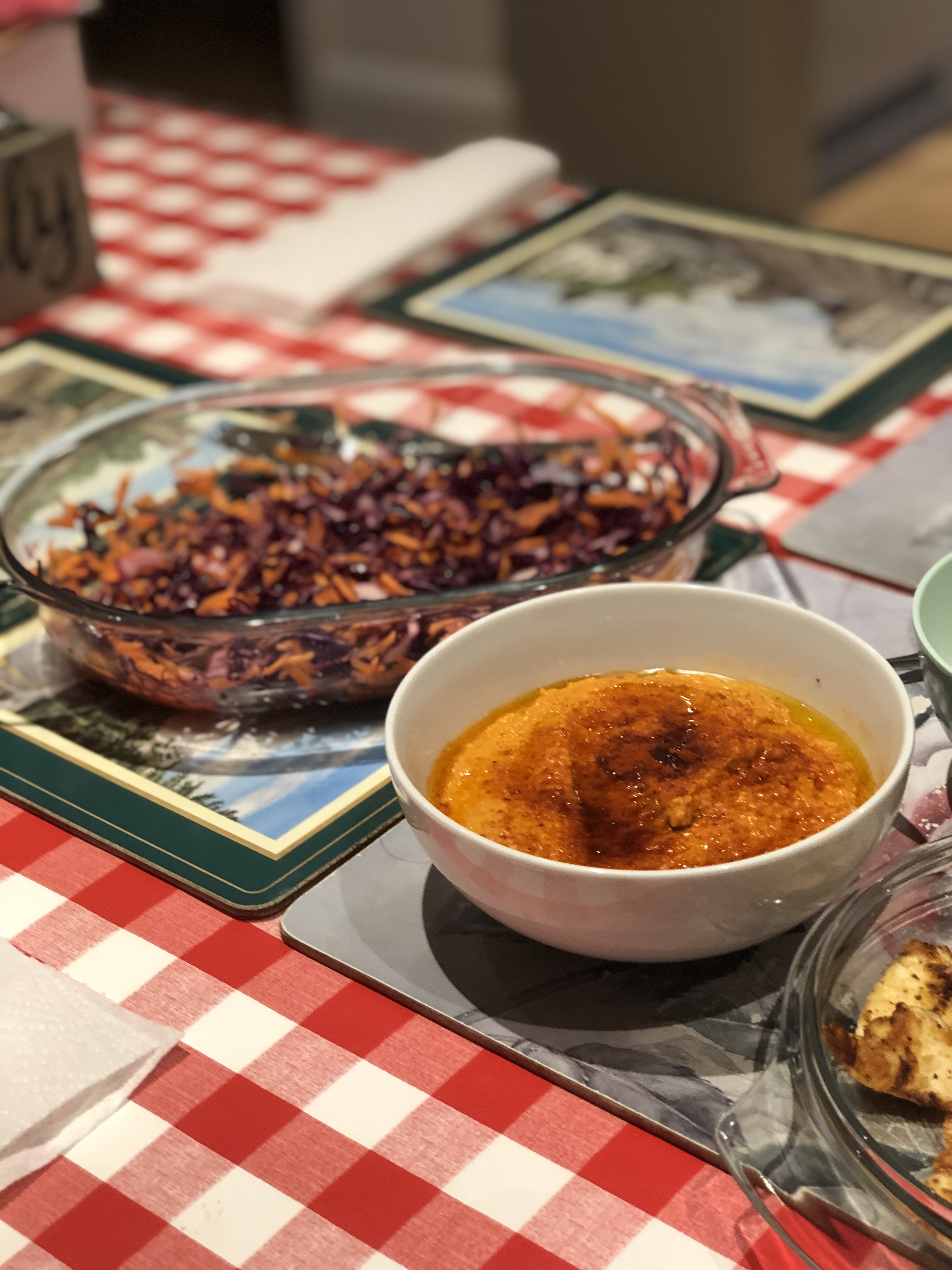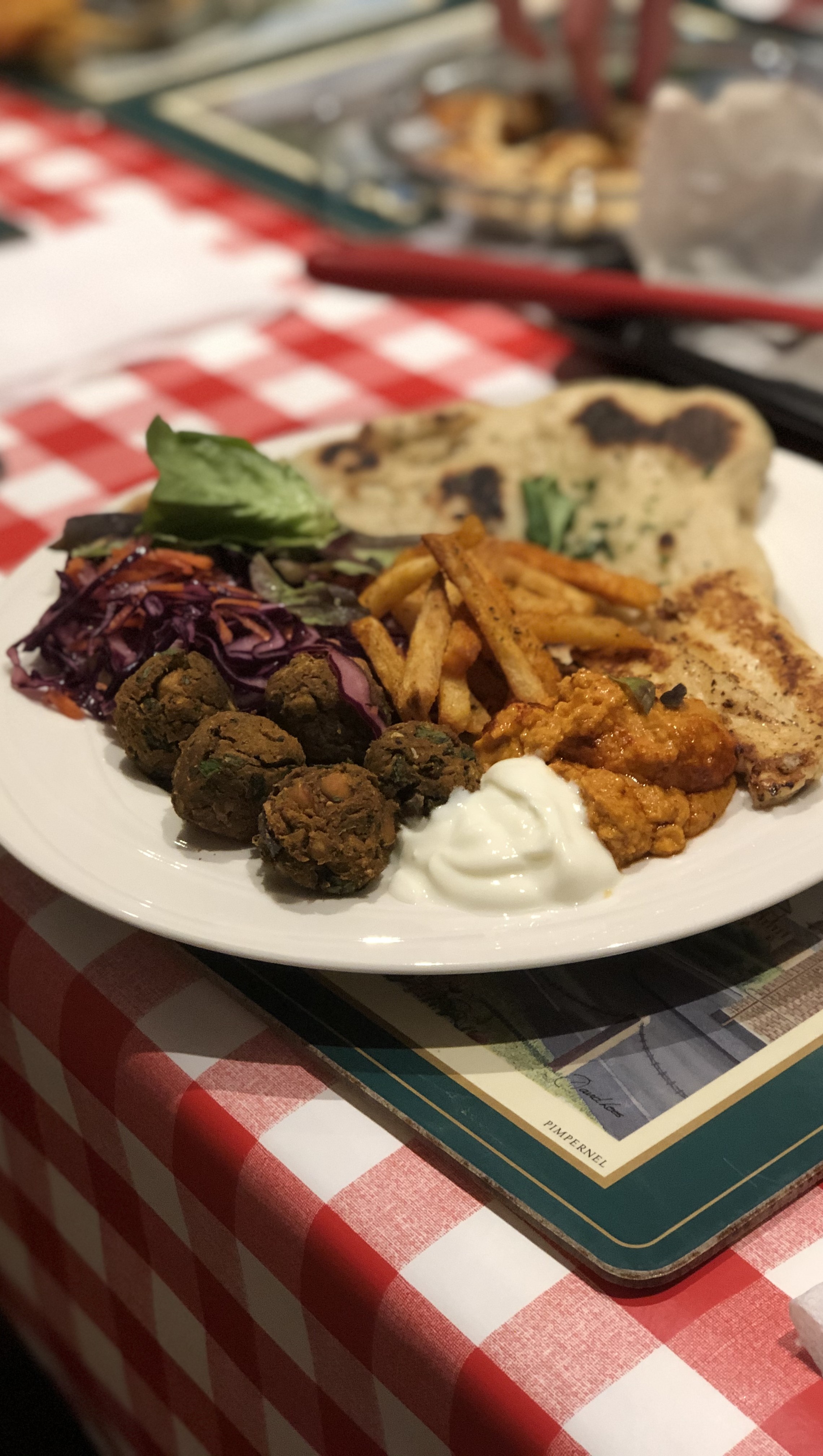 1
Firstly, you want to roast your sweet potato. Preheat your oven to 180°C.
Lay the cubes of sweet potato out onto a baking tray, along with your garlic (the whole cloves, unpeeled). Season well with the smoked paprika, salt and pepper, and add a good drizzle of olive oil.
Place in the oven for 30 minutes to soften up. 
2
For the hummus, blend your chickpeas in a food processor until relatively smooth. Add all of the remaining ingredients (except for the water) and blitz until smooth. Finally, stream in the water with the motor running, and it should come together to a beautifully creamy hummus!
Decant into a serving bowl, drizzle with some extra virgin olive oil and sprinkle paprika on top (for presentational purposes only).
3
For another accompaniment, mix a few spoonfuls of natural yoghurt with a small handful of finely chopped fresh coriander, a pinch of salt and a squeeze of lime juice.
A bowl of fresh salad leaves/red cabbage and carrot on the side goes well with this too for some added crunch!
4
Now to make the falafel themselves. Place the roasted sweet potato, the roasted garlic cloves (squeeze them out of their skins of course!), chickpeas, fresh parsley, fresh coriander and ground cumin in a food processor and blend until smooth.
Roll into small golf-ball-sized pieces and place onto a baking tray lined with baking parchment. Return to the oven and cook for 30 minutes.
If serving with chips, these can go in along with the falafel so they cook at the same time. If serving with flatbreads, these can go in the oven for the last 5 minutes or so to warm through.
5
For the halloumi (if using), cut into thin slices, and fry off in a dry frying pan for 30 seconds for a minute a side. Finish with a squeeze of lime juice.
I like to serve this with all of the accompaniments at the centre of the table, so everyone can help themselves. Serve these falafels warm or cold. They will last in the fridge for 2-3 days. This is completely optional, but as I find halloumi overly salty, I like to soak it in water for half an hour before cooking. You may actually need to re-season with salt once cooked.