Peri Peri Chicken
A classic from one of my favourite restaurant chains, made at home!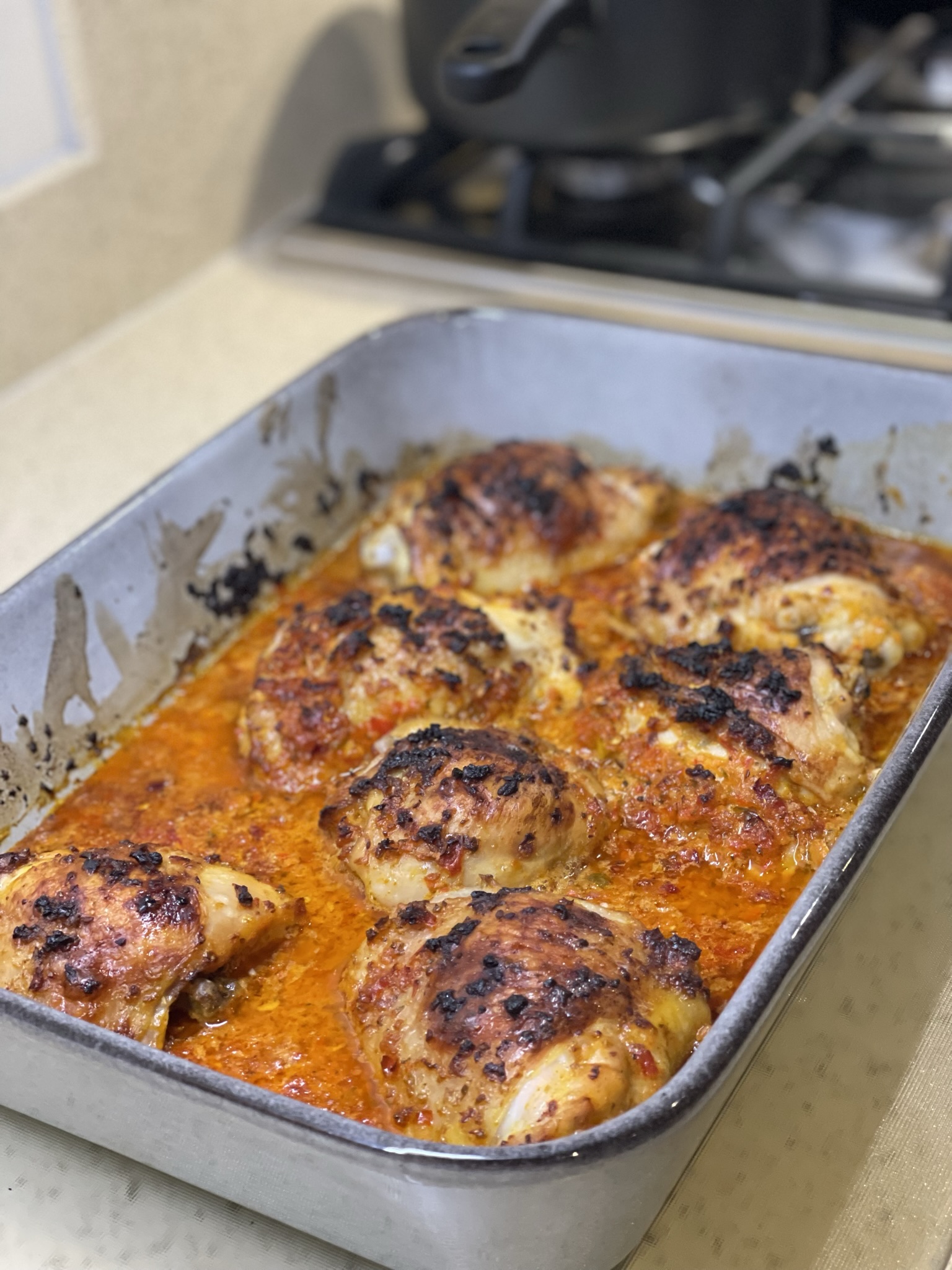 FOR THE CHICKEN
8 skin-on, bone-in chicken thighs (or 4 breasts, see note)
FOR THE SAUCE
1 red pepper
1 red onion
4 garlic cloves
1-3 red or green chillies (this will depend on personal preference/how spicy your chillies are)
60ml vegetable oil
2tbsp red wine vinegar
2tsp sugar
2tsp smoked paprika
2tsp oregano
1 1/2tsp salt
1/2tsp black pepper
Juice of 1 lemon
FOR THE SPICY RICE
Knob of butter
1 red pepper, diced
1 onion, diced
240g basmati rice, rinsed well - see note!
1tsp ground fenugreek (curry powder should also suffice)
1tsp paprika
1tsp chilli powder
1tsp ground cumin
1/2tsp salt
480ml chicken stock
Fresh coriander, to serve (optional)
POTENTIAL WAYS TO SERVE
Corn on the cob (optional; see notes below)
Chips (for my homemade chips recipe click here)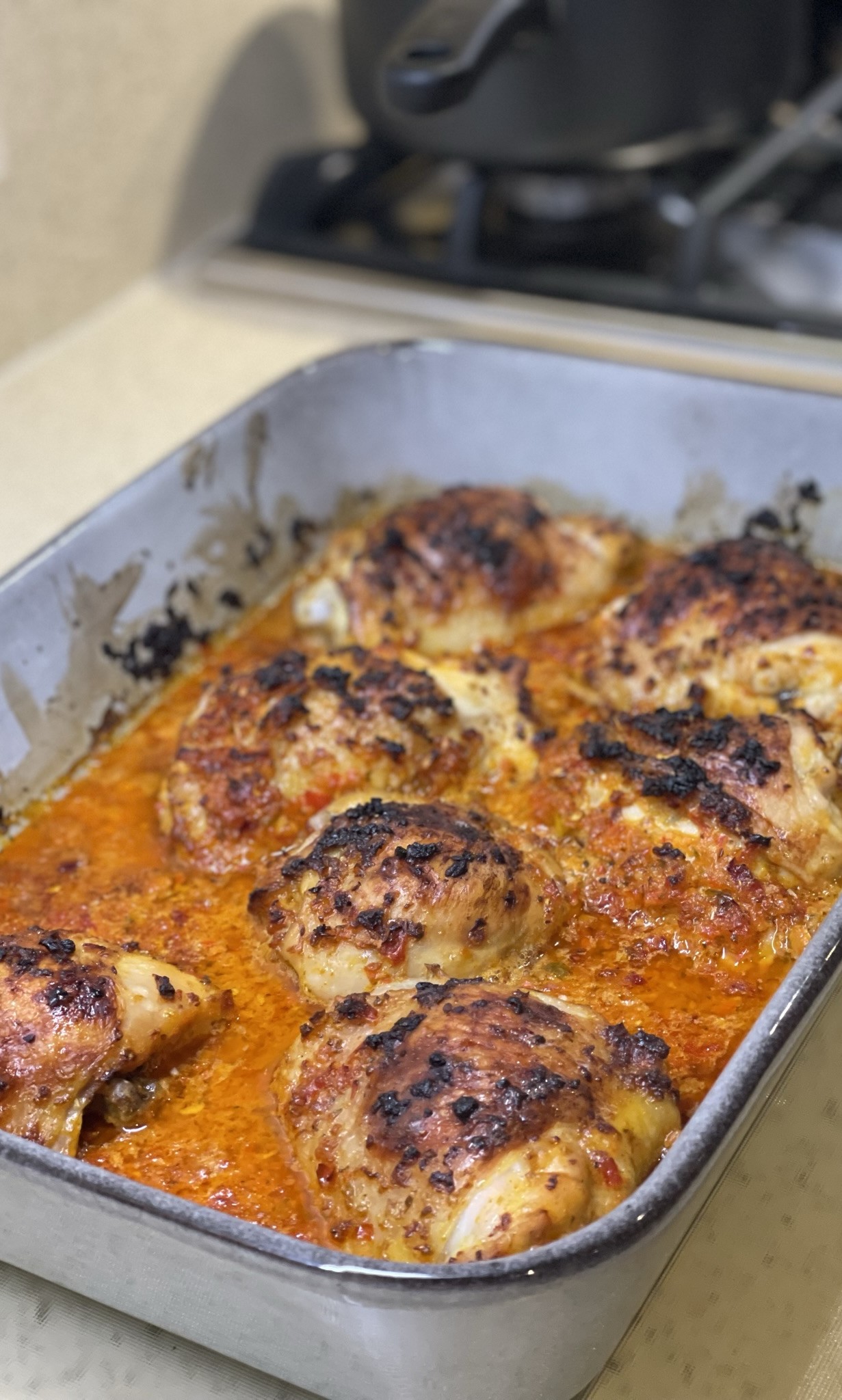 1
First, make the sauce.
Place all of the ingredients into a blender and blitz until smooth.
I tend to cook my chicken straight away, but if you like, you can cover and marinade on the counter for a couple of hours, or in the fridge overnight.
2
Preheat your oven to 190°C.
Pop the chicken thighs into a large ovenproof dish, along with all of the marinade on top.
Once your oven has preheated, pop the thighs in the oven for 45 minutes.
3
Now for the rice. Melt the butter in a medium-sized saucepan and fry the peppers and onions for 5 minutes, until softened slightly. Add in the rice and spices, and fry for 30 seconds or so until everything is coated.
Pour in the stock, and bring to the boil, then reduce the heat to as low as it will go, cover and leave for 15 minutes or so, until all the water has been absorbed. After this period, leave covered for a further 5 minutes, then fluff the rice up with a fork and it's ready! 
NOTES:
Rice: I like to rinse mine several times in cold water, stirring with my hand to get the excess starch out. After doing this 5 times or so, cover in cold water and drain when ready to use. You can do this first thing before you start cooking the rest of the meal.
If you are serving this with corn on the cob, simply boil in salted water for 15 minutes and drain (I like to serve mine with butter).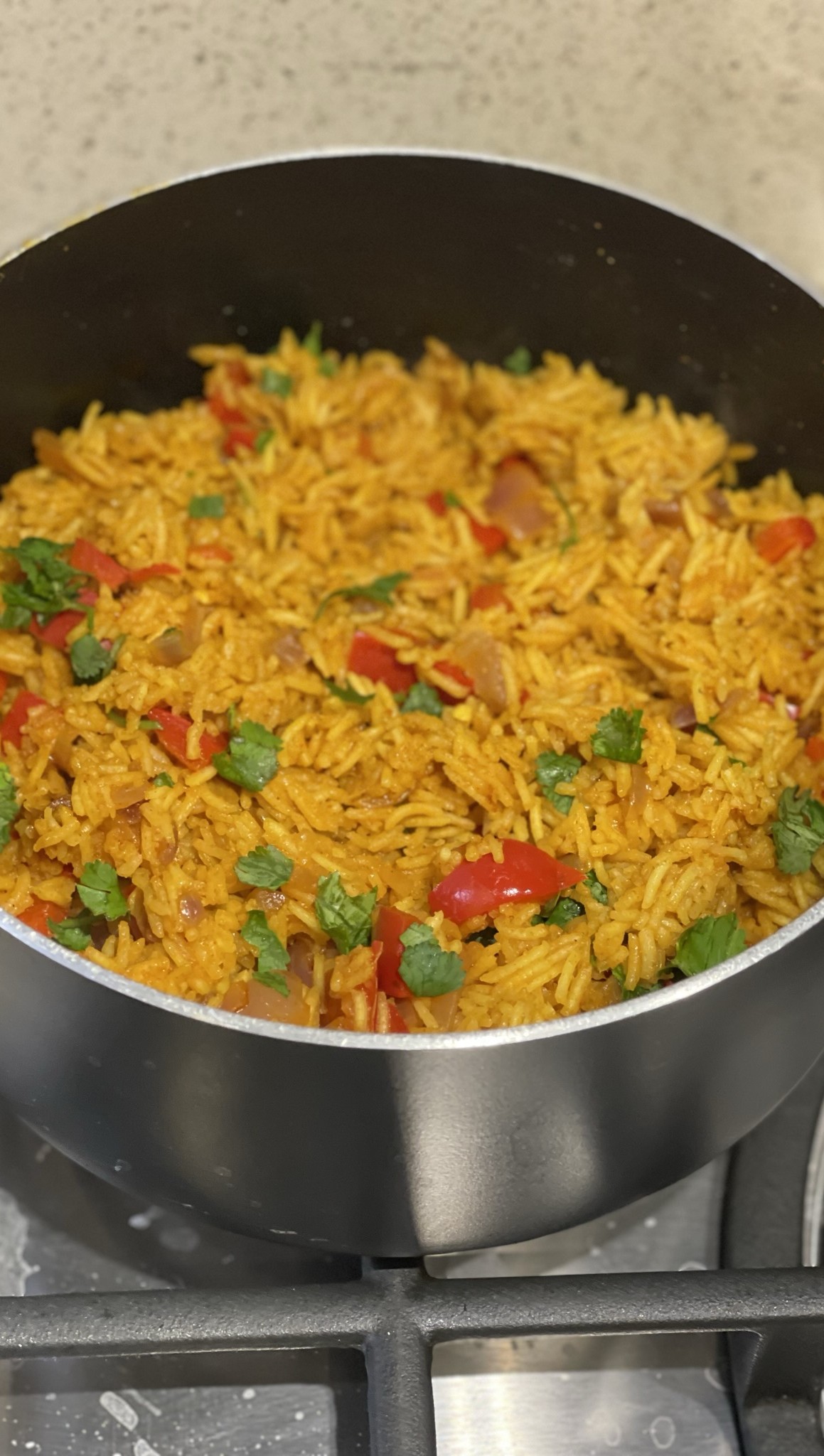 This marinade is also excellent for grilled chicken burgers. Feel free to make more of this than you need - leftovers are great for sandwiches, or any of my recipes that require cooked chicken.